University Graphic Design Team Wins National Awards
04/22/2022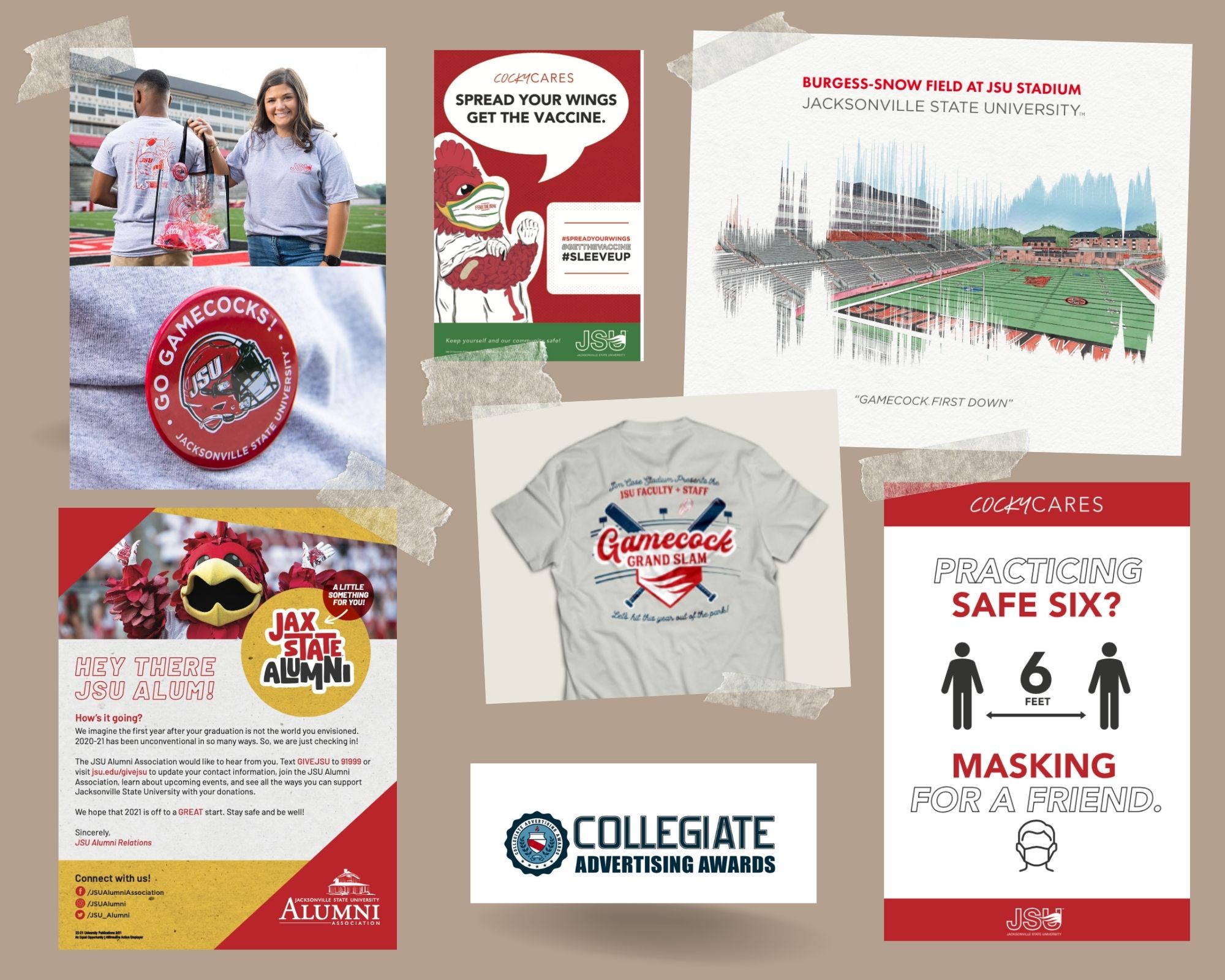 A collection of all the winning JSU designs for 2021.
by Buffy Lockette
JSU's graphic design team has been recognized nationally, once again, for its creativity. Designers Emily Lankford and Richie Rivas in JSU Marketing Services have received several honors from the 2021 Collegiate Advertising Awards program. The elite program recognizes higher education organizations for excellence in communications, marketing, advertising and promotion of their schools.
Entries for the 2021 program poured in from across the United States and Canada, ranging from small community colleges to large universities. JSU competed against similar-sized organizations in specific groups and categories. Submissions were reviewed by a national panel of industry experts and awards were issued for entries that received top marks from judges based on creativity, layout and design, functionality, message effectiveness, production quality and overall appeal.
Winning Entries Included:
Judge's Choice Award - Given to Only Two Honorees in the Nation
Crisis Management Campaign: COVID-19 Poster Series
Client: Cocky Cares Committee
Recipients: Emily Lankford and Richie Rivas
Gold Winner - Given to Top 5 Percent in the Nation
Fundraising Campaign: Game Day Fan Pack
Client: Alumni Relations
Recipient: Richie Rivas
Silver Winner - Given to Top 12 Percent in the Nation
Special Events: Gamecock Grand Slam
Client: Gamecock Grand Slam Committee
Recipient: Emily Lankford
Silver Winner - Given to Top 12 Percent in the Nation
Direct Mail: Alumni Association Mailer
Client: Alumni Relations
Recipient: Emily Lankford
Silver Winner - Given to Top 12 Percent in the Nation
Photo/Illustration: "Gamecock First Down"
Client: Alumni Relations
Recipient: Richie Rivas