Messer Becomes Official VP of University Advancement
02/02/2022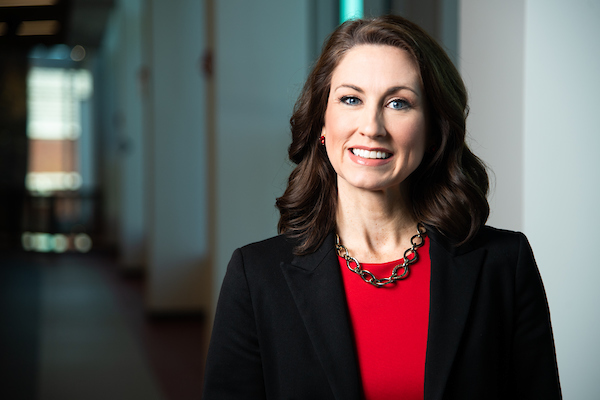 Dr. Emily Messer now leads two divisions: Advancement and Enrollment Management.
by Buffy Lockette
During its quarterly meeting on Jan. 25, the JSU Board of Trustees announced the promotion of Dr. Emily Messer from acting to official Vice President for University Advancement. She will continue serving concurrently as Vice President for Enrollment Management, with the new title of Vice President for Advancement and Enrollment Management. 
Messer was tasked with leading University Advancement – a division that includes the JSU Foundation, University Development, and Alumni Relations – on an interim basis in Oct. 2020. Meanwhile, she has continued to lead the Enrollment Management division, which encompasses Admissions and Recruitment, Financial Aid, and Military and Post Traditional Student Services. 
Messer joined JSU's staff in May 2018 as Associate Vice President for Enrollment Management. After her team recruited the university's largest freshman class in Fall 2019, she was promoted to vice president. Under her leadership, JSU has continued to break enrollment records – posting its highest all-time enrollment in Fall 2021. 
Over the past 15 months that Messer has led University Advancement, the division has increased gifts and pledges 217 percent over 2020, including raising more than $3.5 million for the Randy Owen Performing Arts Center. Her team has initiated new efforts, including the "All In" campaign that increased employee giving 76 percent.
To support Messer in managing the demands of running two university divisions, the university hired an Executive Director of University Development in June and is in the process of recruiting an Associate Vice President for Enrollment Management. Bill Nash was promoted to serve in the development role while interviews will soon begin for the enrollment management position.  
Prior to her employment at JSU, Messer served as Vice President of Enrollment Management, Assistant Dean of Students and Director of Student Life at Shorter University. She also previously worked in student affairs at Southern Methodist University. A JSU alumna, the former SGA president earned two degrees from the university – a BA in English and a Master of Public Administration. She also earned a Doctorate of Education in Higher Education Administration from The University of Alabama. She is native to Hokes Bluff, Ala.