Thanksgiving Break Info and Hours
11/12/2021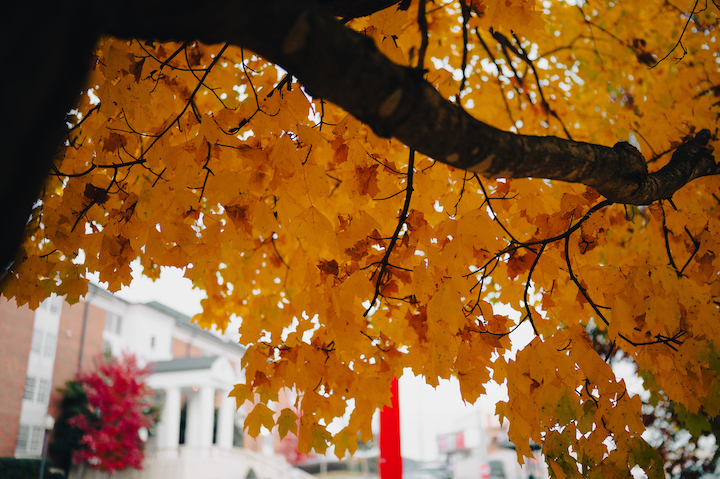 The fall colors are peaking on campus as the university prepares for Thanksgiving break. Photo by Matt Reynolds.
by Buffy Lockette
Thanksgiving is almost here! The university will be closed for Thanksgiving Break on Nov. 22-26.
Before heading home for the holidays, enjoy a Thanksgiving meal with your JSU family on Thursday, Nov. 18, during lunch (11 a.m. to 2 p.m.) and dinner (5-7 p.m.) at Jack Hopper Dining Hall and the Gamecock Diner. A traditional Thanksgiving meal will be served for the cost of a meal swipe or $10 cash/card.
Support the Gamecock Market, which operates the campus food pantry, by bringing non-perishable food and hygiene products to the Office of Military and Post-Traditional Student Services in Daugette Hall during normal university business hours. Sodexo will also be collecting items for the Gamecock Market in Jack Hopper Dining Hall and the TMB Food Court through Nov. 18. Secondary education students will be collecting donations as well on Nov. 16, 11 a.m. to 2 p.m., at the TMB Food Court (with door prizes for those who participate). A list of currently needed donations is available on the market's website. The Gamecock Market provides pre-packaged meals for students in need during university closures. If you live on campus, contact your on-call RA for assistance. You can also stop by the University Police Department or Recreation and Fitness Center to pick up meal packs. 
The following hours will be observed on campus for Thanksgiving Break:
DINING
The Gamecock Diner will be closed all day on Friday, Nov. 19, while all other Sodexo dining locations (Jack Hopper Dining Hall, TMB Food Court, Jazzman's, WOW, Starbucks, etc.) will close at 2 p.m. on Friday, Nov. 19. All locations will reopen at lunch on Monday, Nov. 29, except for Chick-fil-A, which will open for breakfast that day. Z Beans in Merrill Hall will close this Friday, Nov. 19, at 5 p.m. and reopen on Monday morning following the break.
The Red Rooster will be open throughout the break, except Wednesday, Nov. 24 to Friday, Nov. 26, as follows:
Saturday, Nov. 20, 12-9 p.m.
Sunday, Nov. 21, 12-5 p.m.
Monday, Nov. 22, 12-7 p.m.
Tuesday, Nov. 22 23, 12-7 p.m.
Saturday, Nov. 27, 12-7 p.m.
Sunday, Nov. 28, 12-5 p.m. 
REC CENTER
Need to burn those Turkey Day calories? While the Recreation and Fitness Center will be closed on Thanksgiving Day and the day after Thanksgiving, it will be open every other day of break as follows:
Saturday, Nov. 20, 5 a.m. to 8 p.m.
Sunday, Nov. 21, 12-8 p.m.
Monday, Nov. 22, 5 a.m. to 8 p.m.
Tuesday, Nov. 23, 5 a.m. to 8 p.m.
Wednesday, Nov. 24, 5 a.m. to 4 p.m.
Saturday, Nov. 27, 12-8 p.m.
Sunday, Nov. 28, 12-8 p.m.
View hours for the indoor pool, Adventure Rec and the climbing wall online. 
LIBRARY
Houston Cole Library will be closed Nov. 20-27, reopening on Sunday, Nov. 28, 3-11 p.m.
BOOKSTORE
The Campus Bookstore will be closed to foot traffic the week of Thanksgiving Break, but will be running several Black Friday and Cyber Monday specials online at http://jsu.bncollege.com and http://www.shopjsugamecocks.com. 
RMC/JSU Health Center and Counseling Center
The RMC/JSU Health Center will be open normal hours on Monday, Nov. 22, to Wednesday, Nov. 24: 8-11 a.m. for walk-ins and 1-4 p.m. for appointments. The center offers COVID-19 testing and vaccines. Call 256-782-5310 for assistance. 
While the Counseling Center follows the hours of the university, students experiencing a mental health emergency when campus is closed should call the University Police Department at 256-782-5050 to be connected to an on-call counselor. 
CAMPUS POLICE
As always, the University Police Department will be open 24/7 during Thanksgiving Break to keep campus safe and secure. Call 256-782-5050 if you need assistance.
Have a great Thanksgiving Break!