Program for Returning Students Helps California Military Wife Graduate From JSU
08/05/2021
by Brett Buckner 
Among the hundreds of students walking across the stage at Pete Mathews Coliseum on Aug. 6 for JSU's summer commencement, one will be completing a uniquely long journey.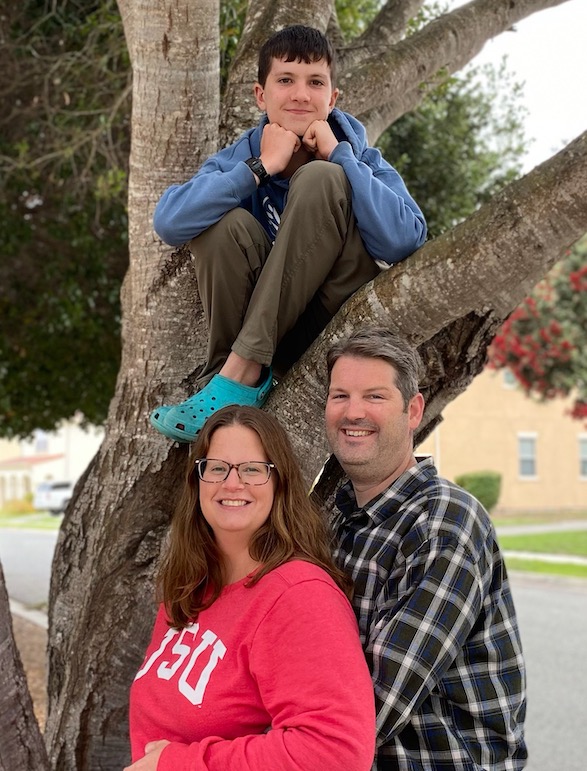 Sandra Arledge lives in California. She is a military wife of 21 years, a stay-at-home mom homeschooling a 13-year-old son, and soon she'll be a college graduate with a Bachelor of Arts in integrated studies. 
Arledge grew up in Jacksonville in a house on 9th Avenue. On Saturdays in the fall, she'd listen to the Marching Southerners play their halftime show during football games. She began college at JSU, but after marrying JSU graduate Richard Arledge – who pursued a career in the US Navy upon earning a BA in chemistry and Spanish – she put her degree on hold. 
"We have moved 12 times as a military family," said Arledge. "We have lived in South Carolina, Connecticut, California, Washington State, Georgia, Hawaii and Virginia. I put my education on the back burner to put my marriage first. I knew that we would spend a lot of time apart due to deployment, and I didn't want to miss what time we had."
Thanks to JSU's Finish What You Started program, Arledge was able to realize her dream of becoming a JSU alumna. The program provides special advising, course credit for work experience, a small scholarship, and other assistance for those returning to college to complete a degree. Often, changing their major to integrated studies offers returning students a quicker path to a degree.  
"While it wasn't my original plan, it had the most flexibility and allowed me to finish my degree while homeschooling my son and taking care of our home," Arledge said. 
Arledge currently lives in Monterey Bay, Ca., where her husband serves as an engineering duty officer at The Naval Post Graduate School. The family is traveling back home to Jacksonville to see her cross the stage and accept her diploma. 
 While it was a long journey, Arledge has some advice for others who are considering going back to school.
"I would tell others considering returning to JSU to do so," she said. "Classes are available online, professors are flexible and guidance is available. It is worth the risk, and it's only scary at the beginning. Take the plunge!"
For more information on the Finish What You Started program, visit www.jsu.edu/finish. 
JSU's Summer 2021 Commencement will take place in two ceremonies as follows: 
10 a.m.
College of Arts and Humanities
College of Business and Industry
College of Education and Professional Studies
College of Social and Behavioral Sciences
2 p.m.
College of Health Professions and Wellness
College of Science and Mathematics
Both ceremonies will be held in Pete Mathews Coliseum, where Athletics' clear bag policy will be in effect. It is strongly recommended for guests to wear masks to prevent the spread of COVID-19. The ceremonies will be streamed live on Facebook and YouTube for those unable to attend in person. For more information, visit the commencement website.