University Mourns Passing of Former Department Head
03/10/2021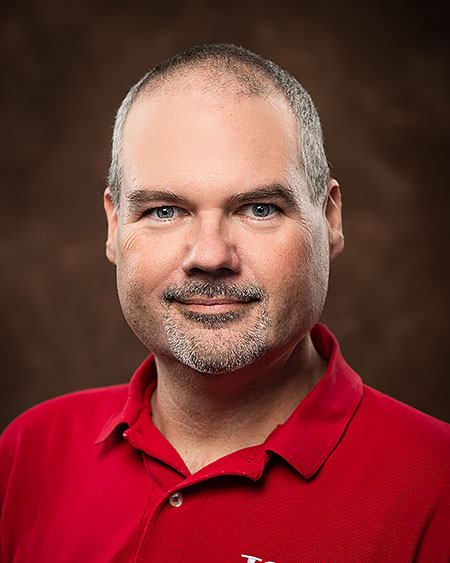 Chris Marker in September 2019. Photo by Matt Reynolds.
Chris Marker, former head of the JSU Department of Applied Engineering, died on March 9 following a long illness. He was 49. 
The news comes at a difficult time for Marker's departmental colleagues, who are still grieving the loss of his predecessor - Terry Marbut - who passed in October. 
"Chris was a talented manufacturing engineer who brought a wealth of experience to the Department of Applied Engineering," said Dr. Dana Ingalsbe, current head of the department. "His mechanical design expertise was invaluable to countless students over the years as they prepared for successful careers in manufacturing engineering. Not only this, but Chris was a mentor and friend to many students and colleagues. My thoughts and prayers are with his family during this difficult time." 
A JSU alumnus, Marker earned a bachelor's in electronics technology and master's in manufacturing systems technology from the university. His family has a long history with JSU, including his father, business professor emeritus Dr. Michael Marker, and his sister Mica Marker Mecham, a current English instructor. 
Marker joined the university in 2015 as an engineer for the Center for Manufacturing Support. He served as head of the Department of Applied Engineering from 2017 to 2019. His 25-year engineering career included work in microwave system design, high power induction heating design, large industrial/automotive equipment design, automotive race chassis design and robotic laser work cell design. 
"I am saddened to learn of the death of Mr. Marker, whose contributions and innovations as a gifted engineer will long be remembered," said President Don. C. Killingsworth, Jr. "On behalf of the entire JSU family, I extend our deepest condolences to the Marker family, whose connection to JSU goes back decades." 
Services will be held on March 12 at Covenant Christian Church in Hokes Bluff (located at 3150 Appalachian Highway), with visitation from 12-2 p.m. and the funeral at 2 p.m.