Online Master of Science in Manufacturing Systems Technology
Degree Overview
Manufacturing Systems Technology is a field of study designed to prepare management-oriented technical professionals for effective leadership in the manufacturing sector. The program balances academic instruction with practical applications in manufacturing systems to provide graduates with a broad base of knowledge and skills needed to effectively manage and control production in manufacturing facilities.
Program Requirements
The program is 30 semester hours of graduate-level coursework
The 30 hours are comprised of 24 hours of major coursework and 6 hours of elective courses
Curriculum
Major coursework consists of the following:
MFG 505 - Manufacturing Operational Systems I
MFG 507 - Manufacturing Operational Systems II
MFG 511 - Manufacturing Computer/Information Systems
MFG 515 - Manufacturing Systems Simulation
MFG 521 - Manufacturing Value Analysis
MFG 531 - Automated Manufacturing Technology
MFG 540 - Safety & Health Administration
MFG 595 - Project Development and Management
Detailed course descriptions may be reviewed here.
Student achievement data for this program may be viewed here.
Frequently Asked Questions
Please refer to the 
How to Apply
 section below. Admissions are on a rolling basis, with classes beginning in late August, early January and early May for Fall, Spring and Summer semesters, respectively. After submitting the required materials, you will hear from 
Graduate Studies
 regarding the status of your application.
This is a fully online program. We do not have required meeting times for classes (that is, where students must log into the system at a particular point in time). Students may log in at times that are most convenient to them in order to complete assignments, participate in discussions, or work on other course tasks. Students are not required to visit our physical campus.
Students are encouraged to develop a comprehensive understanding of the subject matter, combining their work experiences, course instruction, assigned readings, and discussions with classmates. In the online environment, faculty-led discussion boards are used in many of the courses to facilitate interaction between students and faculty. JSU uses the Canvas Learning Management System. New technology now allows students to participate in conference calls, virtual lectures, and to make presentations to their online peers.
Students may earn up to six hours of elective credit for professional, post-baccalaureate work experience. Eligible students apply for work experience credit during their first semester of enrollment.
It is recommended that students select electives that complement their career goals. For example, for students interested in management positions, they should select some graduate business classes. Students working in the education area should select some graduate education classes. Elective options are flexible so that the degree steers the student towards his or her career goals.
Jacksonville State University's current tuition rate for graduate distance education classes may be found on the 
University Bursar's page
. Each course in our program is a three credit hour course.
How to Apply
Applicants must possess an undergraduate degree from an institution accredited by the appropriate regional accrediting association. An undergraduate degree in an engineering field is not required for admission, but candidates with other degrees may be required to complete additional undergraduate courses based on evaluation of academic and professional experiences.
Applicants must submit the following materials:
Completed JSU Graduate Application for Admission.
Non-refundable $35.00 application processing fee.
Official transcripts from all colleges/universities with degrees posted. (Students who have previously attended JSU do not need to request a transcript from the university.)
(Currently Waived) Official test scores on the Graduate Management Admission Test (GMAT) taken within five years of application.
Official GMAT scores are only required for applicants whose undergraduate degree is not from an ATMAE or ABET-accredited program or whose degree GPA from an ATMAE or ABET accredited program is below a 3.00 on a 4.00 scale.
International student applicants must see the International Student Applicants section of this catalog for other application and enrollment requirements.
Accreditation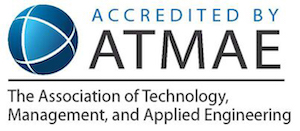 The master of science program in Manufacturing Systems Technology is accredited by ATMAE.
For More Information
Program coordinator: Dr. Dana Ingalsbe
Phone Direct at 256.782.5229