Renovations to Begin Soon at JSU South Complex
03/31/2021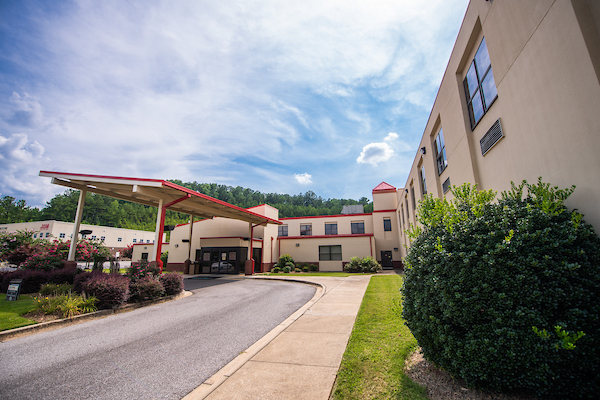 The former Jacksonville Hospital, donated to the university by RMC following the 2018 tornado, is being renovated to serve as the state-of-the-art new home for JSU Nursing.
Renovations on what is known as JSU's South Complex are slated to begin this summer. If all goes according to plan, healthcare students and faculty will begin having classes in the updated facility by Fall 2022.
"We're ready to get going," said Dr. Tracey Matthews, dean of the School of Health Professions and Wellness. "The goal of this renovation is to meet the needs of our nursing students, who have been displaced since the tornado of 2018."
That tornado damaged Lurleen B. Wallace Hall, the school's former home. Since then, classes have been moved to Houston Cole Library, while the nursing arts and simulation labs were held at the former Jacksonville Hospital, which RMC donated to JSU following the natural disaster.
"It's all been very disjointed for the students and faculty," Matthews said. "We're really excited to get all the nursing students and faculty back together and under one roof."
The $11 million project will include:
• Four lecture classrooms with seating for 125 students
• Renovation of existing space for the nursing arts and skills labs
• A student lounge
• Study space
• An informal dining area
The newly renovated complex will also have designated space for the newly created Athletic Training program that is being offered this year.
"Classroom spaces will have all the state-of-the-art technology they're going to need to deliver the same level of quality students have come to expect at JSU," Matthews said. "But what I'm especially excited about is giving students open spaces where they can study, interact and connect as a group."
Construction will begin this summer, when nursing students traditionally don't have lab requirements, but access will still be available to key parts of the building.
"Faculty members will still be able to get to their offices," Matthews said, "and respiratory therapy students will still have classes."
Wallace Hall is also being completely renovated. The $6 million project will transform the former nursing building into a shared space that will house labs and classrooms for the School of Science and the School of Arts and Humanities. Construction will begin near the end of this year with an official opening set for Spring 2023.