Sport Management Students to Work the Super Bowl
01/21/2021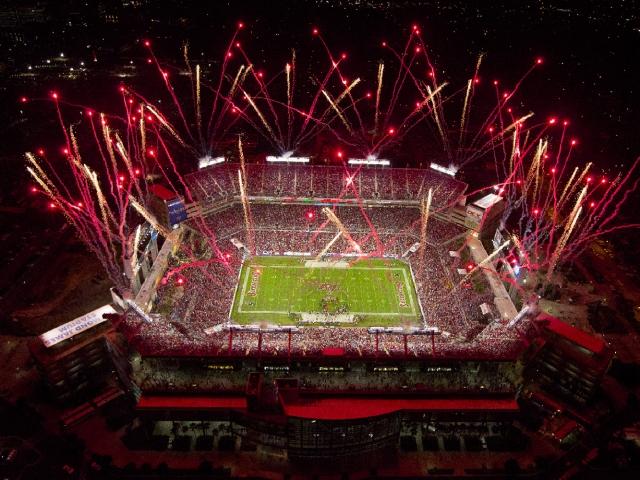 Tampa's Raymond James Stadium will host the 2021 Super Bowl on Feb. 7. Photo courtesy of Visit St.Pete/Clearwater.
No matter which NFL teams play in Super Bowl LV, the JSU Gamecocks will be well represented. Sport management undergraduates Rachel Nevitt, Jordan Adkins and Claire Vermette will be among more than 10,000 volunteers working the event on Feb. 7.
"It is hard to imagine," said Jordan Adkins, 23, from Skyline, Ala. "The Super Bowl is something I have only ever known through a TV screen. I hope to gain confidence in myself and my work abilities." 
Vermette is looking forward to witnessing how one of the premiere sporting events operates from the inside and how the activities benefit the overall fan experience of the Super Bowl. She also appreciates what networking on such a huge scale could mean for her future.
"Participating as a small part in the Super Bowl can still lead to exposure of how the event is managed," said Vermette, a 20-year-old junior from St. Petersburg, Fla., "which can be very beneficial to my personal experience." 
On game day, they will work inside the stadium - a dream come true for any sport management student. They will also have other responsibilities leading up to the event the week before kickoff. 
"In the days before the Super Bowl, I will be working at multiple locations around Tampa to aid in the experiences for fans coming to the city," said Nevitt, a 20-year-old junior from Woodstock, Ga. "Each location has various assignments, ranging from providing guests with information about the city and events to facilitating interactive games and exhibits."
While the students will be far from home – save for Vermette – they won't be alone. JSU alumna Andrea Moultrie will be one of roughly 200 community advisor captains supervising the army of volunteers who will have descended upon Tampa Bay.
Moultrie, who lives in Birmingham, received her bachelor's degree in marketing from JSU in 2012 and was one of the first students to receive a master's degree in sport management from the university in 2015. She started out as a volunteer for Super Bowl LII in Atlanta
"It's really lit a fire in me for a job that before I didn't even know existed," Moultrie said. "Back then, I just thought I was going to volunteer and have a cool experience that I'd get to tell stories about one day."
After the first year as a volunteer, Moultrie was promoted to the paid position of captain, first for Super Bowl LIV in Miami and again for this year's Super Bowl LV.   
"It's wonderful. It's exciting. It's everything that you think that the Super Bowl is – the lights, the energy," Moultrie said. "Employees walk through the tunnel, just like the players. We are viewed as a team and are considered members of the NFL team, and we have to work like one to pull off the greatest event in American sports."
Moultrie was instrumental in getting JSU students to apply for volunteer positions. 
"I love everything about JSU," she said, "Once you're a Gamecock, you're always a Gamecock. As a graduate, it's my job to help provide opportunities to other Gamecocks. JSU produces a lot of great students across the board. If given the chance, they'll show the talent that they have."
Having JSU students involved in events like the Super Bowl will raise the profile of the sport management program, which offers both bachelor's and master's degrees. 
"Whenever people think sports in Alabama, they think of the University of Alabama or Auburn," Moultrie said. "That crosses into education as well. A lot of people weren't aware that JSU has a sport management program."
Opportunities like this are all about getting your foot in the door, explained Dr. Allen Gilbert, who heads the undergraduate sports management program
"That's one of the things we really preach to our students, that they need to get out early and volunteer, so they can make those connections," Gilbert said. "In this field, it's all about making those connections."
Gilbert and Moultrie were discussing the possibility of getting JSU students to volunteer for the Super Bowl. Because it was in Tampa Bay, cost was a factor as the students would have to pay their own way. But with Vermette being from the area the students would having something of a tour guide. Soon, she, Nevitt and Adkins had all applied and were accepted.  
"Dr. Gilbert always presents hardworking students with various opportunities," Adkins said. "He mentioned the experience and my automatic response was, 'I'm in.'"
The opportunity for Gilbert's "three best students" is also an opportunity for JSU's sport management program.
"It's just a great selling point, as a recruiting tool – both for the university and this program – to say, 'Hey, our kids are working the Super Bowl,'" he said. "I keep reminding them to take pictures of themselves at this event, because pictures sell so much better than anything else."
Gilbert says trying to describe sport management is "kind of like nailing Jell-O to the wall," because it has so many avenues. That's why volunteering at a colossal event like the Super Bowl is important because of the variety of jobs students will perform.   
"Very rarely does a sports business professional specialize in just one thing," Gilbert said. "They have to do a little bit of everything, and that's the approach we take with our curriculum. We have a lot of different classes – marketing, legal, finance – providing a comprehensive approach to the sports industry because that's what the industry demands."
With only a few weeks left before they arrive, Moultrie has a little advice for what the students can expect as volunteers.
"You're always on 'Go,'" she said. "From the moment you get off the plane, from the moment you check into that hotel, there is something to be done. It is a job, but it's also a job interview. You never know the people you'll meet, who may end up having a lifelong impact on your career."