Test Score Requirements Waived for Incoming Freshman
11/17/2020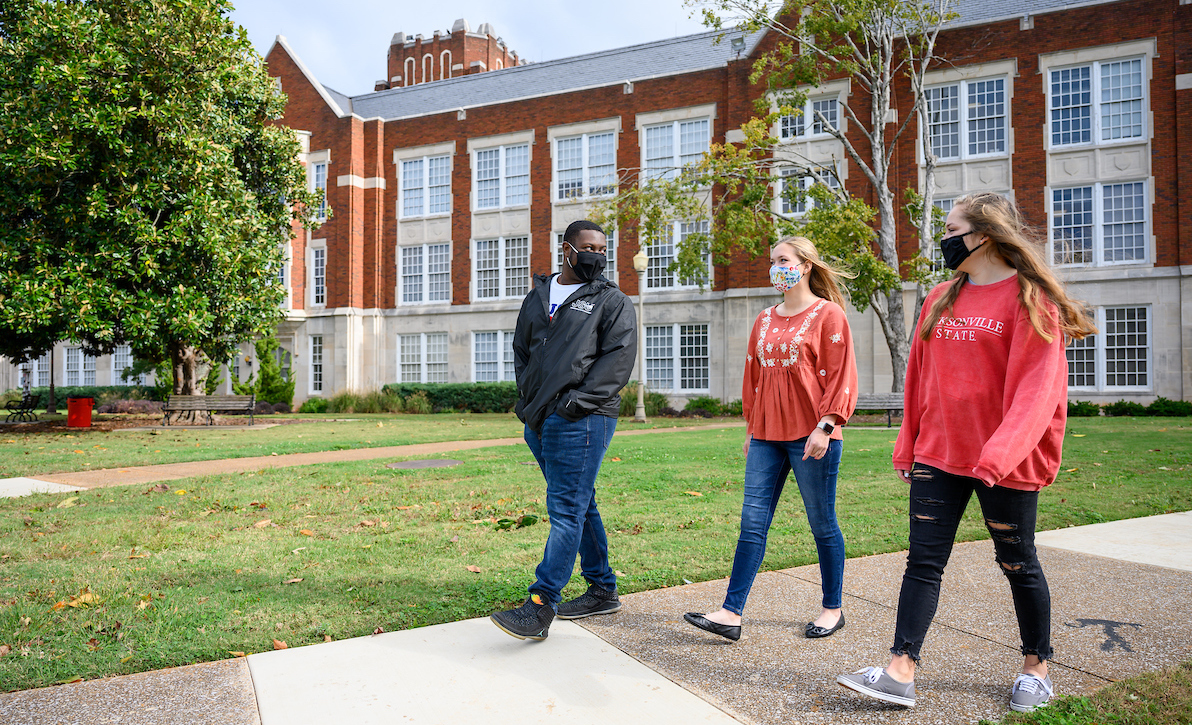 JSU students walking outside Bibb Graves Hall. Photo by Grace Cockrell.
The reality of COVID-19 will not stop students from pursuing their dreams of a college education at Jacksonville State. Through Fall 2021, the university is waiving ACT and SAT test score requirements for both freshman admission and scholarships. 
Students will be admitted and awarded scholarships based on their high school grade point average. This policy change was created to provide access to students who may have difficulty taking or re-taking the ACT or SAT because of existing COVID-19 restrictions. Entering freshman admission is based on high school GPA, which – according to JSU research – is the strongest predictor of academic success.
JSU officials anticipate academic student profiles will remain similar to previous years, despite these admission requirement changes. For example, the Fall 2019 average GPA for entering freshmen was 3.51 whereas the Fall 2020 GPA average, when testing was optional, was actually higher at 3.54.
"JSU aims to be as student friendly as possible, while also ensuring students' success in college is supported," said Lauren Findley, director of undergraduate admissions. "The COVID-19 pandemic has created uncertainty for testing, and we felt that, based on JSU historical data and trends in higher education, it was in the best interest of our potential students to adopt a test optional policy."
JSU's new Division for Student Success has been established to increase retention and graduation rates by offering more opportunities for academic intervention and support, including success coaching. The university is also using a free placement and preparation tool, EdReady, to provide freshmen individualized assessments and remediation to address any education gaps created by the pandemic. 
In addition to waiving testing requirements, JSU is also updating its scholarship policy amid the pandemic. Students without ACT or SAT test scores will qualify for academic merit scholarships based on their high school GPAs. Those who have ACT or SAT scores may qualify for higher scholarships, but students without scores or who have low scores will not be penalized. 
Those who have already taken the ACT or SAT are advised to submit those scores to the university, as having a score on file can be beneficial when seeking admission to certain academic programs, such as education or nursing. Additionally, a combination of high test scores and GPAs may result in a higher overall scholarship package. 
Accepted students may resubmit their test scores and GPA through May 1, 2021 to potentially increase their merit scholarship package. The deadline for submitting competitive scholarship applications varies by scholarship. The JaxApp, which offers more than 250 competitive scholarships in one application, is due Feb. 1, 2021. Applications for JSU Honors is Jan. 8, 2021 and JSU Leadership applications are due Feb. 1, 2021.
For more information, visit http://www.jsu.edu/testoptional.