University Mourns Passing of Retired Department Head
10/14/2020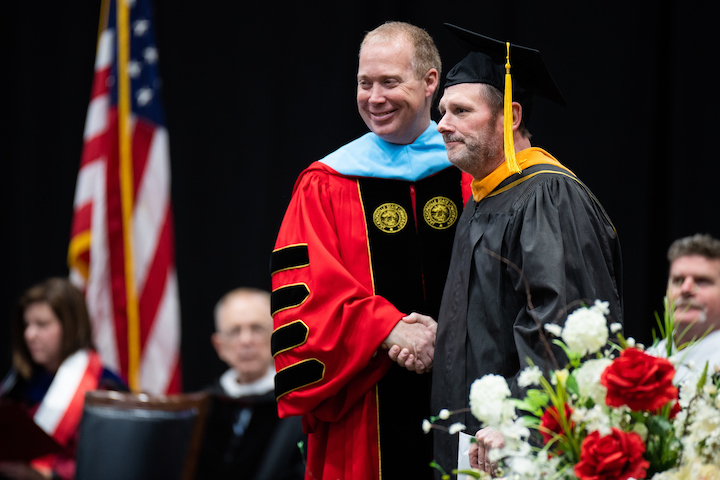 Terry Marbut was honored as Department Head Emeritus at the university's Fall 2019 commencement.
The JSU family is mourning the loss of Department Head Emeritus Terry Marbut, who passed away on Tuesday following a long illness. 
"Terry will be sorely missed," said Dr. Dana Ingalsbe, head of the Department of Applied Engineering. "He was a wonderful colleague and friend." 
Marbut worked on campus for more than 30 years, serving as instructor and head of the Department of Applied Engineering, until retiring in 2017. Under his leadership, the department experienced substantial growth in both enrollment and regional reputation. Accomplishments included: 
Ingalsbe said Marbut's accomplishments in the classroom and as a mentor to both students and faculty alike were also of great significance. 
"As an outstanding teacher, he always had time for the student needing academic help or even just a listening ear," Ingalsbe said. "He was never in a hurry and he prioritized students in every decision he made. Similarly, he cared about his faculty. He advocated for us on a regular basis, and imparted wisdom and support throughout our respective careers. Whether providing advice, giving input regarding promotion and tenure, or brainstorming career goals, Terry Marbut was an excellent boss." 
In recognition of his numerous contributions to the university, Marbut was awarded Department Head Emeritus status last fall and honored during the Fall 2019 commencement ceremony. 
Funeral arrangements have been set as follows: Visitation will take place on Thursday, Oct. 15, 5-7 pm, at Covenant Christian Church on Appalachian Highway in Hokes Bluff. Funeral services will be held on Friday, Oct. 16, at 2 p.m., at the same location.