Master of Social Work Program Receives National Accreditation
09/01/2020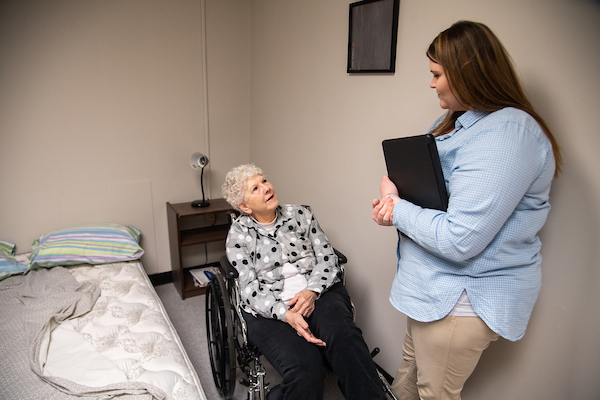 A JSU social work student practices her skills in the department's simulation lab. Photo by Matt Reynolds.
Jacksonville State has received national accreditation for its Master of Social Work (MSW) program through the Council on Social Work Education.
The new program began enrolling students in 2017, with accrediting commissioners visiting campus each year to ensure that accreditation standards were being met and that faculty and staff were providing a high-quality education to students. Accreditation was formally granted in June.
JSU has offered a bachelor's degree in social work since the 1980s. Students with a bachelor's in social work may pursue the Advanced Standing Option, which allows them to complete the MSW degree in one year. Students with other bachelor degrees may also obtain an MSW degree under the two-year Traditional Option. Classes are offered in a hybrid format, meeting in person only once per week to allow flexibility for working professionals.
"Social workers at the master's level are eligible to enter independent clinical practice for mental health and bill insurance companies for their services," said Dr. Kimber Wickersham, program coordinator. "The MSW degree gives you the flexibility to change your practice level or setting. Licensed social workers are very marketable in any job market, anywhere in the country, and around the world."
The MSW program emphasizes a full range of high-quality experiences throughout the curriculum via innovative courses, creative field work and internships, relevant research and service-learning activities. JSU's social work faculty are licensed social workers with experience in the field.
"They are active in various settings within the communities surrounding JSU and often create service-learning activities," Wickersham said. "Students are able to learn in situations other than the traditional classroom."
The MSW degree offers limitless opportunities. Graduates can find careers in behavioral health/mental health settings, healthcare settings, children's services, homeless programs, prisons, employee assistance programs, veteran services, school systems, advocacy centers and more. The Veteran's Administration is the largest employer of MSW social workers in the country.
Students attracted to social work are often looking to make a difference in our world.
"Individual and social struggles create needs for external support and assistance and social workers have the knowledge and skills to help others to help themselves," Wickersham said. "Social work is for students who have a wide variety of interests. There are so many career opportunities in this field, you will never be bored. You can even create your own business and pursue your dreams."
Founded in 1952, the Council on Social Work Education (CSWE) is the national association representing social work education in the United States. Its members include over 750 accredited baccalaureate and master's degree social work programs, as well as individual social work educators, practitioners, and agencies dedicated to advancing quality social work education. CSWE's Commission on Accreditation is recognized by the Council for Higher Education Accreditation as the sole accrediting agency for social work education in the United States and its territories.