Graduation Day Details: Spring and Summer 2020
07/30/2020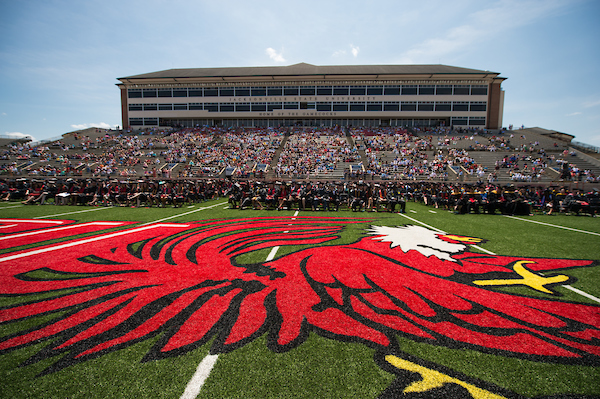 9 a.m. – Summer 2020 Undergraduate Ceremony 
7:30 p.m. – Spring and Summer 2020 Graduate Ceremony 
Saturday, August 1, 2020
9 a.m. – Spring 2020 Undergraduate Ceremony for the School of Arts and Humanities, School of Business and Industry, and School of Human Services and Social Sciences
7:30 p.m. – Spring 2020 Undergraduate Ceremony for the School of Education, School of Health Professions and Wellness, and School of Sciences
GRADUATION CEREMONY DETAILS
Graduates: 
Everyone in attendance will be required to wear masks. Graduates will be provided a mask at the ceremony, hand crafted by faculty and staff volunteers, and will be distanced from one another on the field. Only one row of graduates will rise at a time to go to the stage. Graduates will cross the stage wearing masks. Professional photographers will take photos of graduates onstage, wearing their masks, but will also take photos off-stage without masks before graduates return to their seats. 
Guests:
The number of guests will not be limited. Guests must bring and wear their own masks. Each graduate's guests should sit together in the stadium and maintain social distance between themselves and other groups of guests. The north, south and east sides of the stadium will be available for seating. The university's
clear bag policy
will be enforced. Umbrellas will be permitted in the stadium, as social distancing should allow for better viewing than under normal circumstances (please be courteous of those around you).
Health Concerns: 
To prevent the spread of COVID-19, graduates and guests exhibiting
symptoms
, those who have cared for or visited with anyone diagnosed with the illness, those who have pending test results, and/or those who have been quarantined with or without symptoms in the last 14 days are asked to please stay home and enjoy the ceremony on JSU's
Facebook Live
event.
Transportation: 
Shuttle service will be provided to JSU Stadium from Houston Cole Library, Brewer Hall, and Pete Mathews Coliseum, beginning 2 hours prior to each ceremony and continuing until one hour following the conclusion of the ceremony. On the shuttle, masks will be required, and social distancing will be encouraged.  
Summer Heat: 
Although we have moved the ceremonies to the morning and evening to avoid the hottest parts of the day, guests should come prepared for the high temperatures of an Alabama summer. Guests are encouraged to wear hats, sunscreen, and light-colored clothing. Each ceremony is expected to last approximately two hours. 
Severe Weather:
University Police will be monitoring the weather from within the stadium. Should lightning occur, graduates and guests will be required to vacate the stadium and the ceremony will be delayed until an "all clear" is given by police. It is recommended that guests vacate to their cars until the ceremony resumes, to maintain social distancing.