JSU Pride: First Openly Gay Professor Shares His Story
06/20/2019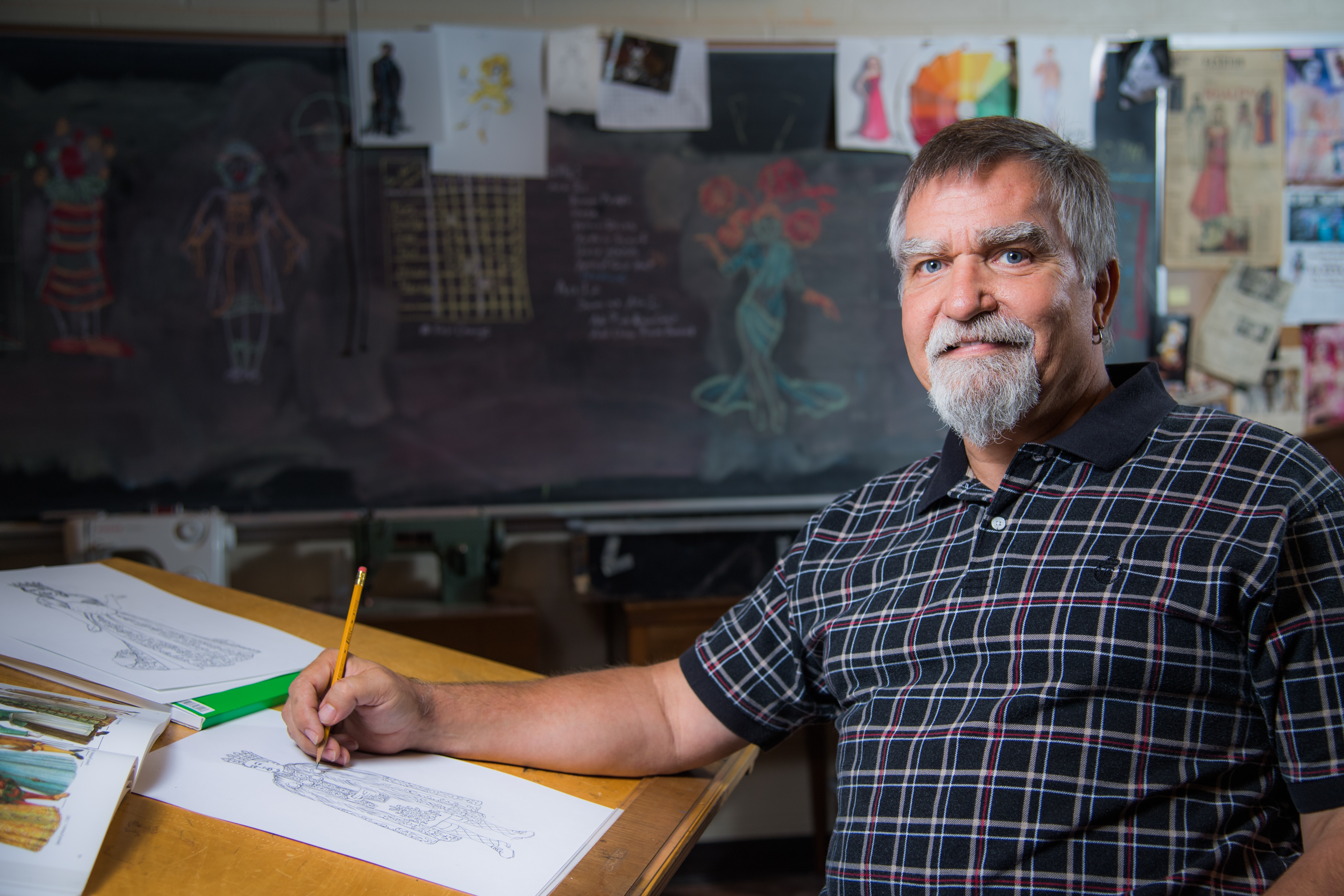 PRIDE: JSU's first openly gay professor reflects on 30 years of a university's growing tolerance 
Freddy Clements doesn't believe being openly gay is all that special, and he's got the bumper sticker to prove it: "I'm a Christian Who Happens to be Gay."
When describing Clements, who has spent his entire 31-year teaching career at JSU, the word "Christian" on his bumper sticker could also read "drama professor," "advocate," "costume designer," "mentor," "Virginia native," "Dragon Con judge," "husband," or countless other roles, accomplishments and personality traits of which being gay is just one.
"Gay people are regular people," Clements said. "I'm a good person – or at least try to be. When people meet me, and realize that I'm gay, I hope they think, 'oh my gosh, he is a talented artist and an awesome professor who looks out for his students; he goes to church and helps out in the community; he is a fun person and a good friend; he is a good husband and an awesome granddad.' I hope what they see makes being gay one of my less interesting attributes." 
When Clements came to JSU three decades ago, he wasn't open about his sexuality and said he was told that if he wanted to pursue a personal life, he should take it to Atlanta. The meaning was as clear as it was blunt – if you're gay, keep it to yourself. 
Upon sharing this story at a recent LGBTQ Pride Month event on campus, Clements said he was met with a few gasps from the crowd. "I think that's good because people at JSU now were shocked that someone could feel that way," he said. "It shows how far we've come."  
Clements wasn't a scheduled speaker at the Lunch and Learn where he shared this experience, but he was among the many faculty, staff and students in attendance. He'd come, like everyone else, to learn more about supporting students like those who have often approached him over the years because they were struggling to come to terms with their own sexuality. They were afraid of what coming out would mean to their family, their friends, their future. 
Clements knows the statistics on suicide rates among gay teens and young adults. He understands the pain and heartbreak, the fear and isolation they are likely to face, and he knows how to help them – if not necessarily as a professional counselor, but as someone who students have come to trust. 
"Students have a way of finding you," he said. "When I first got here I wasn't really 'out' because back then, you just didn't do that. And yet students somehow found me."
He remembers the first time he looked up and saw a student standing in his office doorway with tears in his eyes.
"His problem was admitting that he was gay," Clements said "And that's a huge problem for a lot of young people. I remember growing up and thinking I was going to hell. It was horrible."
Clements comforted that student the same way he has so many students since – with a hug. 
"The first thing they need to know is that they are loved, that they are accepted," Clements said. "Then I tell them that God doesn't make mistakes. Usually, if they aren't crying by that point, that will make them start. Even if they aren't religious they need to know that they aren't a mistake."
The Costume Shop where Clements, as well as many students and faculty from the drama department, hang out has always been a safe space. 
"Students just sort of knew that it was a place where they could come and talk," Clements said. "Nobody ever stood up and said, 'I'm gay' because you just didn't do that. But most of us just knew and that alone made us a community."
Today, JSU itself has become a sanctuary of inclusion thanks to a campus-wide program relaunched in the spring. Safe Zone creates a welcoming environment for all gender identities and sexual orientations by establishing an identifiable network of trained individuals committed to fostering an atmosphere of respect and inclusion for members of the LGBTQ community.
Programs like Safe Zone are a small example of the changing culture of acceptance. 
"The world is very different," Clements said. "When I first started here, people didn't really think they had friends, teachers, city leaders or knew anyone of import who was gay. They thought the only gay people were those who were being socially belligerent, protesting or speaking out in the media."
Fast forward to now, and the same professor who was told to keep his sexuality to himself attends faculty cocktail parties with Rainer Clements, his husband of five years. "And nobody blinks an eye," he said, "because it's not a big deal." 
Freddy and Rainer, who is an IT support specialist at JSU, were married in Maryland and one of the first same-sex couples in Alabama to be legally wed. Despite knowing just how accepting JSU had become, Clements admits to being a little nervous the first time he and his husband went to the human resources office to complete the necessary paperwork as a married couple. Both were soon overcome with emotion when staff came out of their offices and from behind their desks to congratulate them.
"It was the most positive experience I've ever had here," Clements said. "I think we both cried."
Clements teaches costume design in the Department of Drama and has prepared generations of students for careers in professional theater. For his lifetime of service to the university, he was honored with the William A. Meehan Legacy Award at the annual Faculty Awards Reception in April.