Graduate Studies Director Grows Program While Rebuilding Home
12/02/2018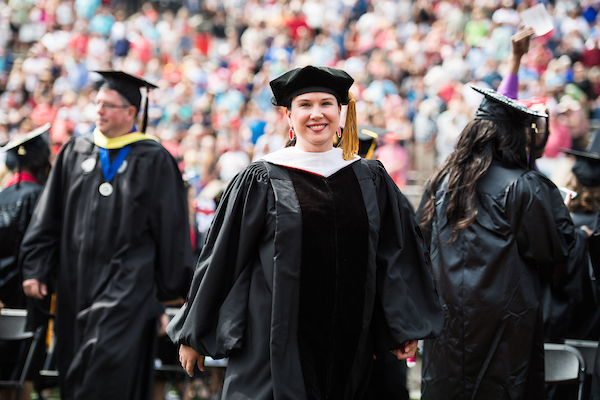 Battling misconceptions was Dr. Andrea Porter's first obstacle. 
When she was an English professor, Dr. Porter, who joined JSU in 2005 after receiving her PhD from the University of Alabama, served as advisor for the English department's Master of Arts program. Part of her responsibilities was speaking to the 300- and 400-level classes about graduate studies. During those visits, she would ask students questions like, "Do you know that JSU has graduate degree programs?" and "How many hours does it take to earn a master's degree? " 
"The ones that answered often guessed 150-plus hours," Dr. Porter said. "They really didn't have a clue. They were coming from the undergrad view of 120 hours for a bachelor's degree, and they just assumed anything higher than that would take just as long or longer."
The right answer is 30 hours – or 10 classes. 
"What those English students didn't know rings true for the rest of the university," Dr. Porter said. "We need to do more to let our students know about the opportunities available to them." 
In January, Dr. Porter was named Director of Graduate Studies, overseeing JSU's more than 60 graduate programs. 
She learned that the average age of a JSU graduate student is around 32 years old. So the Graduate Studies team started addressing existing students nearing graduation, getting the word out about the Graduate Studies program any way they could. That meant everything from handing out T-shirts to setting up booths at orientation.
"We had to become more visible on campus," Dr. Porter said. "Our main goal in the beginning was recruiting our own students, and getting them to enroll in graduate degree programs earlier."
Innovation was another goal for Graduate Studies, which is what led to the creation of the Faster Master's degree, a pilot program that will officially become available to students next fall. The Faster Master's is an accelerated program that allows accepted undergraduate students to take up to 12 hours of graduate coursework that count toward both the undergraduate and the graduate degrees. JSU is piloting the program in English and Biology this spring but will add several more programs in the fall. 
These combined efforts are already paying off with steady increases across the board. The university reported a graduate student enrollment increase of 7.6 percent from 2017 to 2018. There has also been a 173 percent increase in graduate studies applications – from 88 to 240 – between the fall semesters of 2017 and 2018. The number of students admitted into the more than 60 graduate studies program has increased 225 percent between the spring semesters of 2017 and 2018.
"I think the things we've been doing are working," Dr. Porter said. "It's been a great start."
In a round-about way, some of Dr. Porter's early success could be attributed to a most unlikely source – the March 19 tornado that decimated JSU's campus and the surrounding community. She was home when the EF-3 tornado hit, grabbing her three cats and running for the nearest closet. While the 100-plus mph winds peeled the roof off her home and tossed trees like matchsticks, Dr. Porter gripped the closet's two French-style doors from underneath to keep them from blowing open.
"It was terrifying," she said. "But I'm fine, and all my cats survived."
Her house did not. Since March 20, Dr. Porter – and her cats – have been living in a hotel room while her home is being repaired. Having her entire life uprooted was unspeakably difficult, but the challenges of her new job as Director of Graduate Studies provided safe harbor amid the chaos. She leaned into her work, returning to campus with the Graduate Studies staff before it reopened to process graduate applications and address student concerns. 
"Having this job, having this huge new project, has helped me through the tornado in a lot of ways," she said. "There have been so many things about this situation that I couldn't control – the slow progress and the patience it demanded – and my job provided some stability."
Dr. Porter estimates that she'll be back in her home within the next two months. "It's been a challenge," she said with a laugh, "I'll be glad when it's done and things can get back to normal." 
While the repairs to her home will soon be completed, Porter's work building up Graduate Studies will continue. 
"A home is more than bricks and mortar; it's people," she said. "JSU is more than buildings – it's a family created by our students, faculty and staff. And I am grateful to everyone at JSU, especially the Graduate Studies staff, for what they've done for me and our students."
For more information on JSU's graduate programs visit www.jsu.edu/graduate.