Zeta Tau Alpha Sorority Named No. 3 Chapter in the Nation
07/30/2018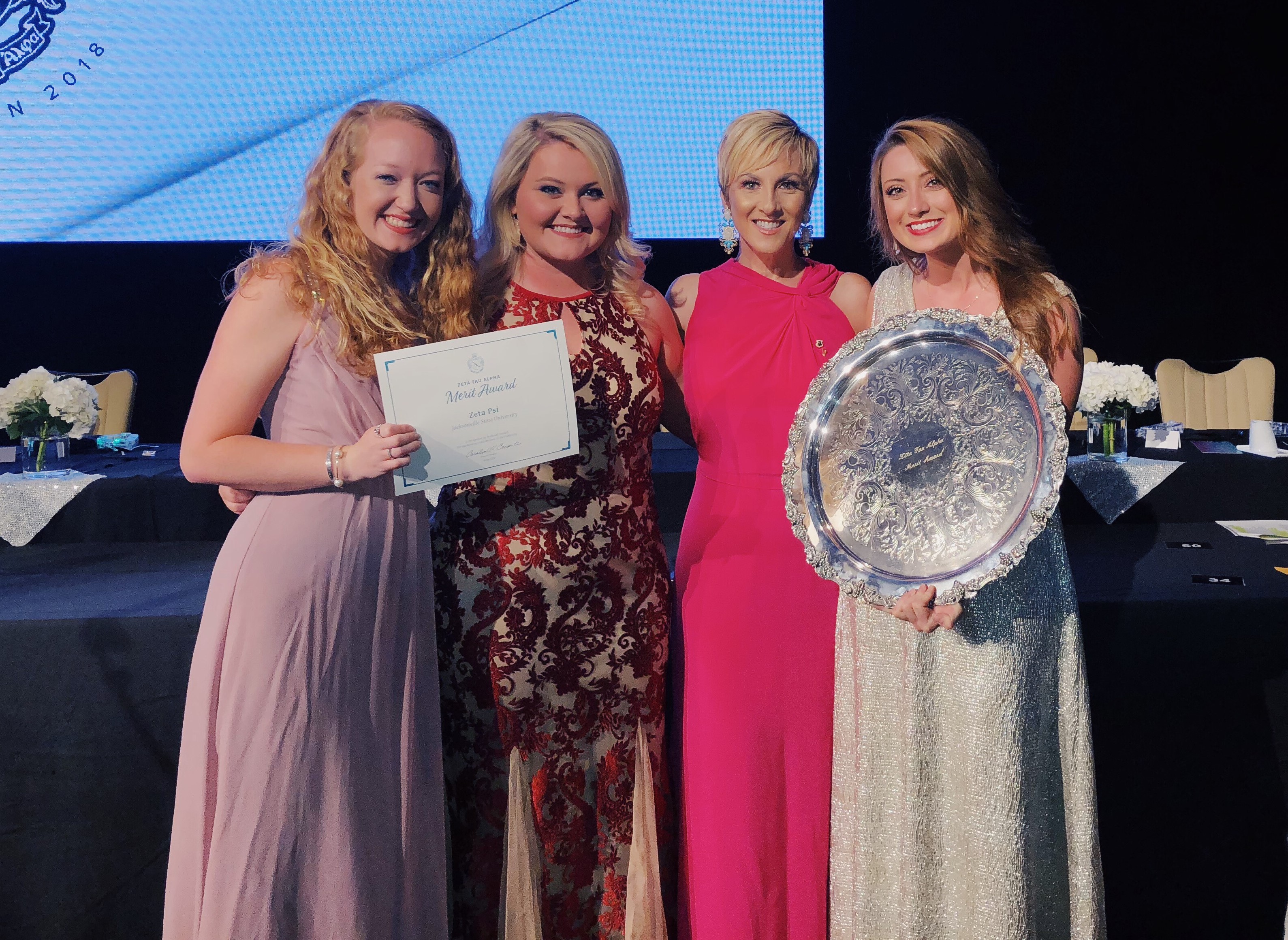 Students Hannah Lovvorn, Carmen Brothers & Rebekah Beasley accept the award from national president, Carolyn Hof Carpenter.
JSU's chapter of Zeta Tau Alpha sorority has been recognized as the No. 3 program in the nation, out of 254 chapters, as a recipient of The Merit Award at the National ZTA Convention in Orlando earlier this month. 
Since 1948, The Merit Award has been given to a chapter in recognition of its outstanding and sustained achievement and leadership over the previous two years. The award is bestowed on the chapter that has maintained and sustained excellent officer and campus leadership, academic achievement, chapter attitude and cooperation.
JSU's Zeta Psi chapter of ZTA also took home the following awards: 
The Quota/Total Award for maintaining maximum chapter size 
The prestigious Crown Chapter Award, which is given by the ZTA National Council to collegiate chapters that maintain excellence in all facets of chapter programming, service, recruiting, finances, scholastics, member involvement and chapter management
The Academic Achievement Award for maintaining a Highly Commendable GPA of at least a 3.0 or higher each semester (the chapter achieved a 3.61 in spring 2018)
Induction into the Founders Club, which is comprised of chapters that raise the most money for the national philanthropy, Breast Cancer Education and Awareness. JSU's chapter has raised more than $106,000 for the Zeta Tau Alpha Foundation over the biennium – the 16th highest amount raised among all ZTA chapters
The following individual members were awarded ZTA Foundation scholarships by the national convention for the upcoming school year, in honor of their outstanding academic and leadership achievements: 
Kendall Hollen Tankersley was awarded the Mary Jones Batte Founders Grant totaling $9,000, one of nine grants given to ZTA alumnae attending graduate school
Hannah Lovvorn was awarded the ZTA Foundation Achievement Scholarship, $3,000
Taylor Cochran was awarded the Birmingham Alumnae Chapter Recognition Scholarship, $2,200
Miranda Fairel was awarded the Dr. Andrea Porter Recognition Scholarship, $2,000
Audrey Lawrence was awarded the Leah Goggans Simmons Recognition Scholarship, $2,000
Angel Sharp was awarded the Gloria Culberson Hice Recognition Scholarship, $2,000
Abbey Warren was awarded the ZTA Jacksonville State University Recognition Scholarship, $2,000
Kalei Whitson was awarded the Zeta Psi Recognition Scholarship, $2,000 
Representing the JSU chapter at the convention were the following delegates: 
Rebekah Beasley, President
Carmen Brothers, Vice President of Recruitment
Hannah Lovvorn, Vice President of New Members
The chapter is advised by Dr. Andrea Porter, who became director of JSU Graduate Studies earlier this year after serving many years as an English professor. 
Zeta Tau Alpha was founded at Longwood University in Virginia in 1898, and is now second largest among the 26 national Panhellenic sororities, with 254 collegiate ZTA chapters, 238 ZTA alumnae organizations, and over 257,000 members worldwide. The Zeta Psi chapter at JSU was chartered in 1969. This past year, ZTA at JSU was awarded the President's Gold Cup and was recognized for the highest sorority GPA.
Zeta Tau Alpha will participate in JSU's Panhellenic Recruitment of new members August 16-19, 2018, and encourages all unaffiliated women to register for Formal Recruitment. For more information about ZTA at JSU, visit jsu.zetataualpha.org, follow @ZTAJSU on Instagram and Twitter, and "like" Zeta Tau Alpha at Jacksonville State on Facebook.