Faculty Spotlight: Jan Gryko
04/14/2017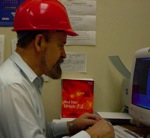 Chemist Jan Gryko
"Classic lecture does not need to be boring," said Dr. Jan Gryko, JSU professor of chemistry, and this is a motto that he puts into practice in his classroom.
Gryko finished his master's in chemistry at Warsaw University in Poland in 1973, and six years later, earned a Ph.D. in chemistry from the Institute of Physical Chemistry at the Polish Academy of Sciences in Warsaw.
Gryko specializes in materials science, crystallography, and nuclear magnetic resonance. He has completed research in the field of open framework materials and thermoelectrics, application of density functional methods to study new materials, and educational use of quantum mechanics. 
This year marks the 20th anniversary since Gryko arrived at JSU. What does the Polish chemist think makes JSU special? "We provide unique one-on-one interaction between faculty and students because our classes are smaller than those in big research universities," he said. "In chemistry, we provide full access for students to all instruments, including the very expensive NMR, SEM, and GCMS."
When asked what he enjoys most about teaching, Gryko responded, "To see that smile on a face of a student who just learned something new and very important that she/he did not expect at all."
While many students might fear a chemistry class, Gryko believes in making his courses engaging. He includes numerous demonstrations, especially in General Chemistry classes, and displays outline materials in the classroom and online.
"I also include at least one or two 'commercials' to break the lecture and tell students something related to the lecture," he said. "For example, I use historical remarks or 'acceptable' stories from biographies of great chemists or physics. An example from today's organic chemistry lecture – I had to talk about chemistry and safety, and then I mentioned tattoo ink and what goes into it. Believe me, I got the attention of all students in the class!"
As an incentive, Gryko provides challenging problems with very generous credit, and the research he offers can help build students' CVs. To further prepare students for a career in chemistry, he makes sure that his chemistry labs teach essential skills that students will need in their future work, including the use of modern instrumentation.
Regarding advice he would give his students, Gryko stated, "Lectures and labs are your working place. You are coming to learn as much as possible during lecture or lab. Make sure that you understand everything and ask, ask, and ask. Your instructor is there for you and she/he must answer all your questions. Start doing research in your freshman or sophomore year and make your CV stronger."
JSU is lucky to have Jan Gryko engaging and preparing students for their career paths!