Cunningham Hits Diploma Homerun in Ninth Inning of College Career
12/09/2016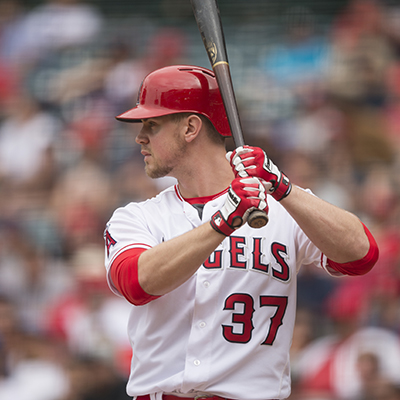 Todd Cunningham at bat for the Los Angeles Angels. (Matt Brown/Angels Baseball LP)
By Heather Greene
Nine years ago, Jacksonville native Thomas "Todd" David Cunningham III began his college career at Jacksonville State University. On Friday, Dec. 16, he will trade his baseball hat for a graduation cap as he crosses the stage to accept his diploma. However, the road to his degree has been anything but typical, as his studies have been completed between his professional baseball contracts.
Early on in Cunningham's life, his grandparents' love of the Atlanta Braves kindled a passion for baseball in him. To a four-year old boy admiring the game, garden gloves became batting gloves as he would try to hit homeruns over the hedges in his grandparents' backyard with his t-ball set. Little did they realize then that Cunningham would grow up to play for the team they so dearly loved.
After graduating from Jacksonville High School in 2007, Cunningham played baseball with JSU on an athletic scholarship, in addition to an academic scholarship.
"It was just too good of an offer not to take it," explained Cunningham, reflecting on the steps that brought him to choose JSU.
After his freshman year, he went to Texas to play summer ball. While there, a JSU teammate was in an amateur baseball league in Cape Cod, Massachusetts, and Cunningham received an offer to come play in Cape Cod to cover for some injured players. While he had already signed with Texas for that summer, that connection allowed Cunningham to sign with Cape Cod the following summer.
JSU Summer/Fall Commencement
Friday, December 16, 2016
Pete Mathews Coliseum
Time(s)
10 a.m. - Schools of Education, Business and Industry, and Science
2 p.m. - Schools of Arts and Humanities, Health Professions and Wellness, and Human Services and Social Sciences
Top Graduates, With Latin Honors
Todd Cunningham, Brooke Holland, Kendall Durham, Katelyn Schneider, Diana Mirceta, Tristin Terry, Jonathan Irwin, Blake Wilson, Brianna Bell, Austin Brown, and Christopher Mellon.
Television
Ceremonies will be televised live on WEAC-TV24 (local CableOne Channel 9). Companies carrying TV24 include CableOne (Anniston, Oxford, Munford, Pell City and Jacksonville), Charter (Piedmont, Southside and Heflin), Leesburg Cable, Collinsville Cable, Lookout Cable (Gaylesville), and Cherokee County Cable (Centre). 
Live Web Streaming
View the graduation ceremony live on the web via the OVC Digital Network. Get the link here on the JSU Television Services website. 
Accessibility
Accessible Parking available in north and south parking lots; Accessible restrooms on second (main) floor; Accessible seating throughout second floor. Captioning services for deaf and hard of hearing will be available at north end. ASL interpreting provided on stage. To request additional accommodations or for questions regarding accessibility, please contact Disability Support Services via email or by phone, 256-782-8380.
JSU welcomes family and friends to commencement and would like to wish the very best to all our graduates! 

Questions? Visit the Office of the Registrar's website or call 256-782-5400.
He describes that experience as "a special kind of summer where everything just kind of worked." Many of the best collegiate players in the country go there to play, which also draws scouts. His summer performance in Cape Cod jumpstarted his career.
Following his junior year in 2010, Cunningham was drafted into the Atlanta Braves, and he left JSU to pursue his professional baseball career. He remained with them until 2015, when he was claimed off waivers by the Los Angeles Angels. After a year with the Angels, he signed his current free agency minor league contract with the St. Louis Cardinals. An outfielder with experience in all three outfield positions, Cunningham came up through the minors as a center fielder.
Cunningham will receive his Bachelor of Science in psychology with a minor in anthropology, which he hopes to utilize in the field of sports psychology. He hopes to eventually earn a master's degree in sports psychology but only after his career in baseball is completed.
Reflecting back upon his time at JSU, Cunningham cherished the friendships he has had the opportunity to build and maintain over the years with students, teammates, and coaches.
When not playing baseball or studying, Cunningham enjoys traveling and has a strong interest in other cultures. He describes himself as "outdoorsy" and explains he has "a getaway spot" on a plot of land in Gadsden where he likes to go for some quiet in the woods during the off season of baseball.
His parents are Jacksonville residents, Thomas David (II) and Brenda Cunningham. He has one brother, Tyler, who is married with one child and resides in Huntsville. 
On Friday, Cunningham will deliver the "ceremonial first pitch," so to speak, as he will be ringing the commencement bell for the 2 p.m. graduation.