JSU Takes Proactive Stance on Sexual Violence with Common Reading Selection
06/09/2016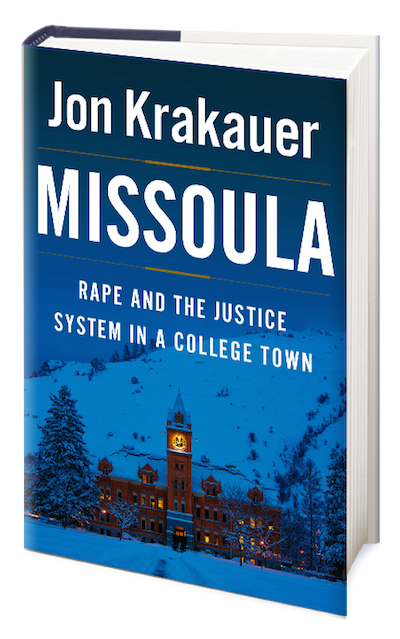 By Heather Greene 
One in five women and one in 16 men are sexually assaulted in college, according to the National Sexual Violence Resource Center. More than 90 percent of campus sexual assault victims do not report the crime. Jacksonville State University has decided to address this issue head-on through its common reading selection, "Missoula: Rape and the Justice System in a College Town."
Written by journalist Jon Krakauer, "Missoula" centers on the hundreds of sexual assault charges filed by students at the University of Montana between January 2008 and May 2012. The dynamics of the beloved football team, discrepancies made in reported cases by both the university and local authorities in Missoula, Mont., and the gripping narrative all work to bring issues to light that often remain in the shadows of higher education.
"It's a hard topic to read," said Terry Casey, director of JSU Student Life and head of the JSU Reads selection committee. "I completely understand that, and the committee understood that, but we felt so strongly that it was a topic that needed to be addressed within the community."
Each year, the JSU Reads committee selects one book to serve as a unifying force and promote thought-provoking discussion among freshmen students. Introduced to the common reading selection at orientation, freshmen go on to study it during their English composition and First-Year Student Experience courses. Faculty, staff and upperclassmen are encouraged to read it as well. Perhaps since "Missoula" addresses a topic that hits so close to home, Casey said students are more engaged than ever in JSU Reads. 
"I enjoyed the book because, 'Missoula,' it gets right to the point," said Mark Thrower, a third generation Gamecock majoring in communications. "It doesn't sugar coat anything…It addresses a lot of underlying issues that are facing college campuses nationwide."
Shelby King, a 21-year old nursing major and 2015 JSU Homecoming Queen, said the book delivers a shocking but pertinent message. "If you turn on the news anywhere, you're going to see shocking headlines," King said. "I think that a lot of times, sexual assaults and things of that nature…it almost feels inappropriate to talk about at times…The statistics in the book say it all."
While "Missoula" will be read and discussed among freshmen students at JSU this fall, this book sends a message that goes beyond just the classroom and will prove to be an eye-opening read for anyone. However, parents should note that it may not be appropriate for audiences younger than age 13.
As King aptly stated, "I don't think it's meant to scare as much as it is to jumpstart a proactive effort to change the way it [sexual assault] is being handled in the country…I think that not only should students and parents read it, but I think university police and everyone on staff needs to read this because it sheds light on a story that is so often swept under the rug." 
"Missoula" is available for purchase in the campus bookstore for $16.95. For more information about the JSU Common Reading program, please click here.