Mercury Rising: JSU to Host Planet Viewing on May 9
05/03/2016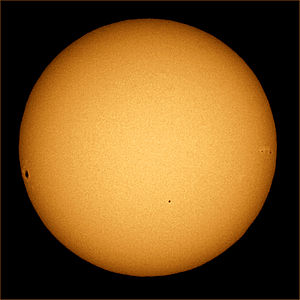 Mercury will appear as a small, black dot on the face of the Sun. Photo courtesy Wikimedia Commons.
Earth's smallest cousin, Mercury, will make a rare passage between us and the Sun on May 9. Come out to JSU's McGee Science Center between 9 a.m. and 2 p.m., when the Department of Physical and Earth Sciences will set up solar telescopes on the south side of the building to allow for safe viewing of the celestial event. Admission is free and open to the public.
Known as the "Transit of Mercury," the phenomenon will appear as a small black dot moving across the face of the Sun. Out of all the planets in our solar system, only Mercury and Venus transits are visible from Earth because they are the only two planets between the Earth and Sun. There are 13 transits of Mercury per century. The last occurred in 2006 and scientists predict the next two will be in 2019 and 2032. Transits of Venus are even more rare – the last took place in 2012 and won't happen again until 2117.
Be sure to come out and take part in this "out of this world" experience. This is just one of the community outreach programs hosted by the JSU Department of Physical and Earth Sciences. The McGee Science Center is also home to the JSU Planetarium, which hosts monthly shows from December to April. For more information, contact Dr. Laura Weinkauf, associate professor of physics, at 256-782-5743 or weinkauf@jsu.edu.