JSU Graduating Class to Ring Out College Careers on Friday, Dec. 18
12/10/2015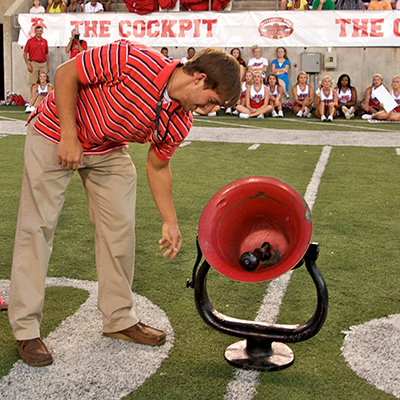 Parker Staton rings the bell at Freshman Convocation in August 2011. On Friday, Dec. 18, Staton will ring the bell again, at graduation. (Steve Latham/JSU)
By Katie Cline
In August 2011, Jacksonville State University freshman Parker Staton stood on Burgess-Snow Field and rang the freshman convocation bell in front of his new classmates and professors. Four years later, he will do the same thing—at his college graduation.
Beginning at Friday's commencement at Pete Mathews Coliseum, JSU's tradition of ringing the bell will become part of its graduation ceremony. Just as its chiming at freshman convocation marked a symbolic beginning to students' college careers, ringing the bell at graduation will bring students' college experience full circle. This is one of several changes that JSU is making to its commencement ceremonies in order to enhance the graduation experience for its students.
Other changes include an ROTC color guard processional and additional speakers, including a student speaker from the graduating class. The university is also eliminating summer commencement and will now host two graduation ceremonies a year—one in the fall and one in the spring. Students who complete their coursework during the summer semester will still be conferred their degrees, and, depending on the student's situation, they will be allowed to walk at either the previous spring ceremony or the following fall ceremony. At commencement, graduates will now receive a decorative JSU tube with a print of Bibb Graves Hall inside, and diplomas will be mailed out within 10 days of graduation.
The most exciting change for students, however, is the new seating plan. In the past, all the graduates have been seated alphabetically within their respective colleges before the ceremony began. Now, the commencement ceremony will begin with a graduate processional, and students will be allowed to sit in any order within their college. The goal is to place the focus of the occasion on the graduates and to allow them to sit with their friends on this momentous day.
Staton, a Jacksonville native, will be seated with the College of Commerce and Business Administration on Friday, as he will receive his Bachelor of Science in Management with a concentration in human resources. The ceremony for the College of Arts and Sciences and the College of Commerce and Business Administration will begin at 3 p.m. Graduation for the College of Education and Professional Studies and the College of Nursing will follow at 7 p.m.
While at JSU, Staton was a brother of Kappa Alpha Order Fraternity and a member of the Society for Human Resource Management. Like many students, he filled his free time with friends.
"I enjoyed my time in these clubs by meeting new people and expanding my network," Staton said. "Most of my time and memories were spent with my fraternity brothers."
But Staton will also remember the academics, saying, "JSU has prepared me by providing a quality education including developing social and personal skills."
Seventeenth Century metaphysical poet John Donne wrote in "Meditation 17,"  "… therefore never send to know for whom the bells tolls; it tolls for thee." While the ringing of their bell marks the end of the Class of 2015's JSU journey, they will carry the memories of their time here with them for the rest of their lives.
From everyone at JSU, congratulations, graduates! May your futures be bright!
General Graduation Information
Jacksonville State University's Fall 2015 commencement will be televised locally on WEAC-TV24 and streamed live on the web. Webcast archives will be available for approximately one year.