Grads Hobbs, Zuchelli to Take Gamecock Spirit into Aviation, Nursing
08/03/2015
By Heather Greene
On Friday evening, many Jacksonville State University seniors will be on the brink of a new beginning, a brand new chapter in their lives, as they set forth on uncharted career paths or back to the books for additional degrees.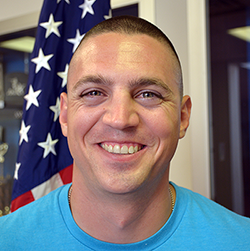 For JSU ROTC Cadet Christopher Hobbs, 30, graduation will be a time of setting forth, as he becomes a second lieutenant and zooms into aviation at Fort Rucker in Enterprise, Ala. beginning in February.
A native of Douglasville, Ga., Hobbs attended another college before he joined the Army. When the time came to return to school, he toured four universities before discovering that he felt at home at JSU. Additionally, JSU was close to home when his parents were still living in Georgia. In the summer of 2012, he began classes at JSU.
Hobbs has been active in the ROTC, the Gamecock Battalion, the JSU Judo and Jujitsu club, and the Health Physical Education and Recreation club (HPER). It should come as no surprise that his degree is in exercise science and wellness.
Lt. Col. David Wood, JSU military science department head and professor, has served as Hobbs' primary instructor and mentor the past year.
"Chris' dedication to duty and mission success aids him greatly in being recognized as one of the top cadets in the JSU ROTC program," Wood said. "His accomplishments include the Governor's Outstanding Military Service Award, establishing the first annual Red Cross and JSU ROTC blood drive, and selection for not only the active duty Army but as an aviation officer. He served as the cadet battalion executive officer this past year. Chris' efforts as a leader and mentor in the program represented the best aspects of the Gamecock Battalion, and his contributions will reverberate through Rowe Hall for the years to come."
While this walk will be a first for Hobbs and many other graduates, for Autumn Zuchelli, wearing a graduation cap has become "old hat," as she will be receiving her fourth degree from JSU.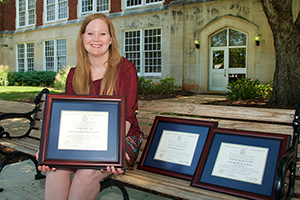 Zuchelli began her JSU journey in 1995 and earned a B.S. in both biology and chemistry in 1998.
After her older brother, Stephen Oliver, graduated from JSU in 1973, his love for his alma mater inspired Zuchelli to not only attend college but to select JSU. 
"He always speaks of JSU with so much pride and love for the university, and I found that it is easy to have pride and an enormous amount of love for JSU," Zuchelli said of her brother. "I earned my first two degrees in a traditional manner and after I had been in the workforce for several years, I needed to pursue a graduate degree to help me advance in the administrative arena and to allow me to teach as an adjunct faculty member in the criminal justice department."
During her time earning her first two degrees, Zuchelli was active with several organizations: Beta Beta Beta, Student Organization for Deaf Awareness, Alpha Phi Omega and Alpha Xi Delta.
While working for the Alabama Department of Forensic Sciences from 2000-2013, Zuchelli returned to JSU to pursue her Master's in Public Administration. She explained that the decision to choose a graduate school was an easy one. She was also working on campus in the Jacksonville laboratory for the Alabama Department of Forensic Sciences in Brewer Hall. When situations in Zuchelli's job required her to commute between Jacksonville and Huntsville every day, she, with the help of her husband and family, began weighing her options and made the decision to return to school a fourth time – for a nursing degree this round. After much research, she again chose JSU.
 "The one thing I have always respected and loved the most about being a student at Jacksonville State University is that it not only carries the motto of being 'The Friendliest Campus in the South' but it also lives up to that motto," she said. "The faculty and staff are professional and truly have the best interest of their students at heart."
This genuine care was exhibited to Zuchelli in a tangible manner by the faculty and staff in the nursing department. During her first semester of nursing school, Zuchelli's father became ill and eventually passed away. Throughout his hospitalization, two nursing faculty members stayed in contact with Zuchelli and her mother and made sure their family was taken care of during this time.
"You don't get that kind of love, compassion, and support many places these days, but at JSU it's a part of the culture of the school," explained Zuchelli.
Following graduation, Zuchelli will begin a new job as a registered nurse in the neurosurgery stroke step-down unit (NSSU) at the University of Alabama in Birmingham. However, four degrees may not be the end of her educational journey, as she hopes to pursue an M.S. in nursing at UAB and eventually a doctorate in nursing practice.
Zuchelli, Hobbs and many other graduating seniors will be crossing the stage on Burgess-Snow Field at JSU Stadium on Friday at 7:30 p.m. This evening will also be a "first" for JSU's new president, Dr. John Beehler, as he will be officiating and delivering his first commencement address in his new capacity.
JSU would like to congratulate all of our graduates, and we welcome family and friends to our campus for the ceremony.