JSU's Fall Graduation Set for December 13 in Pete Mathews Coliseum
12/10/2013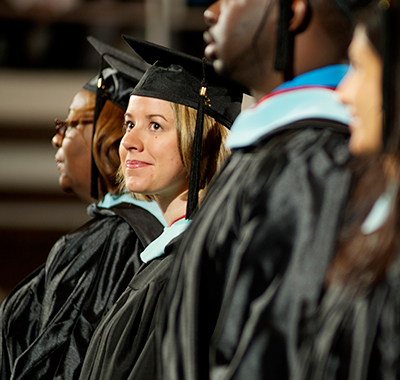 Jacksonville State University announces Fall 2013 Graduation, which will take place on December 13 in Pete Mathews Coliseum.

The ceremony for the College of Arts and Sciences and the College of Commerce and Business Administration will be at 4:30 p.m.

Commencement for the College of Education and Professional Studies and the College of Nursing will be at 7 p.m.
Jacksonville State University congratulates all our outstanding graduates and welcomes family and friends to our campus and the ceremony.
Parking for guests, including handicapped, is available surrounding the graduation entrances. Sign language interpreting will be provided on the stage.
Commencement will be televised on WEAC-TV24 (local Cable One channel 9). It can also be viewed live from a computer on the web via the JSU Television Services website.
For more information, call the JSU Office of Public Relations at (256) 782-5636.
Graduating students needing information may find it on the Registrar's website.
Photo: JSU Graduates during Fall 2012 ceremony. (Matt Reynolds/JSU)