Jacksonville State University Summer Graduation Set for Friday, August 10
08/06/2012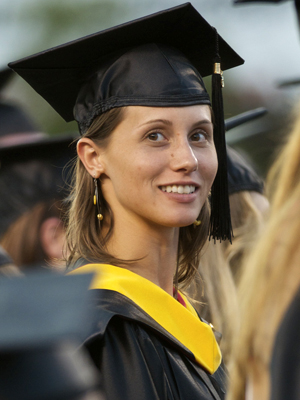 UPDATE
Due to inclement weather, the Summer Graduation Rehearsal and Ceremony have been moved to the Pete Mathews Coliseum.  
 
Graduation Rehearsal 8:30 a.m.

Graduation Ceremony 7:30 p.m.
Jacksonville State University announces Summer 2012 Graduation, which will be on Friday, August 10 at 7:30 p.m. at JSU Stadium.
The commencement speaker will be former Alabama Governor Jim Folsom Jr., who recently received an Honorary Doctor of Letters degree from the university after serving on the JSU Board of Trustees for more than two decades. A 1974 graduate of JSU, Gov. Folsom brought lasting impact to the state during his service as Lieutenant Governor and Governor, directing Alabama's efforts to secure the first Mercedes-Benz automobile manufacturing plant outside of Germany, which created 150,000 Alabama jobs. Under his leadership as chairman of JSU's Athletic Committee, the university entered Division I and in 2003 was accepted into the Ohio Valley Conference.
Jacksonville State University congratulates all our outstanding graduates and welcomes family and friends to our campus and the ceremony.
Parking for guests is available surrounding the graduation entrances. Handicapped parking is available on the east side of the stadium. Handicapped and wheelchair seating is available at Gate A in the stadium. Sign language interpreting will be provided on the stage.
Commencement will be televised on WJXS-TV24 (local Cable One channel 9). It can also be viewed live from a computer on the web via the JSU Television Services website.
The ceremony will be archived for two weeks after commencement.
For more information, call the JSU Office of Public Relations at (256)782-5636.
Graduating students needing information may find it on the Registrar's website.