About JSU Jazz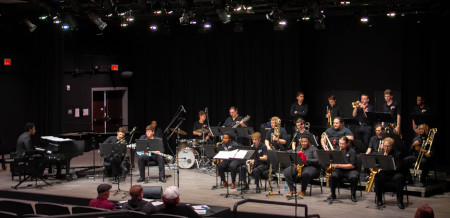 JSU Jazz Studies provides students with a demanding yet enjoyable environment for learning improvisation, theory, jazz styles, and ensemble performance concepts.
The Jazz Program offers all JSU students, music majors, non-music majors and students enrolled through the office of Continuing Education the opportunity to perform in jazz ensembles of recognized excellence. Because of the improvisatory element basic to jazz, participation in JSU Jazz Ensembles offer an important and unique opportunity for all students to develop their creative process.
The Jazz Ensembles at Jacksonville State University are active in performing a wide variety of styles, and combo students are encouraged to perform their own compositions and arrangements. Both large and small group ensembles perform regular concerts on campus and at top local, regional and international jazz festivals, including the annual JSU Jazz Festival. Ensembles frequently perform with guest artists from around the country such as Wycliffe Gordon, Ashlin Parker, Brian Lynch, Roger Ingram, and Patrick Langham, in both concerts and masterclasses. The program currently boasts four jazz ensembles, including the award-winning JSU Jazz Ensemble I, six combos, and the Latin Ensemble. Placement auditions for all JSU Jazz groups are held the first day of classes each semester; placement in JSU Jazz ensembles is by audition only.
Jazz Faculty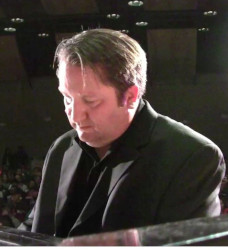 Dr. Andy Nevala
Director of Jazz Studies, Jazz Piano, Jazz Ensembles, Combos, Jazz History, Contemporary Jazz Theory, Jazz Pedagogy, Latin Ensemble
Director of Jazz Studies at Jacksonville State University, Dr. Andy Nevala currently directs the Downbeat Award Winning Jazz Ensemble I (2015), Jazz Ensemble IV, the Latin Ensemble, oversees the Jazz Combo program, produces the annual Jazz Festival (in it's 12th year), and teaches Jazz and Classical piano lessons. As Director of Jazz Studies, he has overseen the JSU Jazz program more than double in size during his time at JSU, with performances in the community, at regional festivals, and Middle and High Schools in the area.
His quartet was selected to perform at the 2023 JEN International Conference in Orlando, and he will be presenting at the CMEA conference in Colorado Springs, CO, both in January. JSU Jazz Ensemble I performed at JEN in New Orleans in 2020, and in 2022 at the AMEA Conference in Birmingham, AL.
Dr. Nevala has been recognized by Downbeat magazine on 10 different occasions, winning individual Downbeat Music Awards for composition (2002), arranging (2003), and performing/directing (2000, 2001, 2002, 2015). The JSU Jazz recording "Everything In It's Right Place" was completed in 2015 and was recognized in Downbeat Magazine for "Outstanding Performance, Undergraduate Jazz Ensemble".
He is in demand as guest conductor, performer, and clinician, with recent guest artist performances at the Dave Brubeck Institute (Stockton, CA), the University of the Pacific (Stockton CA), California State University, Stanislaus (Turlock, CA), Southeastern Louisiana University (Hammond, LA), Troy University (Troy, AL), and the University of Alabama (Tuscaloosa, AL). He has conducted the 2010 Campbell Union District Music Festival Jazz Ensemble in San Jose, CA, the Rome, GA District 7 Jazz Festival), and was the 2013 Alabama Music Educators Association Gold All-State Jazz Ensemble Director. He served as a clinician at the Delta College Jazz Festival, the Folsom High School Jazz Festival, the CMEA Hanford Jazz Festival, the Sacramento State University Jazz Festival, the Manteca High School Combo Festival, The Boise State University Gene Harris Jazz Festival, and the Casper College Jazz Festival. He has also presented at AMEA, GMEA, performed in the GMEA Sight-Reading Big Band, and directed the AMEA Sight-Reading Big Band.
Professionally, Dr. Nevala has toured with the Glenn Miller Orchestra, vocalist Steve Lippia, Eddie Turner, and has performed multiple times with the Pensacola Symphony with Byron Stripling, Carmen Bradford, Dee Daniels, Michael Andrew, and Gunhild Carling. He has recorded on over 20 CDs released in the US, Japan, and South America and maintains an active performing schedule in the Southeastern US Region.
An active arranger and orchestrator, Dr. Nevala has been commissioned to arrange for the Glenn Miller Orchestra, the Denver Brass, the Atlanta Latin Jazz Orchestra, Orchestra MaCuba, the Steve Lippia Big Band, and arrangements published by 3-2 Music Publishing. He has also orchestrated, conducted, and arranged music for the Malt Jupiter Theater in Jupiter, Florida, and arranges/orchestrates musicals for the COPA Conservatory.
Having studied under Dr. John Davis, Chip Stephens, Art Lande and Pat Bianci, Dr. Nevala holds a Doctor of Musical Arts degree in Jazz Piano Pedagogy from the University of Colorado, Boulder, a Master of Music degree in Music Theory and Composition from the University of Northern Colorado, and a Bachelor of Arts degree in Music from Boise State University.
His professional affiliations include the Jazz Education Network (JEN), the Alabama Music Educators Association (AMEA), The Atlanta Federation of Musicians, and the National Association for Music Education (NAfME).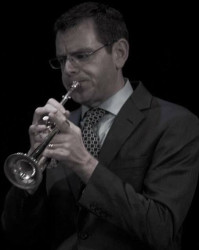 Dr. Chris Probst
Trumpet, Jazz Ensemble III
Dr. Christopher Probst teaches the trumpet studio at Jacksonville State. He also teaches Class Brass, coaches brass quintets, directs the trumpet ensemble, and assists in the Jazz Studies area.
Born in Harrisburg, Pennsylvania, Christopher Probst graduated from Lebanon Valley College of Pennsylvania with a B.S. in music education and a B.A. in trumpet performance. He received a Master's degree in trumpet performance from the University of Arizona (Tucson) where he studied with Edward Reid. Dr. Probst completed a Master's degree in jazz studies at Florida International University (Miami) where he studied with Arturo Sandoval, Sam Lussier, and Jim Hacker and completed his Doctorate in trumpet performance at the University of Georgia (Athens), studying with Fred Mills (formerly of the Canadian Brass) and Edward Sandor. In addition to his position at JSU, Dr. Probst teaches clinics, masterclasses, and private lessons throughout the Southeast.
A versatile musician, Dr. Probst has performed and/or recorded with many artists including: Arturo Sandoval, Dave Brubeck, Kevin Mahogany, Joe Alessi, Fred Mills, The Basel Brass Quintet, Belgian Brass Ensemble, Bobby Shew, The Four Tops, Ben Folds, Linda Rondstadt, Bulldog Brass Society, Georgia Brass Ensemble, Miami's Band Orchestra, Orquesta MaCuba, Macon Symphony, Rome Symphony, The Pieces of Eight, Tucson Pops Orchestra, and the Catalina Chamber Orchestra. He has performed extensively throughout the US, as well as in Mexico, Canada, England, and China.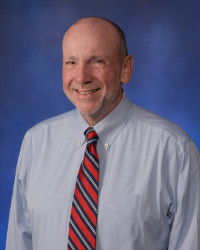 Mr. Blair Calloway
Music Education, Jazz Ensemble II
Blair Callaway is currently teaching Music Education classes at Jacksonville State University. Blair is a 1982 graduate of Ringgold High School. He received his Master of Arts Degree from the University of North Alabama in Florence, AL and his Bachelor of Science Degree from Jacksonville State University in Jacksonville, AL.
In his twenty-eight years of teaching high school bands, his bands have received all superior ratings at district concert festivals and marching contests. Blair taught at Heritage HS, Gilmer HS, Foley HS (AL), Alma Bryant HS (AL), and Russellville HS (AL).
He marched with the Guardsmen, Cavaliers and Suncoast Sound Drum and Bugle Corps. Blair is a member of the National Association for Music Education, Georgia Music Educators Association, American School Band Directors Association, National Band Association, Georgia Association of Jazz Educators and the Epsilon Nu Chapter of Phi Mu Alpha Sinfonia.
He is the 2018 Heritage High STAR Teacher, 2015 Heritage High School Teacher of the Year and is a member of Phi Beta Mu. He has received the NBA Citation of Excellence four times and his bands have received the GMEA Exemplary Performance Award three times.
Blair is a Past President of the American School Band Directors Association. He has been an instructor for the U.S. Army All American Band and performed with the Tara Winds at the 2015 Midwest Band and Orchestra Clinic and is currently the pianist for the Alabama Winds. Blair serves as the organist at Anniston United Methodist Church.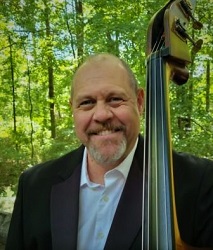 Mr. Chris Enghauser
Bass, Combos
Bassist Chris Enghauser earned a MM in Music Performance from The University Georgia, a BM in Music Performance from George Mason University. Chris performs regularly with the Atlanta Pops Orchestra, Tuscaloosa Symphony, Carrollton Jazz Orchestra, Augusta Symphony, Albany Symphony, and Toccoa Symphony. Recent performance highlights include The Glenn Miller Orchestra, Trey Wright Trio, and in the orchestra at The World Games, Birmingham 2022. Present teaching positions include Adjunct Professor at Georgia College and State University, and Director of Bands at Monsignor Donovan Catholic High School in Athens, Georgia.
Chris' performing experience includes jazz, rock, bluegrass, folk, and world music. Recording highlights include rock legend Chuck Leavell's CD Back to the Woods, Jeff Coffin's Commonality, and Mimi Fox's DVD Live at the Palladium. Chris performed with national Broadway tours of Pump Boys and Dinettes, A Closer Walk with Patsy Cline, Cole Porter's Anything Goes, and How the Grinch Stole Christmas.
Chris has shared the stage with a variety of artists including Bela Fleck, Roy Wooten, Victor Wooten, Sarah Evans, Akira Tana, Paul McCandless, Randall Bramblett, Mark Feldman, Chester Thompson, Jamie Barton, Chloe Agnew, Heather Sorenson and with many of the regional symphonies in Georgia including the Macon Symphony, Carroll Symphony, Columbus Symphony, Valdosta Symphony, La Grange Symphony, Rome Symphony, and Gainesville Symphony.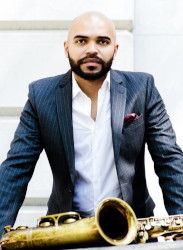 Mr. Jamel Mitchell
Saxophone
Born on a hot LA summer day, in the backseat of his musician parents' Buick Century, Jamel Mitchell arrived on his own terms. His father, the late James Mitchell, baritone saxophonist for the world-renowned Memphis Horns, encouraged his son to pursue a similar but more prescriptive yet individualized path. A graduate of Memphis' Overton High School for the Performing Arts, Jamel honed his natural talent under the helm of seasoned professionals turned academics. Accepting a full scholarship to the University of Tennessee at Knoxville, Jamel went on to achieve a BA and MA in Jazz Performance, studying with Jerry Coker, Donald Brown and Greg Tardy.
An avid and passionate performer, Jamel's sound is distinctly rooted in generational infused timbre and authenticity. During his captivating performances, you will hear the expertise and investment of all of those Jamel encountered along the way, equally balanced with his individual flavor. As a child, Jamel sought to emulate his father's work ethic and quality which help build the Memphis sound of his Uncle Willie Mitchell's Royal Recording Studio. The village that help craft Jamel's unique sound extended beyond the Mitchell family to the larger global music community.
Jamel has worked with numerous influential artists throughout his career, including, Jerry Douglas, KEM, Tyler Perry, Tamela and David Mann, Larry Carlton, Donald Brown, The Knoxville Jazz Orchestra, Five Plus Six, Ann Peebles, The Hi Rhythm Section, William Bell, Otis Clay, and Bobby Rush to name a few. Jamel was nominated for a GRAMMY in 2018 for his work on the album "What If" with The Jerry Douglas Band in the best contemporary instrumental music category.
The prescriptive path has led Jamel to continually share his talent with the world, as he embarks on his career as a musician. Jamel is presently based in Atlanta, GA.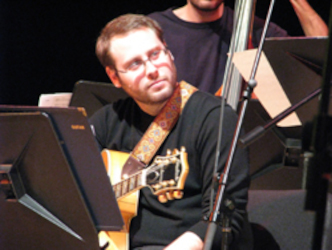 Mr. Ben Weatherford
Guitar
Richmond, Virginia native Ben Weatherford started playing guitar at fourteen and began playing professionally at seventeen. He continued his musical education with honors at Berklee College of Music after high school, performing with future Grammy winners John Mayer, Clay Cook and Nnenna Freelon.
Since moving to Georgia in 2003, Ben has been an active member of the Atlanta music and education community. For over 12 years he has taught private lessons, small ensembles, improvisation, composition, and arranging. Ben received a Master's degree in Jazz Studies from Georgia State University in 2011, where he was also a graduate assistant.
In 2012, Ben was hired as faculty in the music departments of Jacksonville State University in Alabama and Columbus State University in Georgia. In addition to actively teaching and performing in the Atlanta area, he has experience in multiple music genres as well as receiving film scoring credit in the feature film Good Intentions and theater experience with the Atlanta Lyric Theater, The Wesleyan School, and Georgia Perimeter College.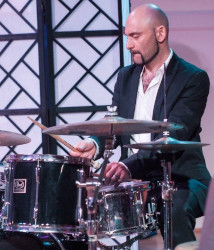 Mr. Emrah Kotan
Drumset, Latin Ensemble, World Music
Emrah Kotan is a classically trained percussionist who came to the United States from his native Turkey and received a Master's degree in Jazz Studies from Georgia State University. His debut album, The New Anatolian Experience, is a collection of original compositions and arrangements that fuse world music and jazz, creating stylistically sophisticated vibes and a genuine model of personal artistic expression.
After playing some of the most renowned venues in the world such as the Istanbul Jazz Festival, Playboy Jazz Festival and The Blue Note in New York, Emrah is one of the most sought after musicians in the Atlanta music scene. His unique musical ability transcends many genres and cultures. He is involved in various musical projects, including his own, and is the drummer/percussionist for Grammy award winning artist, India.Arie.
Aside from performing, Emrah is an enthusiastic music educator who has conducted master classes and has taught many students over the years, some of which who have been awarded music scholarships by the colleges of their choice. Emrah teaches students of all ages privately and is the Director of the Jazz and World Percussion Ensembles at Agnes Scott College. He lives in Atlanta, GA.
Emrah Kotan proudly endorses Pearl drums and percussion.