The Legacy of William Meehan: The Presidency
By Heather Greene and Angie Finley
When Dr. William Arthur Meehan retires from Jacksonville State University on July 1 after 16 years in Bibb Graves Hall, he will go down in university history having held one of the longest presidencies. Only Presidents Clarence W. Daugette (1899-1942) and Houston Cole (1942-1971) served longer terms. Yet it was a role he never imagined he would play.
"When I went into this business, it was to teach and to be with students," Meehan said. "I think helping students reach their goals, and being able to add value to the experience of all those at the university – to the students, to the faculty and staff – if I can say I've added value to that experience, that's been the most rewarding part."
During his inauguration address in early 2000, Meehan expressed his strong desire to provide a caring academic atmosphere for students, combining "head" and "heart" work. Judging by the outpouring of letters sent to the university's Office of Public Relations, Dr. Meehan has succeeded in that goal.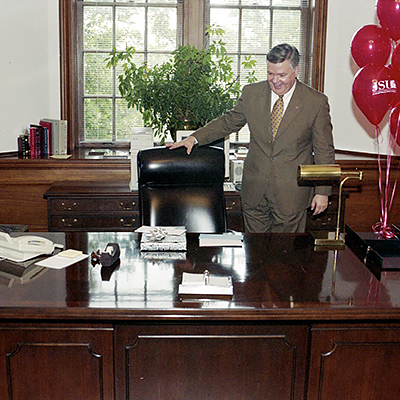 Dr. Glen Browder, former U.S. Congressman and Emeritus Professor of American Democracy at JSU, stated, "Dr. Bill Meehan has been a great president and, more than that, he has epitomized JSU's reputation as the Friendliest Campus in the South. Our association goes back many years, and there have been too many memories to pick and describe. I guess my general gratitude is that he has never failed to 'be there' for us in the community – from helping us pursue a dream, to joining us in dealing with our problems, to listening to our complaints with sincere concern, to laughing with us as we exchange pleasantries."
It is rare to find a university president who will go out on a sweltering Saturday morning to help freshmen move into the residence halls on move-in day, or who takes time to know students and faculty by name and greet them with a smile.
"It is an honor to be able to see your university president taking a stroll around campus and calling students by their first names," said Crystal Sharp, a senior majoring in secondary education/English Language Arts. "He has remembered my name every time I have seen him! He is honestly the most personable person I think I have ever met in my lifetime."
Such face-to-face interactions have earned the affections of students, faculty, staff and alumni. While Meehan's warmth and compassion have never changed over the past 16 years, many other transformations have taken place on campus. Here are just a few of the highlights:
1999- 2000 – There was a 45.5 percent increase in the number of distance learning students. Technological advances continued across campus as the Master of Science in Systems and Software Development was introduced and The Chanticleer student newspaper debuted its first online edition. The Montgomery Building Renovation was dedicated on April 17, 2000, and the Baseball Field House was completed in May 2000.
2000- 2001 –For the first time in 25 years, spring commencement was held in Paul Snow Stadium, as graduation outgrew the Pete Mathews Coliseum. To keep up with the growing student population, many improvements were made to the campus' physical and technological infrastructures. The electronic message boards in front of the Theron Montgomery Building and Pete Mathews Coliseum were installed to inform campus of special events and other news. On April 16, 2001, the McGee Science Center, named in honor of past president Dr. Harold McGee, was dedicated. Adjacent Martin Hall also received a remodel. On the other side of campus, the Jack Hopper Dining Hall underwent a facelift and the Academic Center for Excellence (ACE) completed its first year in its new location on the third floor of the Theron Montgomery Building. On August 30, 2001, JSU and Gadsden State Community College signed a new co-admission agreement that would make transferring to JSU a seamless experience for Gadsden students. Blackboard – now a common software program used campus wide – was introduced, with five classes offered fully online. Also that summer, JSU got its own email system called GEM, an acronym for "Gamecock E-Mail."
2001- 2002 – JSU mourned for the victims of the September 11th attacks, including Army Maj. Dwayne Williams, son of former JSU employee Pearl Williams. The entire campus responded by raising money for the American Red Cross and by holding candlelight vigils and a day of prayer and remembrance. JSU and Gadsden State came together through two separate building projects. First, they purchased building 3181 at Fort McClellan, and second, the JSU Gadsden Joe Ford Economic Development Center was completed, allowing JSU and GSCC to house administrative offices and some classrooms.  The Alabama Commission on Higher Education unanimously approved JSU's proposal to establish the Institute for Emergency Preparedness.
2002-2003 – JSU experienced an all-time high in enrollment, and also received an "A" rating by Standard & Poor's for the General Tuition and Fee Bond Issue. On October 21, 2002, the Houston Cole Library was rededicated after an extensive remodel that included a new red granite exterior and roof. Also on this date, the campus kiosk at the newly completed Chief Ladiga Rail Trail was dedicated. Work also continued on the McClellan Child Development Center renovations and a new roadway to Chimney Peak, which paved the way for a new mountaintop observatory. The observatory project was funded with part of a $1.8 million NASA grant establishing the Von Braun Scholars program to motivate greater interest in math and science among public school students. In Summer 2003, JSU played host to the Jimmy Carter Work Project for Habitat for Humanity by providing housing, facilities, food, and support for the thousands of volunteers, including President Carter. In one week, the JCWP built 36 new homes in the area. The library began implementing "universal borrowing," which allows JSU students to borrow from other university libraries across Alabama.
2003 – 2004 –The university received its reaffirmation of accreditation by the Southern Association of Colleges and Schools Commission on Colleges. Enrollment was, once again, at an all-time high, and the dietetics program received accreditation for the Didactic Program in Dietetics. JSU invested $376,000 in renovations to the soccer field in time for August 29th season opening.
2004 – 2005 – JSU Athletics officially joined the Ohio Valley Conference (OVC). In the humanities, the English Language Institute was founded in the English department, providing non-credit programs to assist non-native English speakers in achieving English proficiency for academic and professional purposes. JSU's ROTC program was among the top 10 percent in the nation. Dual enrollment and graduate studies were both up in enrollment. The JSU steam plant, Abercrombie and Luttrell Halls, were demolished. Based upon data obtained through an Economic Impact study by the Center of Economic Development, JSU's economic impact was estimated as $325 million and more than 7,952 jobs in Calhoun and Etowah counties. In April 2005, Bob and Lou Kennamer Hall was dedicated. The $2.5 million, 6,000 square foot facility houses the William Taylor Stewart Strength and Conditioning Center and athletic department administrative offices. 
2005 – 2006 – Alumni from around the world traveled to Paris to celebrate the International House program's 60-year reunion. In August 2005, move-in commenced in the extensively remodeled Ayers Hall. Artificial turf was laid in Paul Snow Stadium just in time for the 2005 season. In June 2006, some JSU departments participated in the university's first cycle of Program Review, which established a system of continuous improvement among campus departments.
2006 – 2007 – Now a staple on every college campus, Wi-Fi was made available to students, faculty, and staff at JSU. The College of Commerce and Business Administration was included in the 2006 Princeton Review's "The Best 237 Business Schools," placing the business program in the top 10 percent in the nation. New labs were established in Wallace Hall, Brewer Hall, and the Field House. On January 22, 2007, the Board of Trustees approved the university's first Comprehensive Strategic Plan, which focused on quality of education, citizenship and leadership opportunities for students, research and service, technology, increased efficiency and effectiveness of administrative processes and services, and sound financial planning.
2007 – 2008 – JSU's first-ever Freshman Convocation was held at the Pete Mathews Coliseum, starting a new tradition in which new students ring in the beginning of their college careers by striking a bell. Also this year, students were able to register themselves for classes through the Banner system. On October 15, 2007, the Gladys M. Carlisle Fine Arts Facility was dedicated in the presence of the trustee for whom it was named. Sadly, Mrs. Carlisle passed away less than a month later. In February 2008, the university celebrated its 125th anniversary. On April 22, 2008, President Meehan appeared in the Alabama State Legislature to receive a proclamation recognizing this accomplishment.  
2008 – 2009 – A new JSU logo and marketing campaign were brought to life. A recruitment trip was made to China to expand opportunities for collaborations with Chinese universities. On February 21, JSU celebrated the end of the university's capital campaign, "The Power of 125… Join the Celebration!" at the new JSU Little River Canyon Center. The campaign exceeded expectations by 42 percent and closed at $31.36 million. The following day, the 23,000 square-foot, LEED-certified Canyon Center officially opened to the public. The Canyon Center houses the university's Little River Canyon Field School and the National Park Service.
2009 – 2010 - The Gamecock Express transportation system was launched. Taizhou University students began to study in the English Language Institute. JSU launched its prestigious new Elite Honors program, which provides academically gifted students with an enriched educational experience.
2010 – 2011 – During this academic year, JSU achieved its highest enrollment ever: 9,504. One of the StormReady universities in Alabama, JSU was awarded a grant from the U.S. Department of Homeland Security through the Alabama Emergency Management Agency to develop a hazard mitigation plan in regards to natural disasters. An online orientation website was developed, which is especially useful for non-traditional students. The summer reading program was implemented, with Dennis Covington's "Salvation on Sand Mountain" serving as the first selection. JSU became one of the many universities across the country to participate in the Red Balloon Initiative sponsored by the American Association of State Colleges and Universities. Also during this year, a Board of Visitors was established for each academic college. On September 11, 2010, more than 22,000 fans waited out heavy thunderstorms to see the Gamecocks host their first home game in a newly renovated stadium that includes a modern residence hall and luxury suites. As part of the ceremony, the playing surface was christened Burgess-Snow Field.
2011 – 2012 - The JSU Marching Southerners traveled to London, England, to lead the Queen's New Year's Day Parade and kick off the Diamond Jubilee. In fall 2011, JSU welcomed the most academically prepared freshman class in the history of the university, with an average ACT of 22.3. The biggest news of the year was the university's reclassification as a Level V institution by SACSCOC, establishing JSU as a doctoral granting university. The university's first doctoral program, a Doctor of Science in Emergency Management, was launched. A pilot program that provided iPads to 150 students in two classrooms – one in the College of Arts and Sciences and one in the College of Education and Professional Studies – also got underway. The university got its first collaborative classroom, which was in Physical and Earth Sciences. The Collaborative Regional Education program (CORE) was created to establish partnerships between JSU and K-12 school systems, with the mission of equipping schools and teachers with new methods and technologies in the classroom to better prepare students for college and the workforce. JSU's new Institute for Research and Collaboration added six research centers.
2012 – present – There was a record set for first-time freshman, with 1,414 new faces on campus in 2012. Plans were developed and funding was secured to create the Faculty Commons, a center for teaching and learning that provides professional development to faculty related to using new technologies and methodologies in the classroom. In June 2013, JSU held the inaugural CORE Academy, a three-day conference that brought together more than 270 educators to learn how to best incorporate technology into their classroom. In December 2013, the Institute of Research and Collaboration received a $12 million U.S. Department of Education Investing in Innovation (i3) grant, which is being used to fund, measure and expand the CORE program for five years. Planning began for "Deeply Rooted, Future Driven: A Campaign for Jacksonville State University," which has an initial goal of $35.1 million. In fall 2014, the university implemented a Quality Enhancement Program (QEP), "Fast Forward: Using 21st Century Tools to Improve Critical Thinking Skills." Improvements made to the university's infrastructure in 2014 included a $488,000 softball field renovation and a $2.2 million HVAC renovation to the Pete Mathews Coliseum. In December 2014, JSU received reaffirmation of its accreditation through SACSCOC.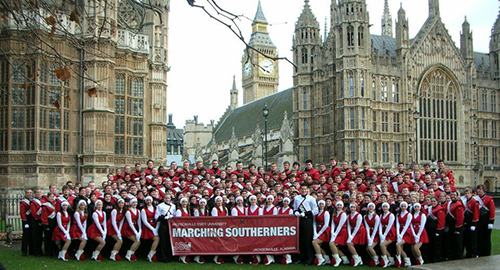 There is no doubt that JSU is a better place because of Dr. and Mrs. Meehan and their family. They have left a lasting legacy upon the university and the numerous students who have had the privilege of attending under the Meehan administration. 
Jacksonville State University would like to thank Dr. Meehan and his family for their time, effort, and service over past 16 years and wish them the best in the years to come.
While this is the final installment of the Meehan Legacy series, there is still time to submit your Meehan Memory! 
Photos— A few of the highlights from Dr. Meehan's presidency include, from top: Dr. Meehan's first day on the job, 1999; signing a co-admission agreement with Gadsden State Community College President Victor Ficker making transferring to JSU a seamless experience for Gadsden students, 2001; celebrating the success of the "Power of 125: Join the Celebration!" capital campaign and the grand opening of the JSU Little River Canyon Center, 2009; Greeting Taizhou University president Jianli Gong during a campus visit from the Chinese delegation, 2009; addressing the Alabama Legislature when JSU was recognized for our 125th anniversary, 2008; celebrating a JSU homecoming with first lady Beth Meehan at his side; striking a pose with former SGA President Jade Wagner at her commencement, 2014; welcoming new freshmen with Cocky at convocation, 2014; and the Marching Southerners representing JSU by leading the London New Years Day Parade, 2012. (JSU photos)