The Legacy of William Meehan: Community Leader
By Heather Greene and Buffy Lockette
Perhaps it was because he was born in the quaint Connecticut village of Wethersfield, "Ye Most Auncient Towne" in the New England state, but when William A. Meehan first learned of Jacksonville, Ala. – a small mountain town set in the foothills of the Appalachian Mountains – he knew it was the place for him.   
The son of an insurance underwriter, Meehan moved to Dallas, Texas, for elementary school and then Birmingham, Ala., for the remainder of his adolescence. Upon graduating from Shades Valley High School in Homewood, Meehan was recruited to Jacksonville State University by Dean Gus Edwards.
"I sent in my paperwork and I was accepted," Meehan said. "The first time I ever came to campus was when my parents brought me. It looked like the right sized institution for me, and I felt it was a good fit at that time."
Meehan's parents thought it was important for him to leave the nest and stretch his wings for college. "My father said that he wanted me to leave the area – I had to go to a school that was at least 80 miles away," Meehan said. "So that's one of the reasons I came to JSU, and I fell in love with it."
Despite receiving enticing job offers in Birmingham and Mobile after completing his bachelor's and master's degrees in biology at JSU, Meehan decided to make Calhoun County home and accepted an instructor position at JSU in 1977. He has spent nearly 40 years employed at the university – 16 as president – and is well regarded both on and off campus as a caring and cooperative community leader.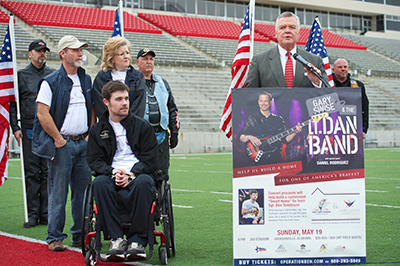 Locally, Meehan is currently active in the Exchange Club and Rotary Club and has served on the Board of Directors for United Way of East Central Alabama, Anniston Museum of Natural History, and the Calhoun and Etowah County Chambers of Commerce. He and his wife, Beth, team-teach with two other couples a youth Sunday school class for grades 7-12 at First Baptist Church of Jacksonville.
Over the years, Meehan has also served on the Board of Directors for the Alabama Partnership for Children, chaired the Calhoun County Relay for Life and Heart Walk, chaired the Friends of Scouting campaign for the Choccolocco District of the Boy Scouts of America, served on the Citizen's Advisory Committee of the East Alabama Metropolitan Planning Organization, served on the Board of Directors for the East Alabama Regional Planning and Development Commission, co-chaired with Anniston Mayor Chip Howell the 2003 Jimmy Carter Work Project and Habitat for Humanity, and served on the advisory board for the Knox Concert Series.
"As chairman of the Calhoun County Chamber of Commerce in 2007, Bill Meehan was integral in leading the Chamber forward, building business," said Linda Hearn, manager of the Calhoun County Chamber. "He brought the organization and community excitement and passion. As a well-respected leader the community admires, everyone wanted to play a part in this great organization, under his leadership."
Jacksonville mayor Johnny L. Smith said, "Dr. Meehan has done a great job as president of Jacksonville State University. He has worked hard to provide a good atmosphere for students, faculty and staff at JSU. Dr. Meehan's efforts did not end on campus. He was always concerned with the welfare of the entire community. I am happy that I was able to enjoy a good working relationship with President Meehan. Because of the good open relationship between the university and the city, a number of good things happened that might not ever have materialized."
Meehan has also been active outside of the region, serving in numerous leadership positions for the National College Athletic Association (NCAA) Board – including chairing the Presidential Advisory Group since 2011. He is also a leader among higher education professionals, representing his peers as chairman of the Council of College and University Presidents for the Alabama Council on Higher Education from 2003-2005 and as chairman of the Higher Education Partnership's Council of University Presidents from 2005 to 2009. He was appointed by Gov. Bob Riley to serve as district chairman of the education committee of the Alabama Rural Action Commission from 2007 to 2010.
As evidenced by his volunteerism, Meehan has placed a high importance on giving back throughout his presidency. He spoke of his vision of tearing down the walls of the Ivory Tower during his inauguration speech in 1999 and has made good on that promise. Even this Town & Gown column was created by Meehan's early administration in an effort to bring the city and university closer together.
"This institution can't just sit on a hill by itself," Meehan said. "JSU affects its community and needs to do so positively. Reaching out, educating students, is what we do, and helping them find great ways to interface with the community is very important."
Throughout his presidency, Meehan has been recognized with numerous awards for his service, including:
Calhoun County Chamber of Commerce's W. Roy Crow Leadership Award, 2000
Association of Public Safety Communication Officials' Outstanding Achievement Award, 2000
The Boys and Girls Club's Eagle Award for Outstanding Community Service, 2002
Silver Beaver Award from the Greater Alabama Council of the Boy Scouts of America, 2003
Educator of the Year by the Calhoun County Committee on Employment of People with Disabilities, 2005
Open Door Award from the National Alliance on Mental Illness, 2005          
The Anniston Star's Citizen of the Year award, 2007
Distinguished Citizen Award from the Boys Scouts of America Choccolocco District, 2008
The Bobby L. Austin Community Impact Award, Gadsden Area Chamber of Commerce, 2008
National Alumnus of the Year for the Delta Chi Fraternity, 2012
Legacy Award, The Chamber, Gadsden and Etowah County, 2014
The Jacksonville News' Citizen of the Year, 2015
Meehan's philanthropic nature is deeply rooted in his Christianity. 
"Faith is very important," Meehan said. "I think it's the foundation for whatever we do. I believe in that very much and I know I couldn't have gotten to where I am without my faith. I'm very grateful to God, to my Lord and Savior, Jesus Christ, for helping me to where I am. So giving back is important. I can't imagine going to college or through life without faith."
Meehan feels that a university's mission is to help students discover a career they are passionate about – their calling – and provide the education and skills needed for them to achieve their goals. In turn, the university provides the state and region tomorrow's community leaders. While it is customary for each generation to eye younger generations with disapproval, Meehan couldn't be prouder of today's youth.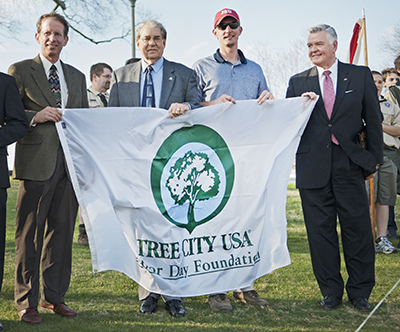 "What I like most about seeing our students today is that they are much more service-oriented than previous generations of students," Meehan said. "They are willing to reach out. They want to do more volunteer work. You see a lot of altruism in our students today and I'm very proud of that."
Perhaps even more important than his direct contributions to the community is Meehan's impact on the lives of thousands of students over the past four decades. From professor to advisor to administrator, he has set a strong example for others to follow and will be greatly missed when he retires on July 1.
Fortunately, he will continue to reside in Jacksonville in retirement. What makes the city so special?
"It's the people, there's no doubt about it," he said. "The people are very special here."
Next week, we will wrap up our six-part series on President Meehan with a final installment focused on his accomplishments as president.
Read the Entire Series or Share Your Meehan Memories
Photos: 
Top Right - Dr. Meehan speaking at the Lt. Dan Band press conference, an event which honored local and national hero Ben Tomlinson (JSU courtesy). 
Bottom Right - Dr. Meehan and community leaders unite together to celebrate Arbor Day (JSU courtesy).