The Legacy of William Meehan: The Family Man
By Heather Greene
Dr. William A. Meehan is often considered a father figure by Jacksonville State University students, but he is Dad to three children of his own – Drew, Will and Carol Grace – who have had the opportunity to view JSU from the perspective of the President's Home.
When he became president of JSU in 1999, Meehan and his wife, Beth, moved to campus with the youngest and most children of any other JSU president: five-year-old twin boys, Drew and Will, and infant Carol Grace. The President's Home had to be childproofed and renovated to accommodate the family of five, or as Meehan joked in a 2000 interview, to "protect the campus from the kids."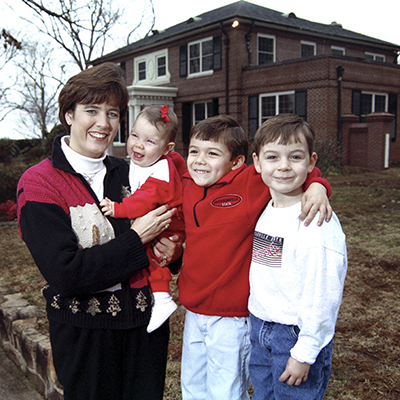 The Meehan children have called JSU home for most of their lives. So what has it been like growing up on a college campus?
"They went to every university event that we went to," Meehan said. "In order to keep the family lifestyle, whether it was a basketball game or a community event, we would include them and would all go." Meehan fondly recalls how his children would often ask, "Daddy, are you speaking again? Do we have to listen to you again?"
"Growing up in the President's Home is all I have ever known," explained Carol Grace Meehan, a 16-year-old sophomore at Jacksonville High School. "So, for me, that was my normal. Honestly, when I was little, I thought everyone's dad was a president at JSU!"
The Meehan children explained that JSU afforded them many opportunities, especially for travel, that they might not normally have had. Carol Grace named their 2005 trip to Paris as a highlight: "On our last day in Paris, my brothers and I both thanked them [parents] for dragging us through Paris."
An avid volleyball player, Carol Grace will be sitting with her parents in the stands during the 2015 football season, something they have never been able to do as a family. Dr. and Mrs. Meehan usually spend home games in the suites, entertaining special guests and dignitaries.
"For everything we are going to miss, there is going to be something we are going to be able to enjoy that we haven't ever been able to," explained Mrs. Meehan.
Following her high school graduation, Carol Grace plans to attend college, major in communications, and become a missionary.
Currently, twins Drew and Will, 20, are juniors at Auburn University, but return to Jacksonville each summer for classes.  Prior to moving to Auburn, they both completed dual enrollment courses at JSU while in high school, something Carol Grace plans to do next year, and were prepared to step into the college lifestyle having grown up on a college campus.
On his dual enrollment experience, Drew, who is studying pre-medicine, explained, "It helped me prepare for what a collegiate level class was really about – a great eye-opening experience that I would suggest to any upcoming college student."
Drew has undoubtedly jumped full-force into the collegiate lifestyle, as he is a member of the Theta Chi Fraternity, SGA Persons with Disabilities Committee, National Society of Collegiate Scholars, Phi Eta Sigma Honor Society, Impact Volunteer Program, Alpha Lambda Delta Honor Society, Microbiology Club, and serves as student worker at the Auburn University College of Veterinary Medicine.
While there was shock at his father's retirement, Drew is also looking forward to the many opportunities he and his family will have in the near future. "I would like to thank the whole JSU family for the opportunity given to my family and for all the wonderful memories made together."
Regarding his dad's retirement, Will stated, "I was very proud of him. He has done a great job as president. It will be weird not to see him in that office, but I am still proud of him and what he has accomplished."
Will goes on to express his own aspirations, "To live a life half as well as my father has. He is spiritually sound, a strong family man and well respected everywhere he goes. All these are goals I have for my own life, and my Dad has given me a great example to learn from."
It seems Will is already beginning to follow in his father's steps, as he is currently serving as president of the Sigma Pi fraternity and an inter fraternity council court representative at Auburn University. He is majoring in accounting.
The Meehan children explained that they, thankfully, never really had to draw the line between their personal lives and JSU, as their parents were very clear about what was professional and what was personal.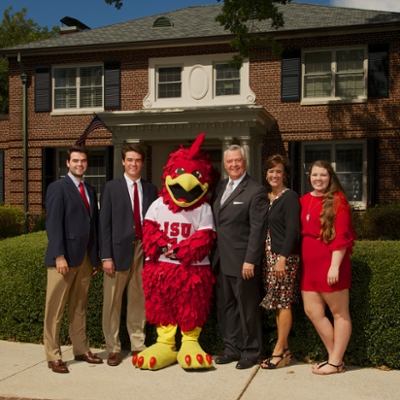 While running a university and raising a family demands that Dr. and Mrs. Meehan juggle a consistently busy schedule, many of the duties of taking the children to baseball and volleyball practices fell to Beth, who is looking forward to a time of retirement and a calmer school year in the coming months.
Even his decision to retire was discussed via a phone conversation while Dr. and Mrs. Meehan were in two separate states, an approach to communication and decision making that they have had to resort to often with their demanding schedules. Meehan's desire to give 100 percent of himself to the JSU family and his own family kept his scheduled packed with appearances and obligations 24/7.
"It's very difficult to be in two places at one time," stated Dr. Meehan. "I never did master that."
While they made an effort for at least one parent to attend all their children's school performances and athletic events, the demands of being President and First Lady required sacrifices for the entire family. The couple joked that they might spend some of their retirement time watching the home videos of their kids at various events throughout the years when one or the other parent was unable to attend.
The desire to spend more time with his family – to slow down and enjoy his golden years with his dear wife – is the reason Dr. Meehan decided to step away from the only life he has known for the past 47 years. He now jokes that, in retirement, Mrs. Meehan is getting "double the husband for half the pay." It's an arrangement she's happy to accept.
Like so many other couples, Dr. and Mrs. Meehan first met at JSU. "Jax State brought us together," Mrs. Meehan laughed. "I got two JSU degrees – a real academic one and an Mrs. degree!"
Six years after first meeting, the couple went on their first date on January 11, 1992.  That same year, they were married. In December, they celebrated their 22nd anniversary.
In retirement, Meehan plans to travel and renovate their Jacksonville home, the Dogwood House.
"I was told I have the outside and she does the inside," explained Dr. Meehan on the subject of their upcoming home renovation projects.
Their first trip will come right before they officially retire – the Meehans are accompanying the JSU alumni group on a trip to Ireland in March. They also have some road trips planned. Wherever their journey takes them, Jacksonville State University will never forget the Meehan Family and the sacrifices they have made for the university.
Next week's "Town and Gown" will focus upon Meehan's connection with the local community. We would like to hear stories from the community regarding the Meehans' positive impact. Please share them online here.
Photos:
Top Right - Beth Meehan and kids c. 1999 (JSU courtesy)
Bottom Right - The Meehan family with Cocky (Steve Latham/JSU courtesy)