Dr. Eduardo Pacheco
Associate Professor of Spanish
306 Stone Center
(256)782-5632
epacheco@jsu.edu 
A native of Colombia, Dr. Eduardo Pacheco has been part of Jacksonville State University since 2006. He has taught different courses including elementary and intermediate courses, plus 300 and 400 levels. Dr. Pacheco is devoted to promoting the culture of the Spanish-speaking world in and out of his courses. His interests are the new Latin American agenda during the 21st century: politics, society and migration, cultural studies and the relationship between the U. S. and Latin America. He completed a documental entitled "Las Mallas, a permanent transition of the displaced people in Colombia." A second review of this work is being organized. After over a decade, Dr. Pacheco will have a follow up documentary and check on the progress or not of the people inhabiting this peripheral location in Barranquilla, Colombia.epacheco@jsu.edu or call his office number (256) 782- 8245. His office hours during this fall are Wednesday from 11:00 a.m to 2:00 p.m., Tuesdays and Thursdays from 11:00 a.m. to 12:00 p.m. or by appointment. Feel free to browse the Spanish Club and Study Abroad information and pictures as well. "My two favorite places in the world are: Cartagena and Taganga (Santa Marta)."
Dr. Pacheco has also teamed up with Dr. José Ricardo, Spanish Professor at Shippensburg University in Pennsylvania; in the Spring of 2022 they will continue working on a nursing home charity and establish an English program at an elementary school in Barranquilla. They will find ways to keep both programs running by establishing a foundation. These two projects will have private and federal sponsorships. If you want to contribute and/or check on the progress, you can write to Dr. Pacheco at the e-mail listed below. During this fall semester Dr. Pacheco is teaching SH 101, 202 and SH 320, a conversation class. He is also the advisor of the Spanish Study Abroad Program. He has taken students to Costa Rica, and Colombia before. Dr. Pacheco is leading a group of students to study Spanish for one month in Seville, Spain. As the Spanish Coordinator, he is very glad to find ways to meet with students and colleagues to openly discuss the way JSU program should go. "As a team, we will gradually, but consistently elevate our student's proficiency in the Spanish Program", Dr. Pacheco said. He is working to incorporate all the input received from new and former students. He knows there is still a lot of work to be done. If you want to contact Dr. Eduardo Pacheco, you can e-mail him to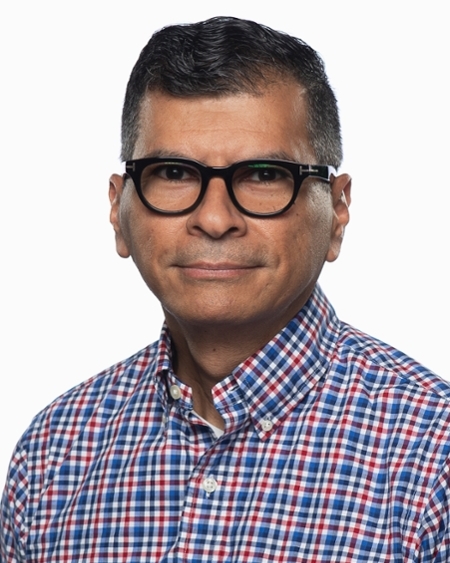 Courses Taught
Dr. Pacheco teaches elementary and intermediate Spanish courses, as well as upper level courses such as Hispanic Gastronomy. He has led many study abroad sessions to Seville, Spain.
Education
He earned a B.A. in Education with a concentration in Foreign Languages in Colombia, an M.A. in Spanish from the University of Arkansas and completed his Ph.D. at the University of Alabama. His dissertation topic is: "Colombia 1990-2000: Una Diatriba de violencia vista a través del cine: Imágenes y textos culturales."
Other Responsibilities
Dr, Pacheco is the sponsor of the JSU Spanish Club, and the advisor to the Spanish Study Abroad Program