Campus Technology Leadership Grant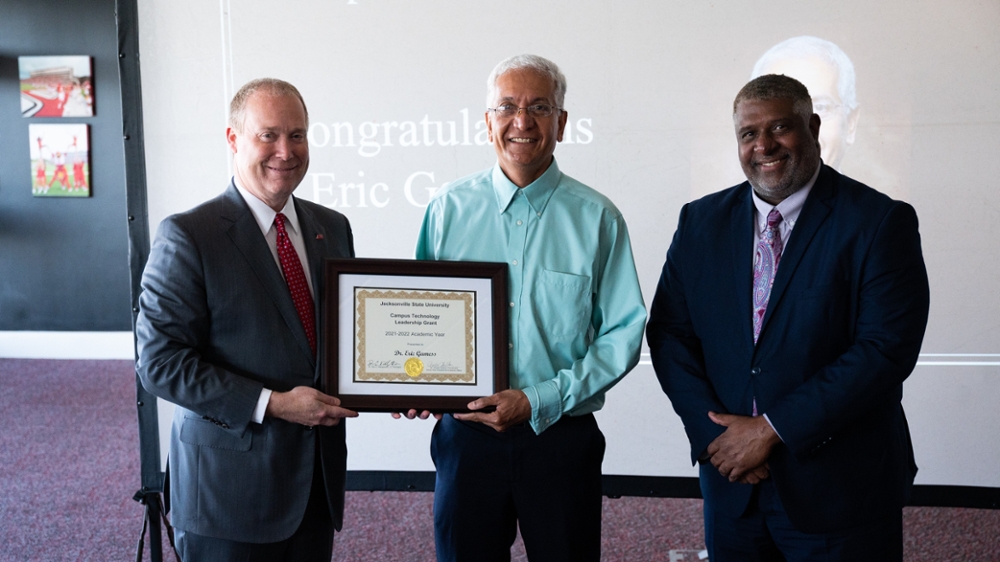 Award Description
The Campus Technology Leadership Grant, established in 2019 by Vinson Houston, Vice President of Information Technology, and awarded by Jacksonville State University's Division of Information Technology, is designed to honor an outstanding faculty member, who, in addition to the effective use of technology in their own classroom serves as a liaison between IT and other faculty members, helping to incorporate and demonstrate effective technological teaching practices across all disciplines.
The faculty member selected for this honor will receive a budget that will fully cover the allowed travel expenses incurred while attending a national technology conference decided upon by the recipient of the grant and the Vice President of Information Technology, as well as a framed certificate that recognizes this accomplishment. Upon return from the conference, the recipient will present a session in Faculty Commons on the topics of relevance and interest.
Criteria and Eligibility
Full-time faculty member with rank of Instructor or higher
Serves as a mentor to colleagues from all disciplines with technology integration efforts
Serves as a leader in their program, department, school, and the entire campus community in utilizing technology for teaching and learning
Demonstrates the application of innovative technology in community service and/or professional research
Nomination Procedures
The Vice President of Information Technology will review nomination applications for this award. Nominations by self, students, colleagues, or department heads are encouraged. Only supporting evidence compiled during the previous academic year including fall 2021, spring 2022, and summer 2022 will be considered for this award.  Nominators should inform nominees that they are being nominated and may solicit their assistance in preparing nomination materials.   
Required Nomination Documents
The nomination packet for this award will consist of the following, compiled into one single PDF file in the order indicated. Please contact Faculty Commons if you need assistance compiling documentation into a PDF file.  Letters of support from faculty, students, and colleagues are encouraged, along with supporting evidence being considered.
One official Letter of Nomination by the nominator(s) advocating the basis for the nomination (relating nominee's teaching activity to the criteria for the award)
Up to three additional Letters of Support from internal or external colleagues and students to complement the Letter of Nomination—*No more than three additional Letters of Support will be considered.
 Nominee's curriculum vitae (abbreviated and concise, no more than five pages)—*Contact the nominee's departmental Administrative Assistant to acquire a CV.
Supporting documentation may include copies of recent peer-reviewed journal publications, books, exhibits, recordings, journal proceedings, performances, conference papers/presentations, patents, or software.
Nomination Deadline
All nominations must be submitted electronically via the Faculty Awards nomination form, linked below, no later than 4:30 PM CST on Friday, February 10, 2023.
2023

Dr. Allegra Smith

Assistant Professor of English

2022

Dr. Eric Gamess

Associate Professor of Computer Science

2021

Dr. Kelly Paynter

Assistant Professor of Instructional Technology

 

2020

Rodney Bailey

Instructor of English

2020

Dr. David Thornton

Professor Of Computer Science