William A. Meehan Legacy Award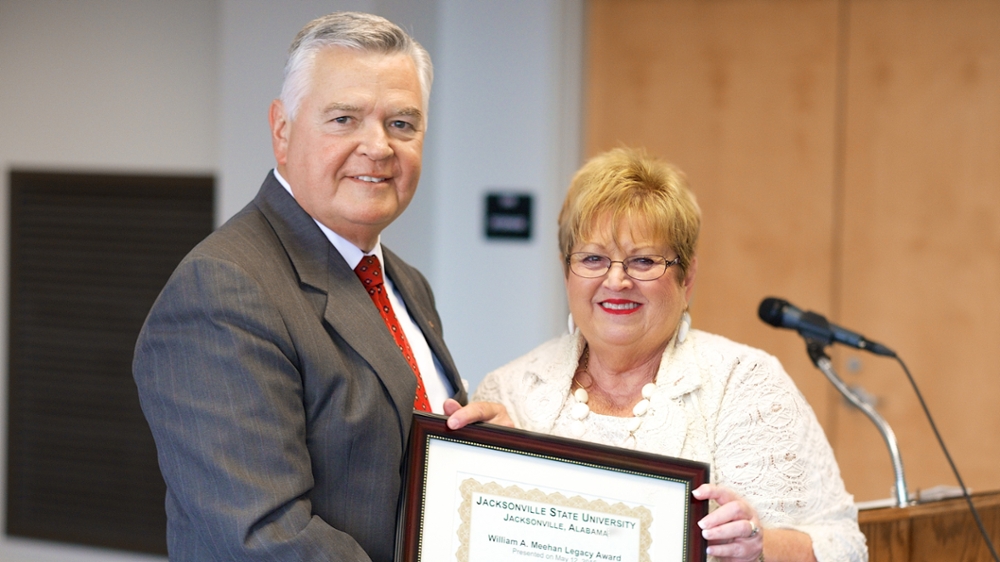 Award Description
The William A. Meehan Legacy Award, established in 2015 and administered by the Council of Deans, is an award designed to honor a faculty member who has significantly advanced the mission of Jacksonville State University (JSU) through an outstanding, career-long contribution in one or more of the following areas: teaching, professional effectiveness, research, or service.
This award is sponsored by the Provost and Senior Vice President for Academic Affairs. This legacy award is named after JSU's 11th president, Dr. William A. Meehan. William Arthur Meehan first attended Jacksonville State University in 1968 as a student. After completing his Bachelor of Science in Biology in 1972 at JSU, Dr. Meehan returned for his master's and worked as a graduate assistant in the admissions office. Upon graduating with his Master of Science in Biology in 1976, he was approached by Dr. Theron Montgomery and asked to stay as a full-time biology instructor. The road between the classroom and the presidency consisted of a few stops along the way. Dr. Meehan served in several other roles including coordinator of medical technology, director of academic advisement, assistant to the vice president for academic affairs, acting vice president for academic affairs, associate vice president for academic and student affairs, and acting vice president for institutional advancement.
In 1999, Dr. Meehan earned his doctorate in higher education administration from the University of Alabama, and on July 1, 1999, Dr. William A. Meehan became the 11th president of JSU. Dr. Meehan and his wife, Elizabeth, along with their children, Drew, Will and Carol Grace, lived in the President's Home for the duration of his nearly 16 years long Presidency.  
In total, President Meehan dedicated 47 years of his life to JSU – 40 as an employee. Dr. And Mrs. Meehan and their family left a lasting legacy upon JSU and the numerous students who had the privilege of attending the university under the Meehan administration. 
The individual selected for this honor will receive an honorarium of $1,000 and a framed certificate that recognizes this accomplishment.
Criteria and Eligibility
Full-time faculty holding the rank of Instructor or higher with 25 years or more of service at JSU
Evidence of profound, positive, and sustained influence on the direction and progress of JSU as demonstrated through an extraordinary commitment to teaching, professional effectiveness, research, and/or service
Nomination Procedures
The William A. Meehan Legacy Award is a prestigious honor selected by the Jacksonville State University Council of Deans.  Nominations by self, students, colleagues, or department heads are encouraged. Letters of recommendation should describe the nominee's accomplishments in advancing the mission of JSU during the duration of the nominee's career. Nominators should inform nominees that they are being nominated and may solicit their assistance in preparing nomination materials.   
Required Nomination Documents
The nomination packet for this award will consist of the following, compiled into one single PDF file in the order indicated. Please contact Faculty Commons if you need assistance compiling documentation into a PDF file.  Letters of support from faculty, students, and colleagues are encouraged, along with supporting documentation being considered.
One official Letter of Nomination by the nominator(s) advocating the basis for the nomination (relating nominee's teaching activity to the criteria for the award)
Up to three additional Letters of Support from internal or external colleagues and students to complement the Letter of Nomination—*No more than three additional Letters of Support will be considered.
 Nominee's curriculum vitae (abbreviated and concise, no more than five pages)—*Contact the nominee's departmental Administrative Assistant to acquire a CV.
Supporting documentation may include student reflections, teaching evaluations from students and faculty, papers or presentations that show student engagement, articles on teaching success and effectiveness, or any other materials that appropriately support the nominee.   
Nomination Deadline
All nominations must be submitted electronically via the Faculty Awards nomination form, linked below, no later than 4:30 PM CST on Friday, February 10, 2023.
2023

Dr. Cynthia McCarty

Professor of Economics

2022

Dr. Teresa Reed

Professor of English

2021

Mary Bevis

 

2020

Dr. William Fielding

Dean of Business and Industry

2019

Freddie Clements

Professor of Drama & Costume Designer

2018

Gena Christopher

Director of Faculty Commons &

Instructor of English

2017

Dr. Rebecca Turner

Provost and Vice-President of Academic Affairs

2016

Dr. Steven Whitton

Professor of English

2015

Dr. William A. Meehan

President of Jacksonville State University