CWTP Water Program

Grade IV Operator Program
Are you looking for a job with a future? How does a challenging career in a high-demand industry with great benefits and above-average pay sound?
Everyone needs clean water, and the water industry needs qualified operators to make it. If you have a high school diploma or GED, we have internships and paid tuition for qualified candidates!
The Job

Median Pay 2012: $42,760 year - $20.56 hour
Number of Jobs 2012: 111,000
Job Outlook 2012-22: +8% (8600 jobs)
Entry-Level Education: High school diploma or equivalent
Work Experience: None
On-the-job Training: Long-term
It takes a lot of work to get water from reservoirs, streams, and groundwater into our taps. Similarly, it is a complicated process to convert the wastewater from our drains and sewers into a safe form for release into the environment.

The specific duties of plant operators depend on the type and size of the plant. In a small plant, one operator may be responsible for maintaining all of the systems. In large plants, multiple operators work the same shifts. They are more specialized in their duties, often relying on computerized systems to help them monitor plant processes.

Occasionally, operators must work during emergencies. For example, weather conditions may cause massive amounts of storm drainage to flow into sewers, exceeding a plant's capacity. Malfunctions such as chemical leaks or oxygen deficiencies may also cause dangerous situations within a plant. Operators are trained in emergency management procedures and use safety equipment to protect their health, as well as that of the public.

In producing freshwater, untreated water is pumped from wells, rivers, streams, and reservoirs into the treatment plant. It is then treated and distributed to customers. System operators are responsible for running the equipment, control the processes, and testing the treated water to make sure it is safe to drink.

Wastewater treatment plants and their system operators do similar work to remove pollutants from domestic and industrial waste. Used water, also known as wastewater, travels through sewage pipes to treatment plants where it is treated and returned to streams, rivers, and oceans or used for irrigation. Here again, system operators monitor and control the entire process.
Water and wastewater treatment plant and system operators typically do the following:
Add chemicals, such as ammonia or chlorine, to disinfect water or other liquids.

Inspect equipment regularly.

Monitor operating conditions, meters, and gauges.

Collect and test water and sewage samples.

Record meter and gauge readings, along with operational data.

Operate equipment to purify and clarify water or process and dispose of sewage.

Clean and maintain equipment, tanks, filter beds, and other work areas.

Follow US Environmental Protection Agency regulations.

Ensure safety standards are met.
*Statistical information provided on this site is furnished courtesy of the US Department of Labor, Bureau of Labor Statistics. Data published herein is intended for informational and comparative purposes only.
Water and wastewater treatment plant and system operators held about 111,000 jobs in 2012, of which 78 percent were in local government. About 11 percent worked for water, sewage, and other systems utilities.
Injuries and Illnesses
Water and wastewater treatment plant operators work both indoors and outdoors. They may be exposed to noise from machinery and are often exposed to unpleasant odors. An operator's work is physically demanding and is usually performed in unclean areas that are difficult to access.
Safety Procedures
Operators must pay close attention to safety procedures because of hazardous conditions, such as slippery walkways, the presence of dangerous gases, and malfunctioning equipment. As a result, workers experience an occupational injury and illness rate higher than the average for all occupations.
Work Schedules
Plants operate 24 hours a day, 7 days a week. In small plants, operators are likely to work during the day and be on call nights and weekends. In medium and large-size plants that require constant monitoring, operators work in shifts to control the plant at all hours. During severe weather conditions and natural disasters, operators are more likely to be on call. They may have to work overtime, weekends, or holidays.
The median annual wage for water and wastewater treatment plant and system operators was $42,760 in May 2012. The median wage is the salary at which half the workers earned more than that amount and half made less. The lowest 10 percent earned less than $25,850, and the top 10 percent received more than $67,810.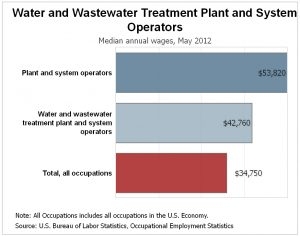 Note: All Occupations includes all occupations in the U.S. Economy
Source: U.S. Bureau of Labor Statistics, Occupational Employment Statistics
Job openings for water and wastewater treatment plant and system operators are projected to grow 8 percent from 2012 to 2022, which ranks employment as above average for all occupations.

Our growing population has dictated a heightened demand for water and wastewater treatment services and continues to drive industry growth. Population growth, particularly in suburban areas, will require new plants or increased capacity at existing ones. As existing plants expand and new plants are built to meet this demand, new operator jobs will continue to be created.

Plants will also need more operators to ensure compliance with increased environmental and safety regulations. New regulations often require that plants install new systems or features that operators need to control. Although some work can be automated, plants will need skilled workers to operate increasingly complex controls and water and wastewater systems.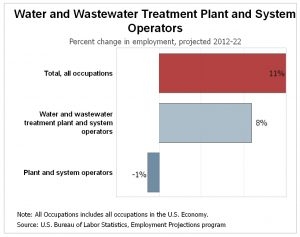 Note: All Occupations includes all occupations in the US economy
Source: U.S. Bureau of Labor Statistics, Occupational Employment Statistics
Grade IV Training
1. What must I do to become a certified Grade IV Operator? An applicant must comply with the education requirements (high school diploma or equal). The minimum work experience for certification is two years for both water and wastewater. Applicants must also receive a passing score on the Grade IV Certification Examination.
2. Can I still become a certified operator if I didn't finish high school? Yes. Certification requires a high school diploma or equivalent.
3. I passed a GED test. Does this satisfy the high school requirement? GED equivalency is accepted as being equal to a high school diploma.
4. If I have a degree, do I still have to pass an examination and meet the experience requirements? Yes. Each applicant must pass the state exam and have the required work experience to become a Grade IV Operator.
5. What type of examination is required to become a Grade IV Certified Operator? Examinations are 100 questions in length. Testing includes questions regarding the different classifications of water and wastewater treatment plants, including various distribution and collection systems. Applicants must also be versed in industry regulations (state and federal). Applicants must score a minimum of 70% to receive a passing grade. Testing and certification are administered by The Alabama Department of Environmental Management (ADEM).
6. How long is this program? Water and Wastewater programs are both 26 weeks (six months) programs.
7. What are the requirements for admission? Admission Requirements are outlined in the Application/Candidate Assessment Packet under "How To Apply" below.
8. What type of training will I receive? Recognized nationally as the industry standard, CWTP incorporates the California State University (CSU), Sacramento, Water (or Wastewater) Treatment Plant Operation Field Study Training Program. The program consists of home study, an internship in a water or wastewater facility, and classroom training.
9. Where will I go to receive training? CWTP is a fully mobile program. Internship (on-the-job training) will be held at a CWTP Partner Facility.
10. What will my training and internship consist of? Upon successfully completing Volume I of the CSU Field Study Manual (three weeks home study), candidates will enter an internship at a partner facility. Internships require twenty hours per week of onsite training. Onsite training lasts for twenty-two weeks (440 hours) and is supervised by a Grade IV Operator/Instructor. Candidates may be required to work any shift, including holidays. Scheduling will be at the sole discretion of facility management. In addition to the technical aspects needed for Grade IV Certification, candidates will observe and participate in various duties. These duties include equipment maintenance, housekeeping, safety, and other related responsibilities.
11. Will the time I spend count toward the required work experience? Yes, candidates may receive up to 50% (one year) of the two-year work experience requirement when approved by ADEM.
12. What are the physical requirements? Treatment plant operators must be able to stand for prolonged periods. Requirements include lifting and transporting loads of over 40 lbs, operating various equipment types, and regularly climbing stairways and ladders. Operators must work both indoors and outdoors without respect to temperature, weather conditions, or unpleasant odors.
13. What is the cost? Select the How To Apply tab for pricing and assistance programs.
14. Are there any scholarships available? Yes. Select the links on our Resources Page for more information.
15. What about financial assistance? Careers in the Water and Wastewater Treatment field have been approved for Workforce Innovation and Opportunity Act (WIOA) funding by the Alabama Department of Commerce, Workforce Development Division. Select Tuition Assistance under How To Apply.
Helpful Links
For career information on becoming a water or wastewater treatment operator, visit:
State Associations, Control Agencies, and Career Centers:
Job Search:
Workforce Innovation and Opportunity Act (WIOA)
WIOA is a federally funded employment and training program. The focus of WIOA is on assisting customers to develop workforce opportunities, access training, and manage their career choices through universal access to information and career-oriented services. The WIOA is also a means of identifying training needs and assisting with securing training to fill skill gaps, which may be a barrier to career success.
Financial Assistance:
WIOA funded training grants are available each year for individuals to acquire skills that are currently in demand and provide a high wage. Funds are used to cover the cost of tuition and books. In Alabama, JSU's Water and Wastewater, Grade IV Operator Training Programs qualify for 100% funding through the WIOA.
To qualify, applicants must:
Require training services to re-enter the labor force. One must also have skills that are no longer in demand, have low-wage job skills, or little or no work history.

Must be able to enter the workforce quickly through short-term training. (104 weeks or less)

Must register for work with the Alabama JobLink Service and actively pursue work with assistance from the Career Center.

Must meet WIOA eligibility criteria for Youth, Adult, and/or Dislocated Worker Services. Eligibility does not constitute an automatic awarding of a grant. It only establishes that you are eligible for consideration.
Eligibility:
Applicant must complete the CWTP Candidate Assessment Form and WIOA Application and submit to an in-depth interview. Applicants must provide the following documentation:Based on the Candidate Interview, the Career Center Specialist will develop an Individual Service Strategy to determine if the participant qualifies for assistance and possess the skills necessary to successfully complete training. Additional assessments and remedial training may be required as determined by the Career Center Specialist.

Social Security Number

Date of Birth, Birth Certificate, or Valid Government ID or Drivers License

Income for all members of the household for the previous six (6) months. Documentation can be Pay Stubs, Signed Statement from Employer, Verification of Government Assistance (TANF, SSI, Food Stamps, etc.)

Dislocated Workers should provide a Lay Off Notice.

Applicants under 19 must be accompanied by a parent or legal guardian.

Applicants must complete an Initial Assessment of Reading and Math Skills.
Program Fee: $6500.00
Tuition Assistance:
 This program qualifies for 100% Funding Assistance for qualified applicants. Select the WIOA tab below to find out if you are eligible.
What's included?
The fee includes all training materials, testing costs, and internship placement. We have even included the cost of tutoring and taking the State Certification Exam.
---
Getting Started:
It begins with a telephone interview. There is no commitment or obligation!
Send us your information. When we receive your packet, we will schedule your interview and send you a confirmation email.

Please allow approximately thirty minutes for questions and answers.
Next:
We will refer you to your nearest Career Center for proficiency testing. Candidates must test at tenth grade level in math and reading comprehension.
Having completed proficiency testing 

(and the WIOA Application process, if applicable)

, you will return to JSU for drug screening and a background check.
For more information, contact:
Kelly Beegle, CPP
Program Associate
(256) 782-5959  |  (800) 634-7199
kbeegle@jsu.edu
We would like to thank the Alabama/Mississippi Section of the American Water Works Association, the Alabama Water and Wastewater Institute and our partner water and wastewater facilities, who have made this program possible.