JSU Greeks Give Back to 2nd Chance Women's Shelter
JSU Greeks Give Back to 2nd Chance Women's Shelter
12/21/2017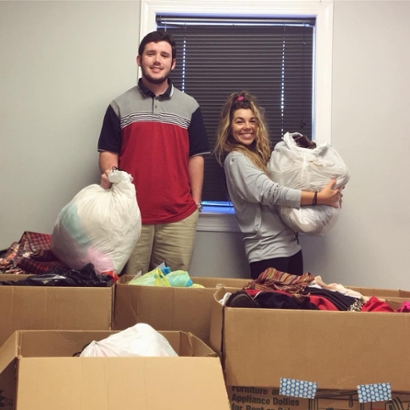 Kappa Sigma President Coleman Anderson and Phi Mu's Abbie Patterson sort donations for 2nd Chance.
JSU's fraternities and sororities recently teamed up to collect donations for 2nd Chance, a nonprofit that provides safe shelter and supportive services to victims of domestic and sexual violence in Northeast Alabama.
Abbie Patterson, a member of Phi Mu, led the charge for the campaign. Her work with Phi Mu and Women's Issues, Support and Empowerment (WISE) connected her with employees at 2nd Chance who requested donations. Patterson contacted the president of Kappa Sigma and the two chapters reached out to every fraternity and sorority president on campus seeking support.
After a weeklong drive and participation from nearly every Greek organization, more than $1,000 in toiletries, household items and clothes was donated by JSU's generous students.