Governor Bentley Supports Possible JSU Canyon Center Expansion
Governor Bentley Supports Possible JSU Canyon Center Expansion
09/22/2016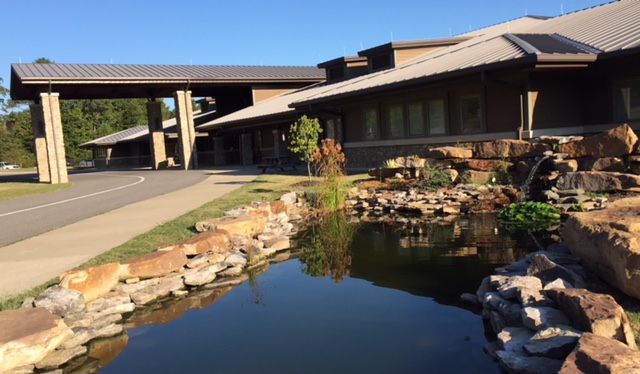 Gov. Robert Bentley has awarded JSU a $52,500 grant to study the feasibility of expanding the university's Little River Canyon Center in Fort Payne in hopes of increasing tourism and educational opportunities in northeast Alabama.
"The Canyon Center and the educational programs it offers enhances the splendor of Little River Canyon," Bentley said. "I am pleased to have a role in this project that will help reveal the area's potential as an outdoor education and recreation location."
JSU opened the 23,000-square-foot Canyon Center in 2008 to serve as an outdoor education and meeting facility overlooking the 23-mile-long river gorge atop Lookout Mountain. Managed by the university's Environmental Policy and Information Center, it serves as a visitor's center for the region – fully equipped with an exhibit area, gift shop, stage and amphitheater. It also houses offices for the National Park Service.
Proposed additions to the Canyon Center include opening a farm-to-table restaurant, tree climbing stations, a boutique hotel, luxury tree houses, a low-cost hostel or bunk house, and even an aerial recreation system.
"In partnership with the National Park Service and others, we've been thinking about this for a long time and now look forward to making some really cool things happen," said Pete Conroy, director of the JSU Environmental Policy and Information Center. "These funds will enable us to study some exciting development possibilities that protect the environment and character of the region while driving economic development to places like Ft. Payne, Mentone and Centre."
The feasibility study is administered by the Alabama Department of Economic and Community Affairs and funded by the Appalachian Regional Commission.
"Tourism and recreation are important sectors of Alabama's economy," ADECA Director Jim Byard Jr. said. "I commend JSU for recognizing Little River Canyon as something special and being willing to invest in the area with so many educational and recreational opportunities."
It is estimated that more than 250,000 people visit the canyon annually, providing an economic impact of $16 million to the area. Other nearby attractions include DeSoto State Park, Weiss Lake and Cherokee Rock Village.
"The JSU School of Business and Industry is very proud of its connection with the Canyon Center," said Dean Bill Fielding. "Through this study and analysis, the proposed development will add sustainable economic impact to the entire region while protecting the natural beauty of Little River Canyon."