Serving Alabama's Aging: A Spotlight on Social Work Alumna Kristi Elrod
Serving Alabama's Aging: A Spotlight on Social Work Alumna Kristi Elrod
04/22/2016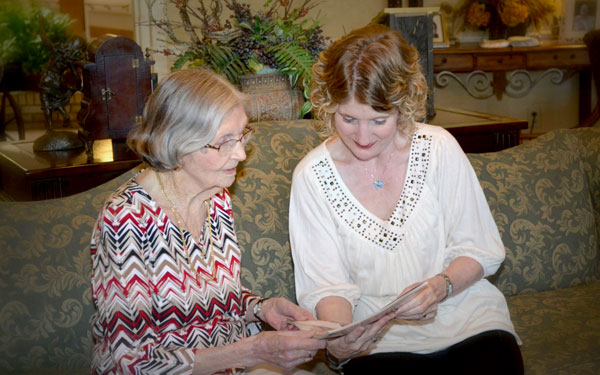 Social Work alumna Kristi Elrod (right) uses her JSU education to care for Alabama's elderly.
In honor of National Social Work Month, the Alabama Nursing Home Association (ANHA) recently recognized JSU alumna Kristi Elrod and the nation's 600,000 social workers for the vital role they play in Alabama's nursing care centers.
A Licensed Baccalaureate Social Worker (LBSW), Elrod earned a Bachelor of Social Work from JSU in 1994. She began her career at Crowne Health Care of Fort Payne, and was named social service director at Albertville Health and Rehab in 2000. She serves as secretary of ANHA's Activity and Social Service Auxiliary.
Read the following Q&A between ANHA and Elrod to learn how her social work degree from JSU is helping her serve Alabama.
First, why is it important for social workers to be licensed?
Elrod: I think it is important because there are values and principles when you hold a licensed that you have to adhere to. We pledge to support and follow the National Association of Social Workers' Code of Ethics, which guides the professional conduct of social workers. We're required to earn 30 hours of continuing education every two years to maintain our license. Also, if a skilled nursing care center is over 120-beds it is required to have a licensed social worker.
Tell us some of the tasks a skilled nursing care center social worker performs on a daily basis.
Elrod: I like to call the first thing we do "meet and greet." We contact the family of each new person who is admitted to our center. We meet with the family and gather a social history of the new patient or resident. We answer any questions the family or resident has to help ease their transition. We handle any grievances that families or residents have, such as if someone has lost an item. Also, there is a section of the Minimum Data Set (nursing home care plan form) where I have to assess the person's needs from a social service perspective.
Why are social workers important in the daily operation of a skilled nursing care center?
Elrod: Social workers play an important and vital role because we do handle so many different situations. We're an advocate for the resident and are here to make sure all of their needs are met including emotional and psycho-social needs. We also interact closely with other members of the interdisciplinary care team. For example, if the nursing staff doesn't have an answer to something they're doing related to a certain resident, they will call the social service department to help. We network a lot with outside agencies such as hospitals, home health and hospice. We also provide a lot of family education.
Tell us more about the education you provide to families.
Elrod: We educate them when they first come in and talk to them about what to expect and reassure them a lot. I let them know that if there is ever any question about their loved one during their stay here that we have an open door policy and to let us know. We also do a lot of education about end of life care and the transition to hospice.
How is a social worker involved a resident or patient's care plan?
Elrod: Part of the MDS (Minimum Data Set) relates to social work and the mood of the resident. We have to carefully assess the mood of the resident. There is a part relating to psycho-social needs and that goes back to their daily preferences and reflects back to their lifestyle or daily routine before they came to live here. There's also a part related to behaviors. For example, if someone exhibits behaviors that could lead to depression we work with the nursing staff and others to develop a plan to hopefully prevent depression.
How have the roles and responsibilities of skilled nursing care center social workers changed over your 22-year career?
Elrod: We're seeing so many different levels of patient care and a lot of younger people living in skilled nursing facilities whose needs are much different from older residents. We provide more individualized care now and regulations are moving us to more resident-centered care. Your documentation is so much more in-depth, as we have to show exactly what did or are currently doing to meet the needs and likes and dislikes of the residents. That goes back to making sure you get a good social history when the person first comes to our center.
What are your thoughts on moving towards person-centered care?
Elrod: It's a good thing. As part of my initial interview with a resident, I ask a lot of questions about their likes and dislikes. This is their home and we want to make it a home-like environment for them.
When did you know you wanted to work in a skilled nursing care center?
Elrod: I had some classes at Jacksonville State University that dealt with aging and geriatric care. It sparked an interest in me. I thought there is so much of the population aging that it would be a good professional opportunity for me as well.
What advice would you give a social worker beginning his or her career in a skilled nursing care center?
Elrod: No two days are the same. Every day that you come in will be challenging, but it is all worthwhile and so rewarding. That's probably why I've done this so long. I can't imagine being anywhere else. I've had a few student interns who have shadowed me for several months and they don't want to leave because they fall in love with helping the elderly.
What would you say to a college student to encourage them to consider skilled nursing care?
Elrod: If they love the elderly and want to make a difference in someone's life, then by all means, this is the place to do it. When I walked in the door this morning, one of my residents greeted me with a smile and gave me a hug. At the end of the day when I'm leaving, a resident will tell me to be careful and they'll see me tomorrow. That makes my day!