Jesslan Sharp Elected 2016-2017 SGA President
Jesslan Sharp Elected 2016-2017 SGA President
03/31/2016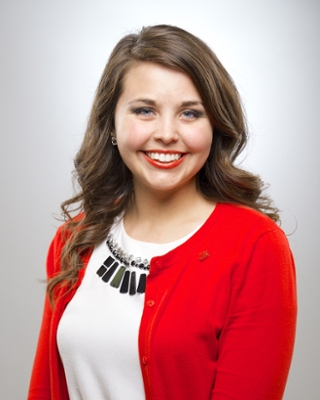 Political science major Jesslan Sharp has been elected president of the SGA.
by Katie Cline
She's active in a sorority, a member of the Tocqueville Society philosophy club and has held multiple student government positions, but Jesslan Sharp is about to add another title to her resume: president. In JSU's annual election held on March 10 of this year, the junior was named the president of the SGA.
"I would like to thank my fellow Gamecocks for their support and encouragement of me and the 2016-2017 SGA executive team," Sharp said. "I know for a fact I would not be where I am today without the students of Jax State, and I am forever grateful to them and this university for helping me achieve my aspirations of this office." 
Sharp's road to the "Red and White House" began in her hometown of Sylvania, Alabama. She was selected by her high school to attend JSU's Emerging Leaders Day the spring of her junior year, and she immediately felt at home on the campus.
Upon enrolling at JSU, she was chosen as a member of Freshman Forum, a selective leadership group made up of 70-80 members of the freshman class. It was through Freshman Forum that Sharp's interest in the SGA started, after meeting some of the student senators and sitting in on a Senate meeting. Her sophomore year, she was selected to be a Freshman Forum mentor, and this past academic year she served as the vice president of Student Senate.
Sharp will start her senior year in the fall and plans to graduate in Spring 2017 with a degree in political science. Over her years at JSU she has travelled to many SGA and leadership events, including the Higher Education Day rally and the Alabama YMCA Collegiate Legislature Conference. She plans to apply these experiences to her presidency.
"I have had the opportunity to work and build relationships with students, faculty and staff, and I believe these relationships and the overall experience I have gained as a previous executive officer will be beneficial when I begin my term as president," Sharp said. "My year serving as vice president of Student Senate has given me a different perspective regarding our students and their needs, and this has given me the drive to ensure that the students at JSU know that their SGA is open to them and supportive of them." 
Sharp believes her experience and determination will help her lead the 2016-2017 executive team and the JSU student body as a whole.
"As SGA president, my main goal is to serve the students and ensure that they reach their goals," she said. "I want to make sure that we, as an executive team, utilize each of our branches to their maximum potential in order to serve the students efficiently and effectively."
Sharp will assume the presidency following the graduation of Tyler Brown this spring.
The executive team members are:
Hayden Clay – Vice President of Student Senate
Ranger Rumrill – Vice President of Student Activities
Dylan Jones – Vice President of Organizational Affairs
Casey Payne – Director of Publicity
Amy Sims – Chief Justice
Congratulations to Jesslan Sharp and the rest of the students elected!