Community Invited to Veterans Day Ceremony on Nov. 11
Community Invited to Veterans Day Ceremony on Nov. 11
10/29/2015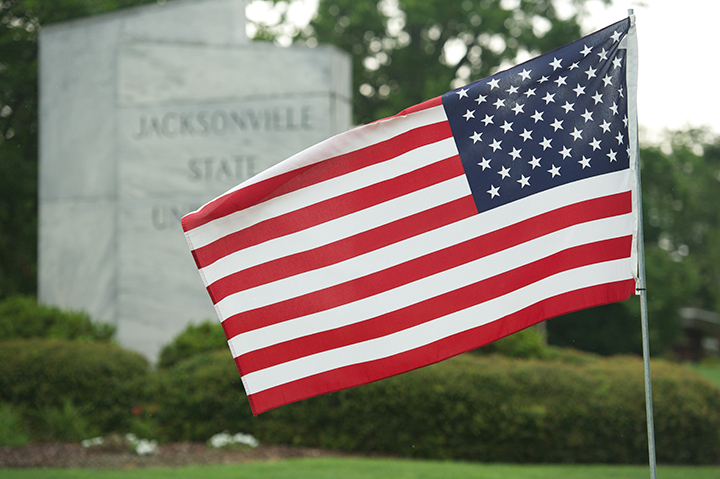 JSU and the City of Jacksonville have joined forces to present a Veterans Day ceremony for the community on Nov. 11, 10:30 a.m., in the Pete Mathews Coliseum on the university campus. Col. Martine Kidd, commander of the Anniston Army Depot, will serve as guest speaker.
Organized by the JSU Research Center for Veteran Support Services, the ceremony will include performances by the JSU Band Ensemble and vocal quartet, presentation of colors by the JSU ROTC Color Guard, invocation and benediction by JSU alumnus and retired U.S. Army chaplain Tom Smith, words from JSU President John Beehler and Jacksonville Mayor Johnny Smith, and a keynote address by Col. Kidd at precisely 11:11 a.m.
This is the first year the university and city have planned a Veterans Day ceremony for the area and Allison L. Newton, coordinator of proposal development in the JSU Division of Research, Planning and Collaboration and director of the Research Center, said they plan to make it an annual event.
"The planning of this event took the collaboration of many individuals and groups – administration, faculty, staff and students – from JSU and the City of Jacksonville," Newton said. "Honoring the men and women who have served in the United States military is something that every member of the planning team feels very strongly about."  
The Veterans Day ceremony is just one of the initiatives in the works at JSU to provide support to veteran students and outreach to veterans in the community. Earlier this month, the university announced plans to establish a Center of Excellence for Veteran Student Success on campus, funded by a $330K grant from the U.S. Department of Education. The university also launched a Veterans History Project this year to collect oral history accounts from area veterans. Participants are filmed sharing their experiences and the footage is archived through the Library of Congress.
For more information on the Veterans Day ceremony, contact Allison L. Newton at 256-782-5108 or anewton@jsu.edu.