Allison Newton is October Employee of the Month
Allison Newton is October Employee of the Month
10/26/2015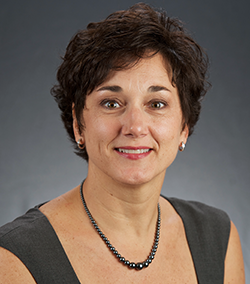 Since she came to JSU nearly 13 years ago, Allison Newton has served as the associate director for a national organization, earned her master's degree, begun work on her doctorate degree, worked for the National Geographic Society, taught geography and served on several committees and task forces. Since April 2010 she has also been the coordinator of proposal development in the Office of Planning and Research.
While this might sound like quite the workload for any employee, those who work with Newton know that this list only scratches the surface of all she brings to the university.
Recently Newton was recognized for these contributions and more as JSU's Employee of the Month for October. 
"Allison is always cheerful, helpful and encouraging with her colleagues," said Alicia Simmons, vice president for research, planning and collaboration. "In addition, she is doing a wonderful job supporting faculty and staff in developing excellent proposals that are getting funded. She took the lead in our new Veterans' Services grant, both in writing and in coordinating the team. She's an example of all-around excellence on our campus."
Newton, who credits the people of JSU as the most exciting aspect of her employment, said that each step of her JSU journey has been meaningful and educational, with each experience building upon the next and shaping who she is today.
"But the most personally meaningful work I've done since I've been at JSU has been the work I am involved in for veteran students," she said.
The Research Center for Veteran Support Services was established in 2013 with the dream of someday providing JSU's veteran students a one-stop-shop for all the support services they need. Thanks to the work of Newton and her coworkers in recently securing a
U.S. Department of Education grant
, that dream is now a reality. Also to Newton's credit is the
Veterans History Project
- a collaborative effort with the American Red Cross that provides veterans a means to share their stories in video interviews that will be archived through the Library of Congress. If you happen to be near a TV on Nov. 2 at 9 a.m., tune in to ABC 33/40's "Talk of Alabama" to see Newton promoting JSU's partnership with the City of Jacksonville to present a Veteran's Day program on Nov. 11. 

Congratulations, Allison, and thank you for your service to Jacksonville State!