JSU Confers 412 Degrees at 2014 Summer Commencement
JSU Confers 412 Degrees at 2014 Summer Commencement
09/10/2014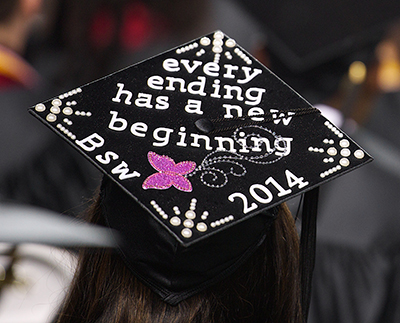 Four hundred twelve candidates received degrees from Jacksonville State University at Summer Commencement exercises on Friday, August 8 at JSU Stadium.
Leading the class was top graduate Amber Dawn Barrett, who graduated Summa Cum Laude with Special Honors in Nursing. 
The faculty led the processional and University President Dr. William A. Meehan presented the degrees.
Dr. Theron Montgomery, ninth president of JSU, was present to introduce the commencement speaker, Bishop F. Richard Spencer, an American Roman Catholic priest and JSU alumnus, who in 2010 was appointed auxiliary bishop of the Archdiocese for the Military Services and titular bishop of Auzia by Pope Benedict XVI. At the ceremony, JSU bestowed upon Bishop Spencer the honorary doctor of letters for his accomplishments on behalf of his country. (Learn more about Bishop Spencer here.)
The commencement exercise was webcast and remains available on the JSU Television Services website.