Bishop Spencer to Speak at Summer Commencement
Bishop Spencer to Speak at Summer Commencement
07/31/2014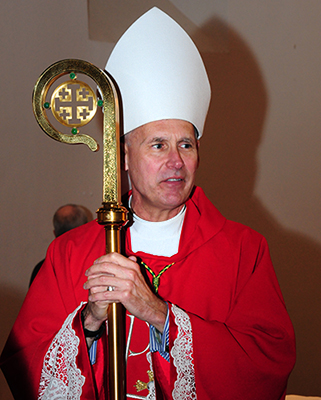 Jacksonville State University announces Summer 2014 Graduation, which will be on Friday, August 8 at 7:30 p.m. at JSU Stadium.
The commencement speaker will be Bishop F. Richard Spencer, an American Roman Catholic priest and JSU alumnus, who in 2010 was appointed auxiliary bishop of the Archdiocese for the Military Services and titular bishop of Auzia by Pope Benedict XVI. 
Bishop Spencer was born in Sylacauga, Alabama, and earned a Bachelor of Science in Law Enforcement from Jacksonville State University. He also received a Master of Education in Counseling from the University of Wisconsin-La Crosse. 
He was commissioned as an Army officer in 1973 and served as the commander of the Military Police Detachment at Fort McCoy until 1977, after which he served with the 2nd Infantry Division at Camp Casey, South Korea. In 1980 he left active duty to pursue the priesthood, earning a Bachelor of Sacred Theology and Master of Divinity degrees from St. Mary's Seminary in Baltimore, Md. He was ordained in 1988 and served three years as associate pastor of Sacred Heart Parish in Glyndon, Md. In 1999 he returned to active duty ministry, serving as the 2nd Engineer Brigade Chaplain at Camp Howe, South Korea, followed by deployments in Egypt and Iraq.  In 2005 he pursued cliinical pastoral education at the Wlater Reed  Army Center in Washington, D.C. That same year he was promoted to Lieutenant Colonel, followed by appointment as the Episcopal vicar for the Archdiocese for the Military Services. This led to appointments as Division Chaplain of the 2nd Infantry Division in Korea and Deputy Command Chaplain of the U.S. Army Europe for Operations, Plans and Training. 
Bishop Spencer recently had the honor of delivering the invocation at the 70th Anniversary of D Day marking the invasion of Normandy. In attendance were President Hollande and President Obama. 
At the ceremony, JSU will bestow upon Bishop Spencer the honorary doctor of letters for his accomplishments on behalf of his country.
Jacksonville State University congratulates all our outstanding graduates and welcomes family and friends to our campus and the ceremony.
Parking for guests is available surrounding the graduation entrances. Handicapped parking is available on the east side of the stadium. Handicapped and wheelchair seating is available at Gate A in the stadium. Sign language interpreting will be provided on the stage.
Commencement will be televised on WEAC-TV24 (local Cable One channel 9). It can also be viewed live from a computer on the web via the JSU Television Services website.
For more information, call the JSU Office of Public Relations at (256)782-5636.
Graduating students needing information may find it on the Registrar's website.
Photo: Bishop F. Richard Spencer, D.D. (Elizabeth Casebeer/USAG BadenWuerttemberg Public Affairs)