Alabama Math, Science, and Technology Initiative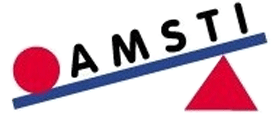 The Alabama Math, Science, and Technology Initiative (AMSTI), is the Alabama Department of Education's campaign to improve math and science teaching statewide.
The program provides three basic services: professional development, equipment and materials, and on-site support. Schools become official AMSTI Schools by sending all of their math and science teachers, and administrators to two-week Summer Institutes for two summers. At these Institutes, teachers receive grade and subject-specific professional development that is highly applicable to their classrooms.
AMSTI at JSU provides teachers essentially with all of the equipment, supplies, and resources needed to effectively engage students with hands-on, inquiry-based learning. The resources arrive packaged in customized "kits" ready for immediate use. Also provided is extensive, on-site support and mentoring by trained specialists.
To learn more about the AMSTI program, please call (256) 782-5686. The staff of the AMSTI at JSU site includes:
Kay Johnson
Project Administrator

Math Specialists:

Science Specialists:

Barry Cooper,  Materials Manager

Jason Scogin, Asst. Manager

Scott Maddox, Warehouse Asst.

Cy Wagner, Warehouse Asst.

Leslie Cruse, Project Coordinator