Student Awards
The Department of Communication hosts its annual banquet each April where students are also recognized for individual achievement in student media and coursework. This ceremony concludes the annual Communication Week held every April at JSU.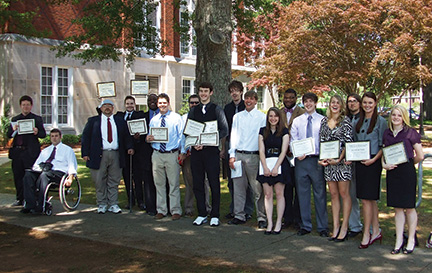 2011 Communication Banquet Award Recipients 

JSU's Communication Week 2011 brought area media professionals to the campus of Jacksonville State University to meet with aspiring broadcasters, news writers, and public relations specialists.
Recent JSU graduate Ms. Hollie Thrasher, who now works as a reporter and producer for TV-38 in Warner Robbins, Georgia, told students about the hard work required to find and keep a job in the competitive world of television news. Mr. John Alred, publisher of The Jacksonville News, talked about the important role of community journalism. Mr. Brandon Glover, a spokesman for Alabama Power Company, explained his role in the field of corporate communication.
The keynote speaker for JSU's Communication Week was Geni Certain, managing editor of The Daily Home newspaper in Talladega. She told the communication students that she rejects the notion that newspapers are a dying medium, and she stressed the important role that print journalism continues to play in American society.
Another feature of the annual program was a visit by JSU alumnus Mr. Mike Sandefer, who was one of the students responsible for putting WLJS on the air in 1975. He told students about the challenges he and his colleagues faced as they brought the FM radio station to the JSU campus.
Also during Communication Week, several of the Communication Department's top students were honored. Winners of the top academic awards were: Broadcast Student of the Year, Mr. Steven Daniel Beck; Print Journalism Student of the Year, Ms. Stephanie Lama; and Public Relations Student of the Year, Ms. Chelsea Pelletier.
Four students received the department's annual Character Awards: Ms. Alexis Tyson, Mr. James Isaac Godwin, Mr. Joshua Singer and Mr. Logan Huggins. 
The Price-Montgomery Scholarships for the upcoming academic year were awarded to Mr. Steven Daniel Beck and Ms. Emily Glaser.
Each spring, one graduating senior will receive the distinguished John C. Turner Outstanding Graduate Award, named for a 17-year veteran of the department. The winner of the department's overall top honor in 2011, the John C. Turner Award, was student Ms. Karie Gottwald.
The Outstanding SPJ (Society of Professional Journalists) Graduate Award is given each spring as well.
Visit the Scholarships page for related information.