Kindness and Knowledge, from Jersey to Jacksonville
Charlcie Vann
Reference Librarian, Houston Cole Library
In school, Charlcie Vann was that girl. You know. The one who always wanted to be the teacher's pet.
"The one who got on everybody's nerves," Vann said, laughing. "I was the kid who always returned the books to the library for the teacher. That was my favorite thing. It started out as a way of getting out of class, but then it became where I felt at home. The library was a safe haven, like church. It was where I always felt at home."
Vann joined the Houston Cole Library's staff in 2006, where she serves as psychology, philosophy and general reference librarian.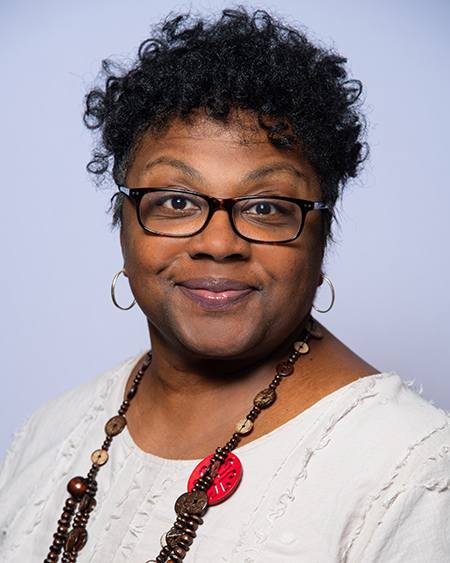 It might come as a shock, but the winner of the 2015 National Library Week's Librarians Creating Communities of Kindness contest didn't always dream of being a librarian. She wanted to be a journalist, but soon learned she loved doing research more than being on the community frontlines.
"I was better at being behind the scenes," Vann said.
The self-professed "Jersey Girl," who spent the summers with her grandparents in Wilcox County, Ala., started her academic career studying public policy to fuel a love of politics. But she always seemed to end up working in a library.
"I didn't really choose librarianship," she said. "It chose me."
Vann's first job after earning her associate and bachelor degrees from Saint Peter's University in Jersey City, NJ, was as a "gofer" for a law firm in Newark. It was a job that had her spending more hours in the law library than the librarian.
"I loved it," she said. "That's when it hit me – I needed to go back to school."
Which is exactly what she did. Vann earned her Master of Library Science degree in 1996 from North Carolina Central University. She worked throughout North Carolina following graduation, interning at the SAS Institute and working at the Air Resources Research Consortium of North Carolina State University and at Cato Research. Her first job as a university librarian was at Valdosta State University in Valdosta, Ga.
In 2006, sensing a need to be closer to family, she answered an ad seeking a reference librarian at JSU. After scheduling an interview, Vann was forced to withdraw her application when her husband was offered a job in Georgia. But that job didn't materialize and Vann accepted the job at JSU.
"And the rest is history," she said. "This is where I was meant to be."
Throughout her 25 years in library sciences, Vann has seen a lot of trends come and go. She's read the stories extoling the death knell of the library in a digital age, only to see it become more popular than ever, both on academic and public levels.
"We're always learning new things," she said. "Before we can teach the students, we have to learn it ourselves. Libraries are and always will be vital to their communities."
In 2008, Vann created JSU's Lunchtime Lecture series, bringing more than 25 speakers to campus to speak at the library on various topics.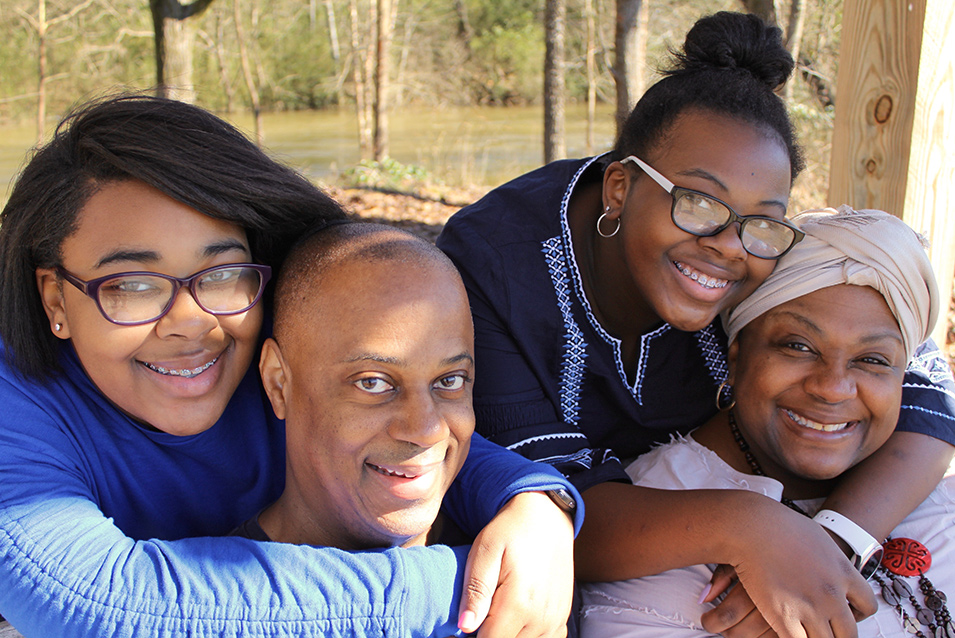 Charlcie and Romontey Vann and daughters Trinity, 15, and Miniya-Grace, 12. (photo courtesy of Gretchen McCombs Photography)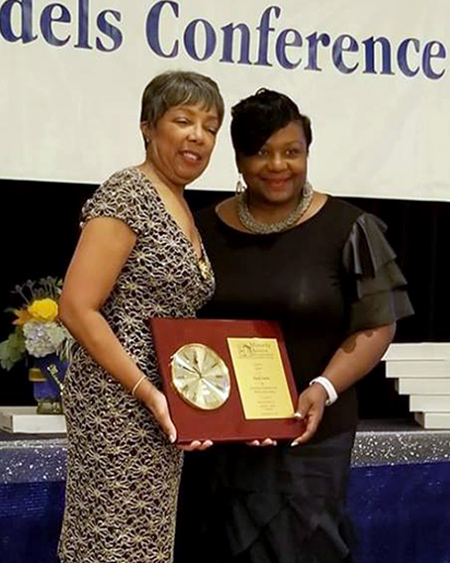 "Honestly, it started out of sense of loneliness," she said. "Not knowing many people when I got here, being the new kid in town, I knew the best way to meet people was to invite them to your home. That's what JSU has been to me."
Vann was recently appointed by Acting President Dr. Don C. Killingsworth, Jr. as chair of the university's Diversity and Inclusion Committee.
"It was perfect because diversity is my heart," Vann said. "It's very important."
"Before we can teach the students, we have to learn it ourselves. Libraries are and always will be vital to their communities."
The committee, under Vann's leadership, is still in the transition phase with its first meeting scheduled for March.
"It's certainly not just a black/white issue," she said. "We have our Asian students, Hispanic Students and our LGBTQ students. It's bigger than just one group. It's a beautiful spectrum, and there's a lot that I need to be educated about."
As the only African American librarian at JSU, Vann appreciates the value of diversity on a university campus.
"This may the first time that a lot of young people are away from home and out of their comfort zone, so it's awesome for them to see people who are different from them. It's a learning experience that takes place outside of the classroom. If we learn better, we do better."
But Vann is more than a librarian. "I use to be a dancing machine," said the wife of Romontey and mother of two daughters, Trinity, 15, and Miniya-Grace, 12. "When I hear music, I'm moving and dancing."
Step into Charlcie's World: