Communication Students Make Headlines, Winning National Awards
11/06/2023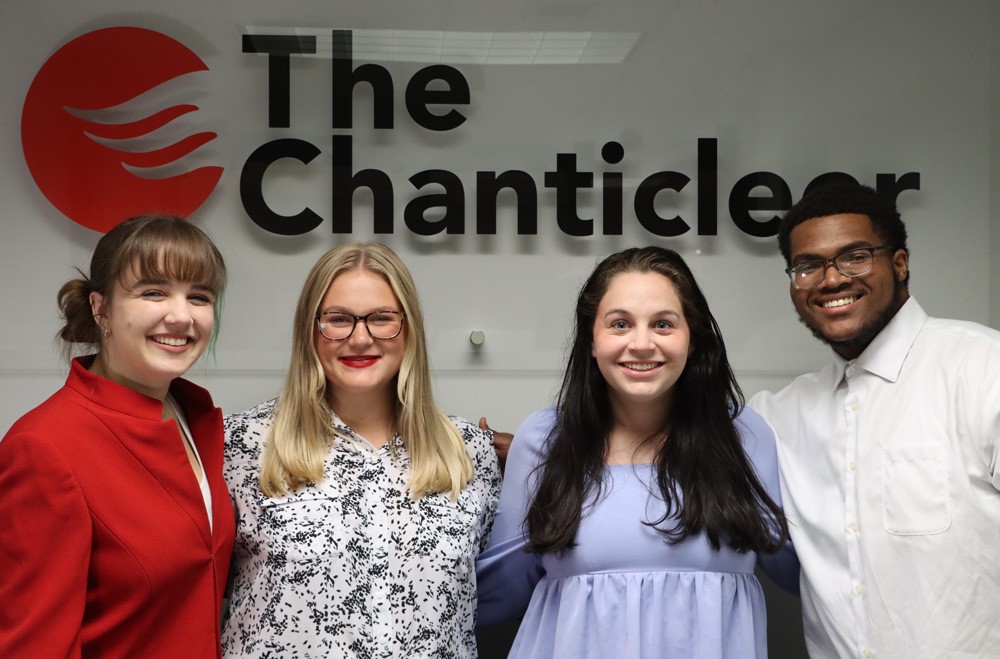 Chanticleer Editor-in-Chief Madeline Ricard, News Editor Anna Barrett, Features Editor Maddie Reid and Sports Editor Justin Travis.
JSU's aspiring communications professionals are usually just outside the spotlight – on the other side of the camera lens, scribbling notes in a reporter's book, capturing the news and accomplishments of others. But now, they have experienced a series of personal wins of their own.
The student staff of The Chanticleer were recognized with their first two national awards as a student media platform by the College Media Association. For the quality of their coverage, they were presented two Pinnacle Awards in direct competition with institutions like Marquette University, Quinnipiac University and Vanderbilt University.
The student staff was recognized in the following categories:
The College Media Association has been supporting college media programs since 1954, and its Pinnacle Awards are intended to honor the best individual work and organizations in student media across the nation.
Students in the JSU chapter of PRSSA also returned last week from the PRSA ICON conference with recognitions that were a first for the organization. The chapter earned the following:
PRSSA Star Chapter – Originally notified heading into fall term, the chapter was publicly recognized for earning its first Star Chapter designation. The honor is a gold standard for programs in PRSSA. JSU is one of only 39 chapters internationally to hold the designation.

PRSSA Champions/Teahan National Chapter Award (Development) – In direct competition with other small chapters, JSU was recognized for the quality of its programming, materials, fundraising, relationship development with PRSA Alabama, and membership engagement.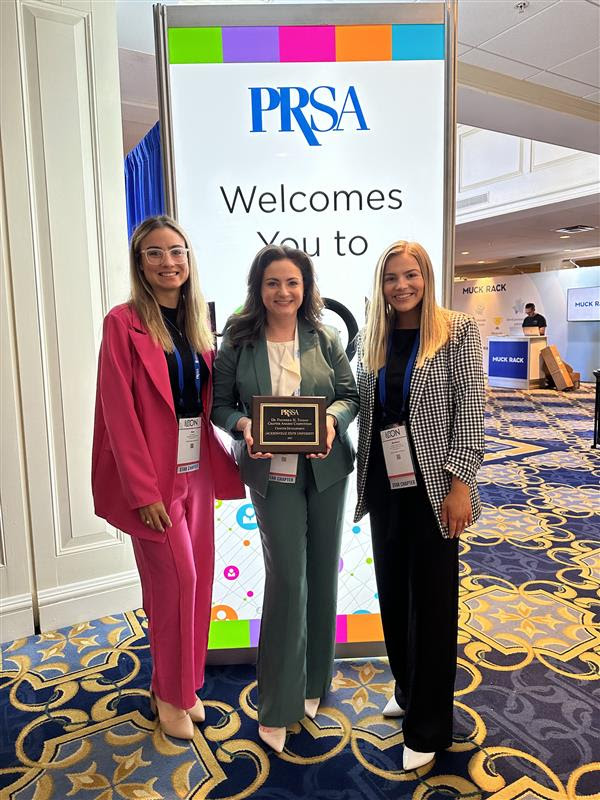 PRSSA students Ann Manning (left) and Madison Parker (right) with Dr. Breann Murphy.

"This week's accomplishments from our aspiring professionals in the Department of Communication reflect the hard work of our students who drive our student media platforms and PRSSA chapter, and the commitment and support of their faculty advisors, Dr. Breann Murphy and Mr. Ben Cunningham," said Dr. Chris McCollough, department head and Ayers Family Endowed Chair of Journalism and Mass Communication. The student wins come on the heels of a remarkable showing for the Department of Communication as a while, which received reaffirmation of its accreditation from the Accrediting Council for Education in Journalism and Mass Communication in April. Site visitors described the performance as, "a difference of night and day" following the addition of industry-current facilities, ample production equipment for students, and more than 60 curricular changes intended to support job readiness and to facilitate easier progression through the program. "This week's news is a direct result of the accomplishments of the past year," McCollough said. "The innovative curriculum, the commitment of the faculty to our students, the engagement of our students, and the rapid growth in degree-relevant job placement of our graduates should signal that the Department of Communication is a leader at Jacksonville State University in supporting student success and in aligning our academic programs with industry."