JSU Forms Transfer Agreements with Texas Colleges
10/24/2023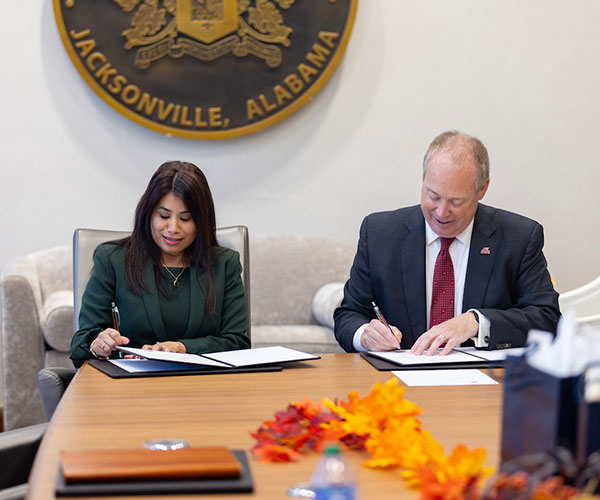 Dr. Christina Hagerty, Senior Associate Vice Chancellor of Academic Affairs at Lone Star College in Houston, visited JSU recently to sign a transfer agreement with JSU President Don C. Killingsworth, Jr. (JSU Photo)

by Brett Buckner

JSU has partnered with two Texas colleges – Lone Star College in Houston and Dallas College in Dallas – to allow for a seamless transfer of academic credits and ease of enrollment for students who want to complete their degrees at the university.

The institutions are in the process of signing a Memorandum of Understanding (MOU), the official framework that helps facilitate students' transfer from either institution to JSU and ensures that credits transfer seamlessly to the university.

"These agreements with community colleges outside of Alabama are a first for Jax State, and we are excited about the new opportunities," said Dr. Staci Stone, Vice Provost of Academic Affairs. "In addition to promoting Jax State as a good option for students in Texas pursuing four-year degrees, the MOUs lay the foundation for collaboration in other areas, such as grant and research opportunities."

In becoming a transfer partner, information about JSU will be made available to students interested in one of the university's online or in-person degree paths. As a result, JSU's programs become more visible to college faculty and staff.

"As a former transfer student myself, I know firsthand the importance of collaboration between colleges and universities," said President Don C. Killingsworth, Jr. "We look forward to working with Lone Star College and Dallas College on transfer opportunities for their students, as well as scholarship opportunities for their employees seeking online undergraduate and graduate degrees."

Lone Star College is the largest institution of higher learning in the Houston area, with more than 80,000 students enrolled on its eight campuses and 14 centers. Dallas College is the largest community college system in Texas, with more than 100,000 students. JSU is in the process of signing MOUs with additional colleges in Texas, as well as attending college fairs in the state.