JSU Boo: Halloween Happenings 2023
10/24/2023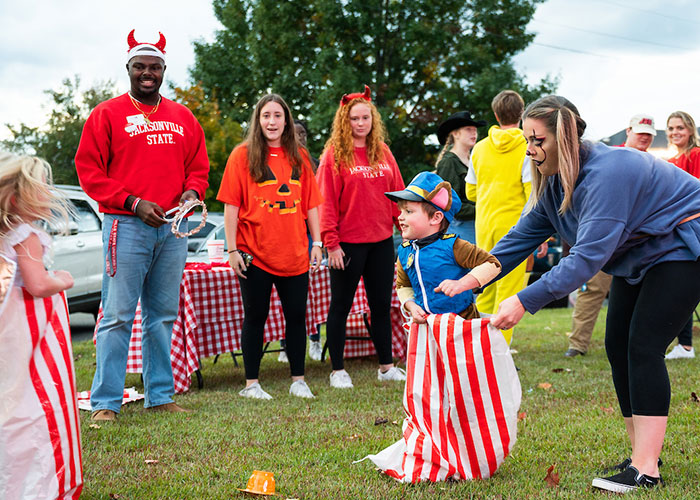 The JSU Harvest Festival, to be held this year on October 26, brings fun for all ages. (JSU Photo)
By Buffy Lockette


With a nip in the air and leaves changing color, there's no "bones" about it – Halloween is almost here! From frightful to family friendly, there's a number of events planned over the next week to get you in the "spirit" of the holiday.


October 25


Fall in Love with Mental Health: Counseling Services and Chi Sigma Iota invite students, faculty and staff to Wellfest, 4-6 p.m., on the Quad. Enjoy meditation, yoga, art therapy, chair massages, petting therapy dogs, and chatting with counselors and Active Minds volunteers. In the event of inclement weather, the program will move to the 11th floor of Houston Cole Library. Email kcuthrell@jsu.edu for more information.


Octubafest Studio Concert: Listen to students and faculty perform tuba and euphonium selections, 7:30-9 p.m., at Mason Hall, Room 350.


October 26
Harvest Festival: The SGA will host its annual Harvest Festival for local children, 5-7 p.m., on the TMB Lawn. Little Gamecocks are invited to trick or treat tables set up by student organizations. Enjoy popcorn, cotton candy, games, and a performance by Crazy About Dance at this free public event. 


Halloween Carnival at the Caf: Enjoy carnival food and fun at Jack Hopper Dining Hall, 5-7 p.m., where the menu will include a nacho bar, BBQ sliders, curly fries, street corn on cob, pretzels with cheese sauce, cotton candy and funnel cake. The cost is $10.35 or a meal swipe.


A Very Spooky Level Up: Students are invited to enjoy a Halloween party with Level Up gaming club, 5-11 p.m., in Ayers Hall, Room 357. There will be a potluck, costume contest, horror game room, horror movies and Sinister Cup Pokemon Tournament. 


Spookathon: Alpha Omicron Pi invites the campus and local community to a Halloween festival on fraternity row, 6-8:30 p.m., with haunted houses, bouncy houses, a costume contest, pie eating contest, apple bobbing, face painting and more.


October 27


It's Alive! Halloween Open House: The Writing Center will host an open house, 5-7 p.m., in Stone Center, Room 230. See if you can escape the mad scientist's laboratory, where Dr. Spleenwort wants to test his new formula on you! Can you figure out how to make the antidote in time?


Spooky 5K: The Freshman Forum invites everyone to participate in its annual 5K benefitting Behind the Smile. The event starts at 5 p.m. on the TMB Lawn. Wear your Spooky 5K t-shirt (if you register by Oct. 13) or your best Halloween costume. Registration is $25. 


Halloween Art Sale: The Department of Art and Design will host its annual art sale, 5-9 p.m., at Heirloom Taco on Jacksonville Square. Items available for purchase include ceramics, posters, handmade prints, greeting cards, books and zines, shirts, tote bags and stickers.
October 29
Octubafest Closing Concert: The JSU Tuba and Euphonium Ensemble will perform 5-6:30 p.m. in Mason Hall, Room 350. 


October 30
Trunk or Treat at the CDC: The Child Development Center will host a Trunk or Treat for its students at 8:30 a.m. in the parking lot of the CEPS Complex. While this event is only open to children enrolled at the Child Development Center, JSU offices are invited to participate. Limited space is still available for those who wish to host a trunk. For more information, call 256-782-8659.


Fall Fun Fest: Faculty and staff are invited to the third annual Fall Fun Fest, 4:30-7 p.m., in the courtyard of Merrill Hall. There will be a costume contest at 5 p.m. (winners announced at 5:30 p.m.), a corn hole tournament (participants must be present by 4:45 p.m.), door prizes, food and spirits. Please RSVP online, especially if you plan to participate in the costume contest and corn hole tournament. 


November 1
Diversity Fashion Show: Cheer on JSU students as they strut the catwalk in a variety of outfits and costumes - from elegant ballroom gowns to fun cosplay characters. There will be music, games, food, and a guest speaker at this free event in Leone Cole Auditorium, 5-8 p.m. 


November 2
Slither and Hiss at the Canyon: The JSU Canyon Center in Fort Payne invites children, ages 3 to third grade, to learn about creepy crawlies at Little River Canyon, 10:30-11:30 a.m. Pre-registration is required. To sign up, call 256-845-3548 or email rmtaylor@jsu.edu.
November 4
Canyon Fest: Enjoy local music, food, arts and crafts, demonstrations, live animal programs and more at the 11th annual Canyon Fest, 10 a.m. to 3 p.m., at the Little River Canyon Center in Fort Payne. Free admission. 


November 6
Dia de Los Muertos Dance: El Latido will present a Dia de los Muertos Dance, 6-11 p.m., in Leone Cole Auditorium. Students, faculty and staff are invited to dress formal and wear any sugar skull look to the fiesta. 


The City of Jacksonville is also hosting several Halloween events: 


Oct. 24 - The Not-So-Haunted Halloween Trail Trek, 6-8 p.m., at Jacksonville Community Center

Oct. 27 - Haunted Jacksonville Walking Tour, 8:30 p.m., Jacksonville Public Library

Oct. 28 - A Very Squarey Halloween Party, 5-7 p.m., Jacksonville Square