JSU Marks Transfer Student Milestone
06/29/2023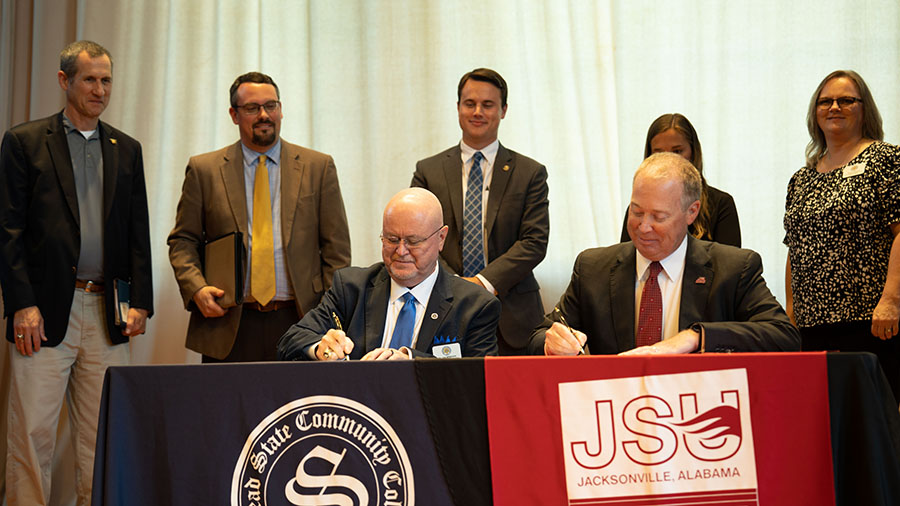 Dr. Don C. Killingsworth, Jr. and Dr. Joe Whitmore
JSU President Don C. Killingsworth, Jr. joined college, university and state leaders at Snead State Community College on June 27 to honor the nearly 30-year state law that provides for the seamless transfer of students from Alabama's community colleges to the state's four-year public universities. 
In 1994, Act Number 94-202 established the Alabama Articulation and General Studies Committee to simplify the transfer of course credit between public institutions of higher education. The committee developed and implemented a statewide general studies and articulation program. Today, more than 40 percent of the state's community college students are university bound. 
"Community colleges are a great way to start the journey to any career path," said Dr. Killingsworth, who began his college education at Central Alabama Community College in his hometown of Alexander City before transferring to JSU. 
While JSU accepts students from numerous community colleges, the university currently has special Transfer Pathway agreements with 11 institutions. In Fall 2022, the university established the Transfer Prep Program to streamline degree completion paths for transfer students in three areas: Teacher Education, Criminal Justice and Forensics. Transfer Prep allows community college students to get a head start on their studies at JSU - receiving early academic advising, connecting with JSU faculty and becoming familiar with support services prior to transferring. 
"While workforce development rightly gets a lot of the attention in the current economic climate in Alabama and across the country, academic transfer courses remain a popular option for many of our community college students who want to get a head start on their higher education journey and then move on to a four-year university," said Boone Kinard, Alabama Community College System executive director of external affairs. 
Learn more about JSU's transfer programs, admission requirements and scholarships at www.jsu.edu/transfer.