Economic Summit Highlights Strong Labor Market for East Alabama
05/31/2023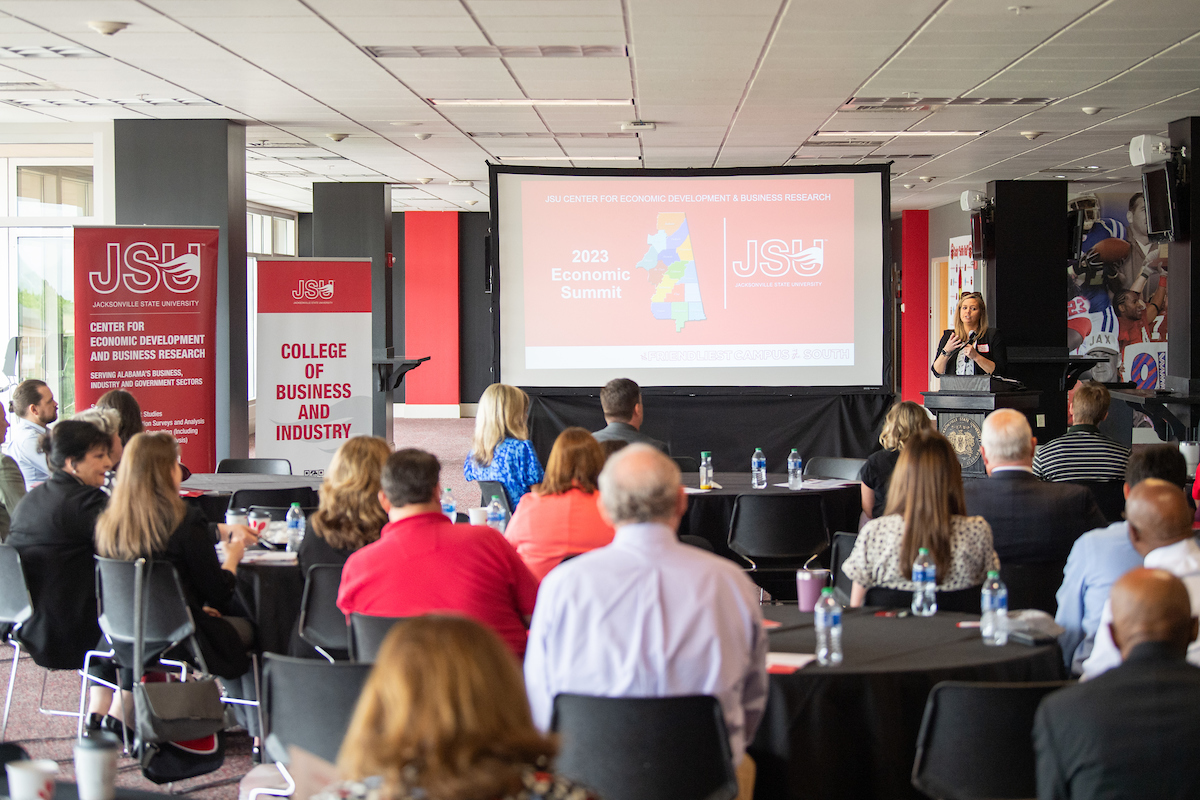 More than 75 local, state and national economic and community development stakeholders attended the annual Economic Summit on campus May 19. Photo by Austin Tillison.
The JSU Center for Economic Development and Business Research held its 2023 Economic Summit on campus on May 19 to discuss economic conditions within the university's 15-county footprint, as well as highlight issues unique to the East Alabama region.
Joined by more than 75 local, state and national economic and community development stakeholders, current JSU economic development initiatives were discussed, and region-specific economic indicator metrics were presented. Attendees also received a copy of the center's 2022 Annual Report.
"Data for JSU's region indicate not only population growth, but increases in the number of households, median house value, median household income and per capita income," said Jeff Hooie, JSU research analyst. "We were very pleased to present such a positive report to our partners and stakeholders at the Summit."
Dr. Ben Boozer, a JSU finance professor, said more jobs in Northeast Alabama now require additional education with solid increases in those requiring postgraduate degrees and bachelor's degrees. Homeowner vacancies declined and rental vacancies increased, suggesting the continued strength of the housing market.
In terms of employment growth, educational services expanded as the top industry for the region, although manufacturing was the biggest overall industry. Food preparation and serving-related occupations grew, as did sales and related occupations. Projections indicate additional growth in each of these areas within the region. Wages expanded in each of the top occupations, with food preparation and serving-related occupations experiencing the largest wage increase. Solid gains were also made in transportation and material moving occupations, sales and related occupations, and office and administrative support roles.
Labor market dynamics continue to be in flux in a post-pandemic world for many industries. Lower levels of available labor represent a smaller supply of labor as workers have either left the labor force or chosen not to work. A higher demand for labor as businesses reopened following the pandemic has had an upward push on wage rates. Projections for 2023 indicate modest wage increases across the region while the strength of the labor market rests on declines in unemployment.
"As East Alabama continues to flourish, JSU and the Center for Economic Development will remain a steadfast partner, providing economic impact studies and retail market analysis so our community stakeholders can make the best decisions for growth and sustainability," Jennifer Green, director of the center, said.

The Center for Economic Development and Business Research is housed in the JSU College of Business and Industry. It studies the county, regional and state economy; conducts on-demand economic impact and other analyses of East Alabama issues; and applies economic theory to research via its publications.