Students Elect 2023-2024 SGA Leaders
04/12/2023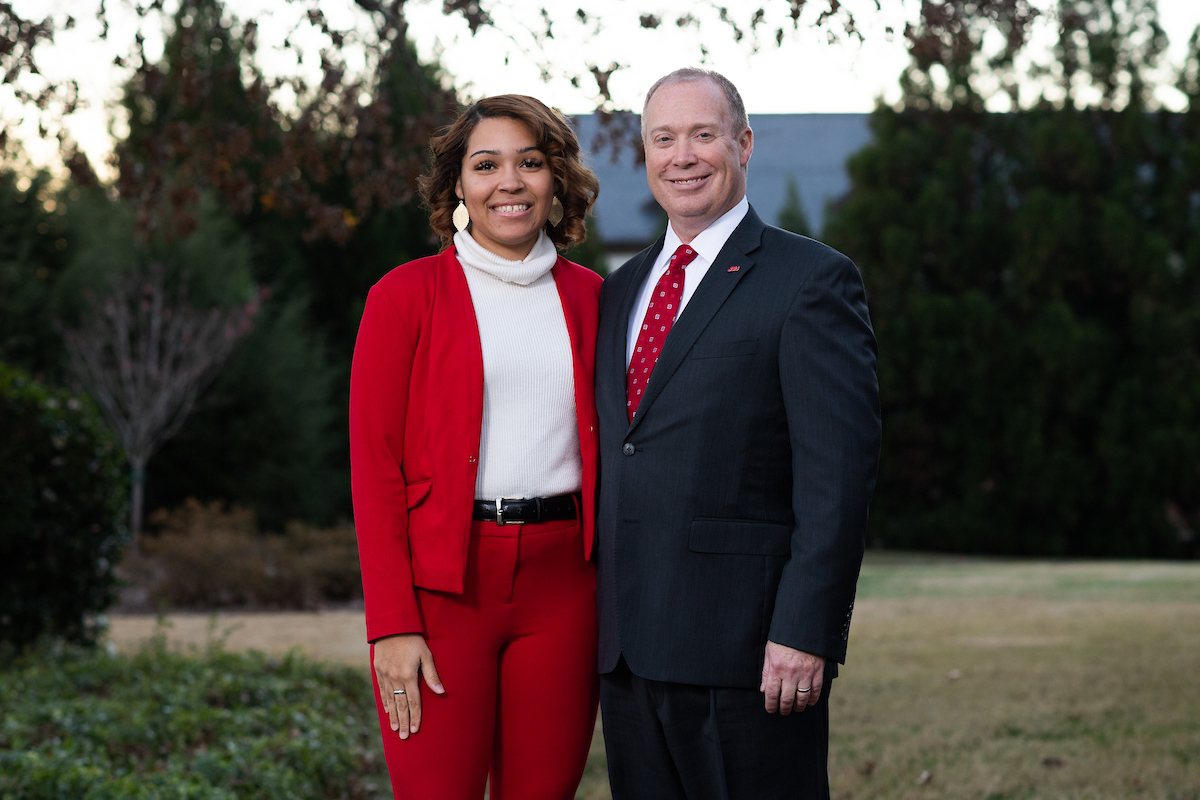 Tierra Thatch, JSU's 75th SGA president, with President Don Killingsworth.
by Buffy Lockette
Tierra Thatch of Athens, Ala., has been elected by her peers to serve as president of the Student Government Association at Jacksonville State University for 2023-2024.
This will be the third elected SGA position for the junior nursing major, who has spent the past two years as vice president of student activities. She has also served as vice president of the JSU NAACP, director of marketing and communications for the Black Student Union and is a member of Alpha Kappa Alpha sorority.
"Going into this year, I am very optimistic about the future of JSU and how we, as a whole, can grow together at the Friendliest Campus in the South," Thatch said.
Rounding out the executive branch of the SGA will include the following newly elected officers:

Vice President of Student Activities: De'Onta Bush 
Vice President of Student Senate: Kaitlyn Letson 
Vice President of Public Relations: Keyonna Lovett
Vice President of Organizational Affairs: Tanaya Fairbanks 
Students selected the following classmates to represent them on Student Senate:

Nathan Bean 
Camryn Brenn 
Mallia Brown 
AJ Cawford 
Joshua Coheely  
Jonah Czar 
Brian Daniels 
Jackson Davis 
McKenzie French 
Alejandra Guzman 
John Hudson 
Faith Kelly 
Joseph Lee 
Brendan Lockwood 
Destiny Mack 
Venessa Marcum 
Lyndon Mixon
Dwight Oatis 
Ashlyn Smith 
Christian Thomas 
Olivia Twiggs 
Janeyah Upshaw 
Finally, the following were chosen for Mr. and Ms. Friendly and Mr. and Ms. Jax State:
Ms. Friendly: Mandy Olivier 
Mr. Friendly: Jake Gibbons
Ms. Jax State: Caroline Phillips 
Mr. Jax State: Jaden Mcgee