Softball Field Renamed in Honor of Coach McGinnis
04/17/2023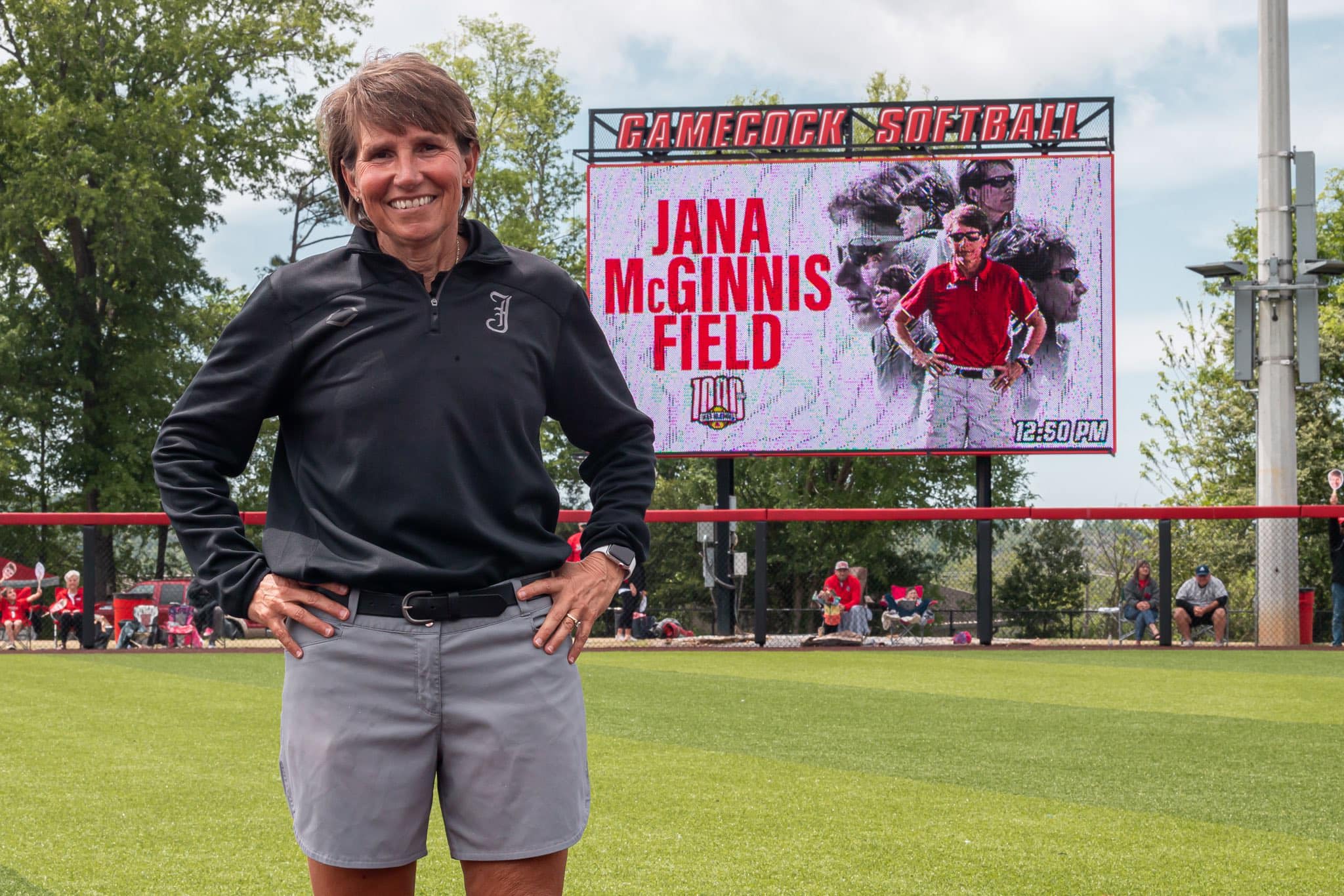 Softball Coach Jana McGinnis is in her 30th season with the Gamecocks and just celebrated her 1,000th career win. Photo by Brandon Phillips.
from JSU Sports Information
As part of a pregame ceremony on April 16 to honor softball head coach Jana McGinnis for reaching the 1,000 wins milestone at Jax State, President Dr. Don Killingsworth announced that the Gamecocks home facility will be renamed in her honor.
 
Known as University Field since it was home to the Gamecocks baseball program for many years before it moved to its current location and the softball program moved in in 1996, it will now be known as Jana McGinnis Field.
 
The naming of the stadium was included in a resolution that was approved by the Jax State Board of Trustees and presented to McGinnis by Dr. Killingsworth prior to the team's ASUN series finale with Queens.
 
McGinnis, in her 30th season at the helm of the program, won her 1,000th game on March 22 with a 13-1 win at Alabama State and now holds a 1,009-568 career record. She became the 12th active coach in Division I with 1,000 career wins and just the 33rd coach in Division I history to reach the milestone.
 
She has coached every softball game that Jax State has played at the stadium. Since moving into the current location, McGinnis's teams have won some sort of conference title in 13 years and have claimed 10 regular season crowns and seven tournament championships. They have advanced to NCAA Regional Play nine times and advanced to the NCAA Super Regionals once.
 
The text of the resolution reads:
 
WHEREAS, it is fitting and appropriate to recognize and pay tribute to individuals who, by achieving outstanding success, bring honor, glory and pride to Jacksonville State University; and 
 
WHEREAS, Jana McGinnis has served as the head coach of the Jacksonville State University softball program since 1994; and 
 
WHEREAS, Jana McGinnis has developed a softball program at Jacksonville State University that is second to none, and has built a program on integrity, success and tradition at the heart of each player; and
 
WHEREAS, Jana McGinnis is the most decorated coach in the history of the Ohio Valley Conference, having been named the OVC Coach of the Year a conference-record six times, and winning either the regular season or tournament championship in 11 of its 17 seasons in the OVC; and
 
WHEREAS, Jana McGinnis also won the Atlantic Sun Conference Tournament Title and the school's first berth in the NCAA Regional Tournament in 1996; and
 
WHEREAS, Jana McGinnis has led the Gamecocks to numerous NCAA Tournament berths, including the school's first at-large berth in 2009 while also winning the schools' first NCAA Regional and advancing to the Super Regionals and appearing in the national polls that same year; and
 
WHEREAS, Jana McGinnis became just the 20th active coach in NCAA history to win 1,000 career games and 29th Division I coach in NCAA history to reach this incredible milestone with a 13-1 win over Alabama State on March 22, 2023; and
 
WHEREAS, Jana McGinnis is a 1991 graduate of JSU, where she was a two-time All-Gulf South Conference guard in basketball and still holds the JSU career record for assists with 603, as well as the single-season record with 204;
 
NOW, THEREFORE, BE IT RESOLVED, that the members of the Board of Trustees of Jacksonville State University declares that the playing field at the softball stadium be named Jana McGinnis Field. 
 
Adopted this 16th day of April, 2023.