JSU Honored by Ellucian for Student Support
04/07/2023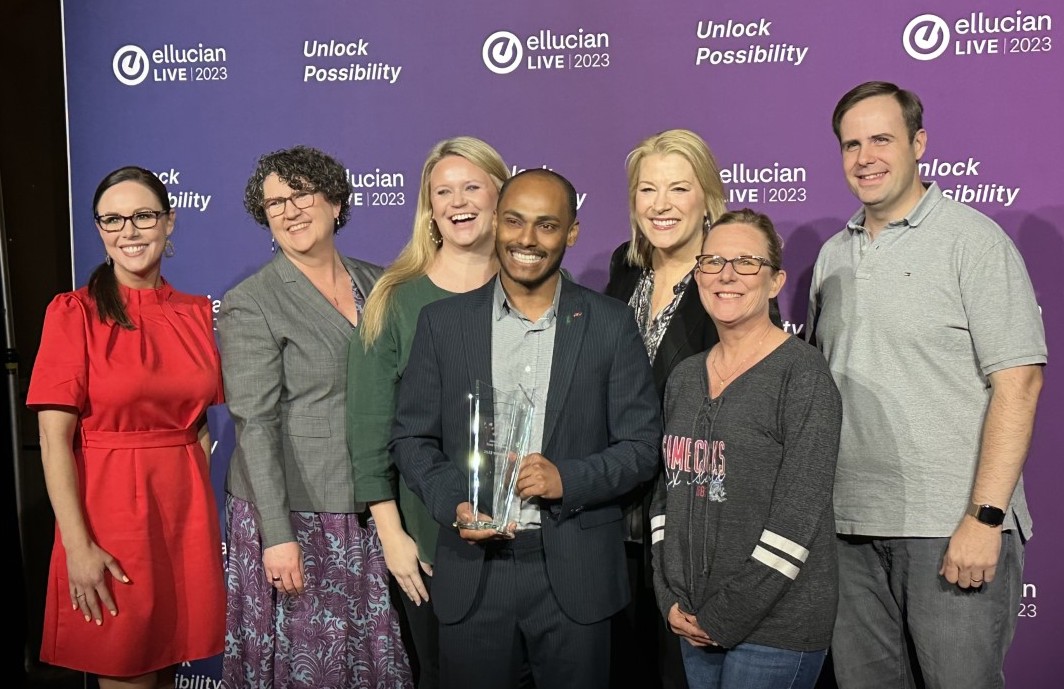 University staffers Sabin Banjara (center), Jessica Wiggins (far left), Charlotte Cole (third from left), Candice Truitt (second from right) and Shaun Stancil (far right) accepted the award at the Ellucian Live conference in New Orleans.
by Abigail Harrison
Jacksonville State has been named a 2023 Ellucian Impact Award winner for its use of technology to promote student success and high-value educational experiences.
Ellucian, a leading higher education technology solutions provider, recognized JSU for its innovation in utilizing its products on campus. JSU uses several Ellucian products to improve communication processes and outcomes for students, such as StudentForms, VirtualAdvisor and DegreeWorks.
Through a combination of data-driven insights, personalized communication and intuitive online tools, JSU has transformed the way students engage with their academic and co-curricular activities. In particular, the university has had significant success in increasing enrollment and simplifying the financial aid process using Ellucian products.
Sabin Banjara, data specialist in the Registrar's Office, contacted departments to collect pertinent information for the award nomination. With guidance from Dr. Janet Bavonese, assistant vice provost for advisement, he compiled the final data and submitted the application – which focused on JSU's efforts to support the academic and personal success of students.
"Winning this award signifies that JSU places importance on the student experience, from their very first contact right through to the completion of their program," said Dr. Bavonese. 
JSU received a $25,000 institution grant and an engraved trophy. The award was presented to the university at the Ellucian Live 2023 conference in New Orleans in late March, which was attended by Banjara and Jessica Wiggins, associate vice president for enrollment management; Charlotte Cole, director of financial aid; Shaun Stancil, senior systems analyst; and Candice Truitt, systems analyst.